Trump 'not thrilled' by Fed's interest rate hikes, a rare presidential intrusion into monetary policy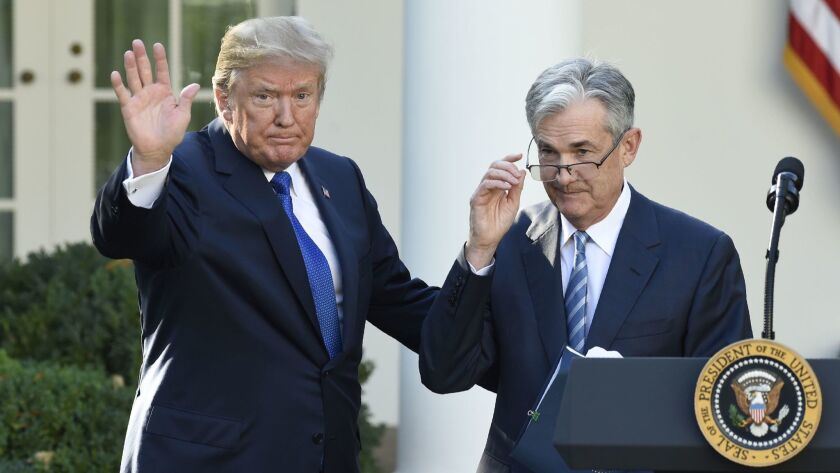 Reporting from Washington —
President Trump said he's "not thrilled" by recent interest rate hikes by the Federal Reserve, a historically rare insertion by the White House into monetary policy set by the nation's independent central bank.
"I'm not thrilled," Trump told CNBC in an excerpt of an interview released Thursday. "Because we go up and every time you go up they want to raise rates again. I don't really — I am not happy about it. But at the same time, I'm letting them do what they feel is best."
Presidents and top administration officials normally do not comment on Fed monetary policy decisions, instead allowing the central bank to make independent decisions about what's best for the U.S. economy instead of enacting policies that might politically benefit the party in power.
In the interview, to be aired in full Friday, Trump also said he had "put a very good man" into the Fed chairman's job. Last fall, Trump nominated Jerome H. Powell, who has served on the Fed's Board of Governors since 2012, to replace Janet L. Yellen as chair. Powell took office on Feb. 5.
Trump's statement that he is "letting" the Fed proceed implies that the president has authority over the central bank's actions.
However, members of the Fed's board cannot be removed by the president except for cause, a provision in the law designed to preserve independence and prevent political interference.
"Presidents never like rate increases. That's a given, so that's not unusual. Commenting is," said Alice Rivlin, who served as Fed vice chairman during the Clinton administration. "But this president comments on just about everything."
"The Fed is independent by statute," said Rivlin, a senior fellow at the Brookings Institution think tank. "It's not supposed to do the administration's bidding, so it's sort of bad taste for a president to make disparaging remarks about what the Fed does."
Still, she added that she wasn't "overly alarmed" by Trump's comments and their effect on the Fed.
"I don't think its independence is in question at this moment," Rivlin said.
A Fed spokeswoman declined to comment on Trump's remarks.
During his Senate confirmation hearing in November, Powell said he was "strongly committed to an independent Federal Reserve" and reiterated that in a speech in Sweden in May.
"We must not forget the lessons of the past, when a lack of central bank independence led to episodes of runaway inflation and subsequent economic contractions," he said.
Asked last week about any White House pressure, Powell said in an interview on the "Marketplace" radio program that "nothing has been said to me publicly or privately that gives me any concern about our independence."
In a statement issued after the CNBC interview excerpts aired Thursday, the White House said Trump "is not interfering with Fed policy decisions."
"Of course the President respects the independence of the Fed," the statement said. "The President's views on interest rates are well known and his comments today are a reiteration of those long-held positions, and public comments."
In the past, Trump has called himself a "low-interest-rate person." But during the 2016 campaign, Trump was highly critical of Yellen, a Democrat who was appointed by President Obama, for keeping rates low. Trump accused her of trying to help Obama and Democratic presidential nominee Hillary Clinton.
There was no evidence of that, and history has shown that the Fed's desire to appear nonpartisan has led it to rarely increase interest rates in the weeks before a presidential election to avoid pushing the economy in one direction or another.
Low interest rates generally boost the economy by making loans less expensive. Fed officials raise rates when the economy is strengthening to prevent the low-cost money from causing high inflation.
The Fed's monetary policy committee has raised its benchmark short-term federal funds interest rate twice since Powell took office, each time by 0.25 percentage points. The rate's target now is between 1.75% and 2%.
Banks use the rate to determine interest rates for credit cards, car loans, small-business loans and home equity lines of credit.
The committee consists of Fed governors — two of the three now serving were appointed by Trump — and the heads of some regional Fed banks. Those regional officials are chosen by the boards of those banks with approval from the Fed governors in Washington. The president has no role in those appointments.
After the most recent rate hike, in June, Powell indicated that the economy was improving enough to keep the Fed on track for two more small increases this year. The increases will give the Fed some leverage to stimulate the economy should it start to slow by lowering rates again.
The Fed has now raised the federal funds rate rate by 0.25 percentage points seven times since December 2015 — including three times last year. That came after the Fed held the rate at an unprecedented level of near zero for seven years in an attempt to fight the financial crisis.
Trump and other Republicans complained for years that the Fed kept interest rate too low after the Great Recession. With the U.S. economy improving, the Fed has been increasing rates to counter rising inflation.
But in the interview, Trump complained that the higher U.S. interest rates are putting the nation at a disadvantage compared to Europe and Japan, where central banks have kept their rates lower. The U.S. rate is higher because the economy here is doing better than in those places, a point Trump frequently touts.
Trump acknowledged that his comments about interest rates are unusual.
"Now I'm just saying the same thing that I would have said as a private citizen," Trump said. "So somebody would say, 'Oh, maybe you shouldn't say that as president. I couldn't care less what they say, because my views haven't changed."
"I don't like all of this work that we're putting into the economy and then I see rates going up," he said.
Mark Hamrick, senior economic analyst at financial information website Bankrate.com, said Trump's comments were "tremendously ill-advised."
"Clearly he's focused on his short-term political viability and the Fed's view is longer term," Hamrick said.
Twitter: @JimPuzzanghera
---
UPDATES:
12:15 p.m.: This article was updated with comments from Alice Rivlin, Mark Hamrick and the White House, as well as previous statements by Jerome Powell and additional background.
This article originally was published at 11:15 a.m.
---
Must-read stories from the L.A. Times
Get the day's top news with our Today's Headlines newsletter, sent every weekday morning.
You may occasionally receive promotional content from the Los Angeles Times.