In Trump's trade war, companies like GM wind up on both sides
Bloomberg
In imposing sweeping tariffs, President Trump is betting he can give domestic companies a boost while beating back foreign competitors. The problem is figuring out which one is which.
About 40% of the cars and trucks that General Motors Co. sells in the U.S. this year, for example, will be imported, according to researcher LMC Automotive. On Friday, the Detroit-based automaker warned the Trump administration that the imposition of tariffs could force it to cut jobs.
Decades of ever-freer trade and cross-border mergers have led to the domination of many industries by a handful of multinationals dependent on easy flows of raw materials, parts and labor. Non-American companies like Daimler AG and Siemens AG now assemble many of their products inside the U.S., but often use a large number of imported components, blurring the line between domestic and international operations.
Those companies have invested hundreds of billions — if not trillions — of dollars on the assumption the wheels of global commerce will continue to turn with increasing ease. But Trump appears determined to upend all that, even if he doesn't fully understand the ramifications. He's even threatening to withdraw from the 164-member World Trade Organization, the cornerstone of cross-border business, Axios reported Friday, citing people familiar with the matter.
"This is a 1980s trade policy in a 21st century world," said Diane Swonk, chief economist of Grant Thornton LLP in Chicago. "We operate in a global supply chain now. It's not possible to punish other countries through trade without inflicting damage on ourselves."
The president has argued that the tariffs are needed to create a "level playing field" between the U.S. and countries he says have benefited disproportionately from current trading arrangements. In a speech Thursday, he lamented having "been very much taken advantage of" as a country, saying: "We've lost our companies. We've lost our jobs. They build a product; they send it in."
The White House is rapidly turning Trump's tough rhetoric into reality. Unless the president backtracks, the U.S. on July 6 will impose levies on $34 billion of Chinese imports, many of them parts used by domestic manufacturers of products such as power turbines and marine engines. China will impose countervailing tariffs the same day, less than a week after Canada does the same in reaction to U.S. restrictions on steel and aluminum.
Trump's views on trade, like many of his political positions, were formed in a different era. Thirty years ago, on Oprah Winfrey's hit talk show, he complained about the U.S. letting "Japan come in and dump everything." Japanese companies, he continued, "come over here, they sell their cars, their VCRs. They knock the hell out of our companies." Replace Japan with China and swap VCRs for iPhones, and the comments sound identical to ones he made on the 2016 campaign trail and repeatedly since.
But the picture has become considerably more complicated in the intervening decades. Germany's Siemens AG, for example, has 50,000 U.S. workers and generates revenue of about $23 billion there, including $5 billion from exports.
Or take Toyota Motor Corp., the world's second-largest automaker and a symbol of Japanese industrial might. In the U.S., Toyota now makes more than a million cars a year and has 10 plants. Those factories are the core of an American operation that employs about 136,000 people, but they're also dependent on components sourced overseas for reasons of cost or availability.
"Whether it's possible for companies to source components entirely from within the U.S. will vary widely sector by sector," David Dollar, a senior fellow at the Brookings Institution, said Friday. "In some cases, maybe they'll be able to find a substitute, but it will almost always cost more, so then that company's product is less competitive."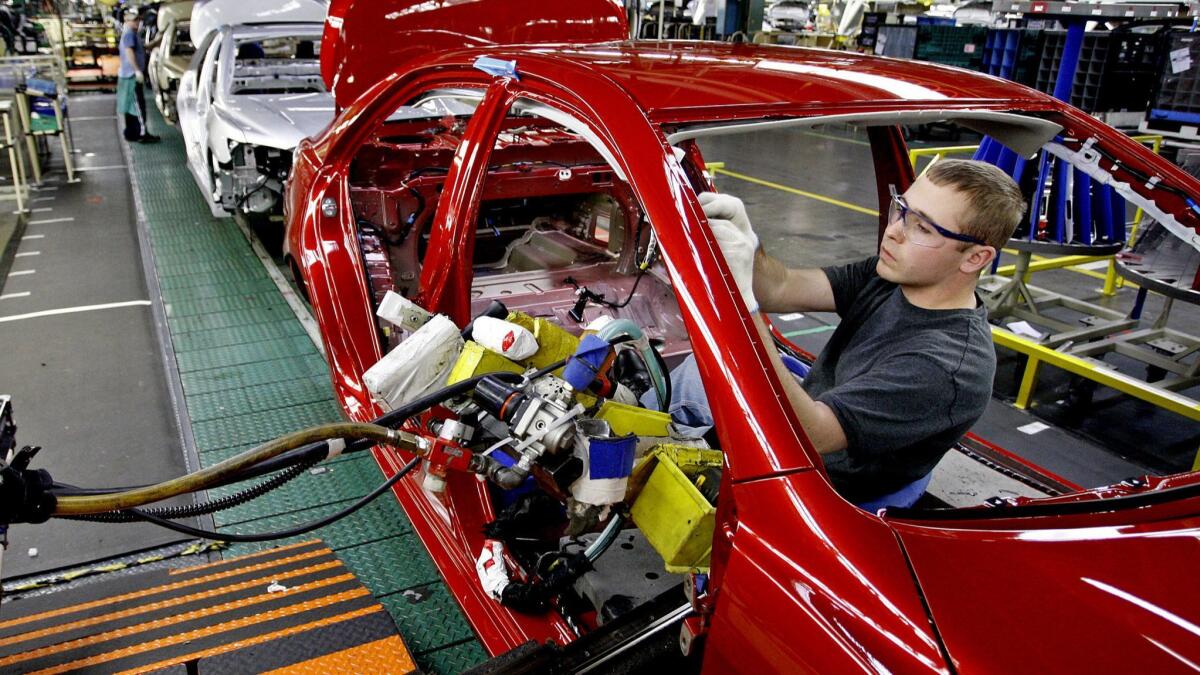 About 70% of the parts in a U.S.-built Camry, the country's best-selling car, come from domestic suppliers. Toyota on June 27 said that Trump's threatened 25% tariff on automotive imports would add $1,800 to the price of each sedan.
On Friday, GM joined in the pushback, issuing a stern warning that it could shrink U.S. operations and cut jobs if tariffs are applied to imported vehicles and auto parts.
"The threat of steep tariffs on vehicle and auto component imports risks undermining GM's competitiveness against foreign auto producers by erecting broad brush trade barriers that increase our global costs, remove a key means of competing with manufacturers in lower-wage countries and promote a trade environment in which we could be retaliated against in other markets," GM said in comments submitted to the Commerce Department.
The carmakers' warnings of the dangers of tit-for-tat tariffs were just two of many. German lighting manufacturer Osram Licht AG's shares plunged 22% Thursday after it announced a weaker outlook because of trade tensions. Even hoteliers are starting to fret. Radisson Hospitality CEO John Kidd said the tariff dispute could depress business travel to China.
Trump has made wooing foreign companies to expand U.S. manufacturing a priority, deeming it evidence that he's making good on promises to restore economic vitality to struggling regions. On Thursday, he traveled to Wisconsin to celebrate the groundbreaking of a $10-billion assembly plant for Foxconn Technology Group, the Taiwanese iPhone contractor's first major U.S. facility.
Trump hailed the construction of a plant he said would be "the 8th wonder of the world" as an endorsement of his policies. "We have a lot of things going in the United States," he said. But not far is the headquarters of one of the first American casualties of Trump's trade war: Harley-Davidson Inc..
The legendary motorcycle maker says it's having to move more manufacturing overseas as a result of retaliatory EU tariffs, a decision that surprised Trump. "I've done so much for you, and then this," the president tweeted.
Even Foxconn itself is concerned. Its chairman, Terry Gou, said last week that a U.S.-China trade war is the biggest challenge facing the company.
Trying to create a situation in which U.S. manufacturers could get by largely without foreign components would be futile, according to Sarah Fowler, an economic analyst at the Oxford Analytica consultancy.
"It's the degree of specialization, the number of factories you'd need and the number of competences to make all the different parts," Fowler said. "The cost that implies is just not realistic."
Trump's singular focus on reviving manufacturing is, in some ways, at a right angle to the true nature of the U.S. economy. Service industries employ more than 10 times as many Americans — about 125 million — as manufacturing does, according to the Bureau of Labor Statistics. The figure includes about 19 million jobs in healthcare and social assistance, almost 16 million in leisure and hospitality and 16 million in retail.
Services include most of America's corporate stars, from Alphabet Inc. to Goldman Sachs Group Inc., and are unquestionably globally competitive: The country exported about $255 billion more in services than it imported last year. (The total shortfall in goods and services was $552 billion last year.)
Even by Trump's standards, the rules of global trade may be working just fine when it comes to the industries that employ most Americans.