Universal Studios tickets jump to $115 as Harry Potter opening nears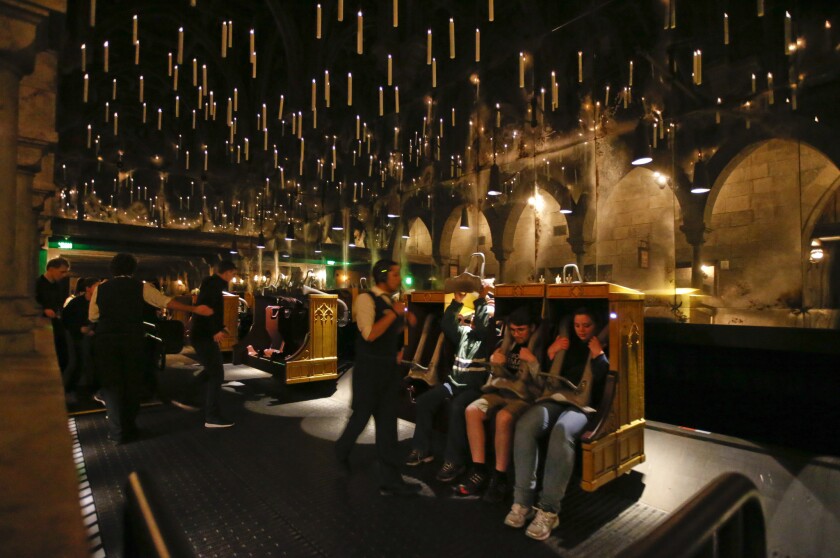 Three weeks before the opening of its new Harry Potter attraction, Universal Studios Hollywood has quietly raised daily ticket prices by up to 20%.
The Wizarding World of Harry Potter -- a land that includes two new rides, one restaurant, a food cart and eight shops -- is expected to be the most popular attraction when it opens to the general public April 7.
The prices of daily tickets sold at the front gate jumped over the weekend to $115 from $95, according to the theme park's website.
Because the park anticipates a huge turnout for the new attraction, Universal Studios last month adopted a "demand pricing" policy that offers a discount for visitors who buy tickets online for off-peak days, such as Wednesdays in September.
But even the discount price has been increased, to $90 from $75. Prices for high-demand days rose to $115 from $95. The park offers two other ticket prices, $95 and $100, based on how crowded the park is expected to be.
A color-coded calendar that shows the prices for each day is shown on the park's website.
"Ticket prices are consistent with our tremendous product offerings," Universal Studios spokeswoman Audrey Eig said. "Our variable pricing introduced earlier this year allows consumer choices to be made at various price levels."
Universal Studios is not alone is hiking prices. Walt Disney Co. last month adopted a new pricing policy that sets ticket prices based on the popularity of the park on that day.
Before the change, Disneyland and Disney California Adventure had been charging $99 for a one-day ticket. Under the new policy, each day on the calendar will be designated a "value" day, a "regular" day or a "peak" day. The new price is $95 for a value day, $105 for a regular day and $119 for a peak day.
To read more about travel, tourism and the airline industry, follow Hugo Martin on Twitter at @hugomartin.
ALSO
Apple's events are getting predictable. Time for a refresh?
Travel and tourism added 7.2 million jobs worldwide in 2015
If all restrictions were lifted, flights to Cuba could drop 50% in price, study says
---
Be your money's boss! Learn how to make a budget and take control of your finances with this eight-week newsletter course.
You may occasionally receive promotional content from the Los Angeles Times.