Virgin Galactic conducts first rocket-powered test since deadly 2014 accident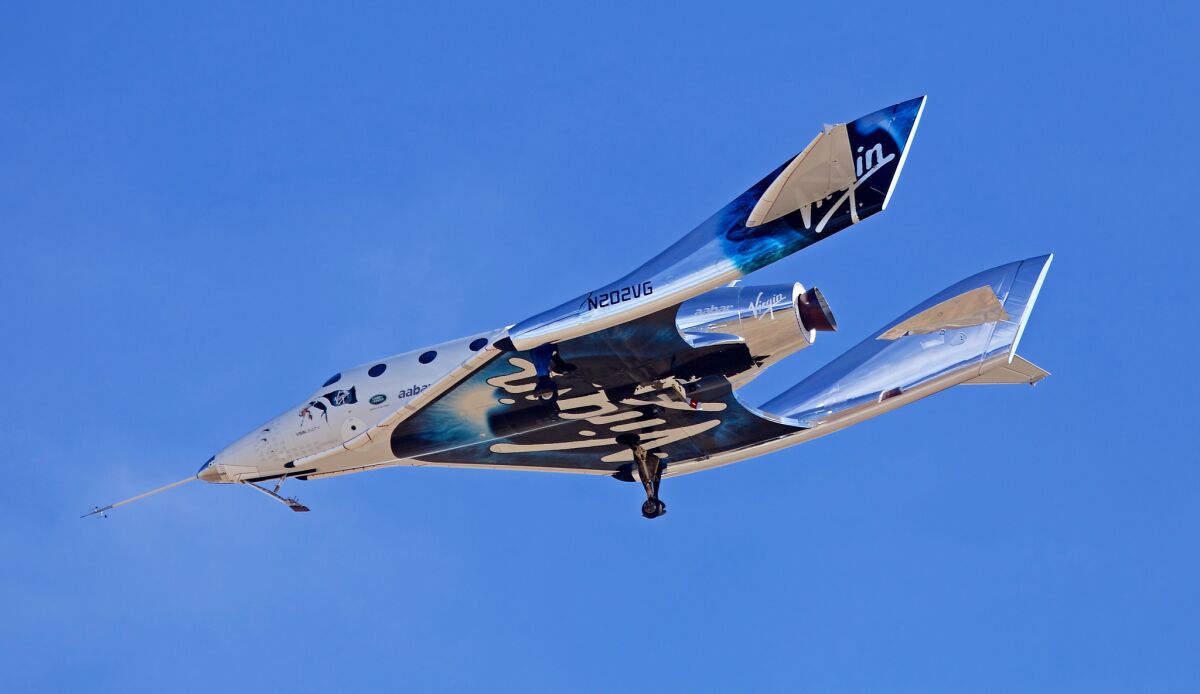 In a major milestone, Virgin Galactic successfully completed the first rocket-powered test flight of its new SpaceShipTwo on Thursday, marking the first such test for the space tourism firm since a fatal accident in 2014.
Carrier aircraft VMS Eve — which looks like two planes holding hands — lifted off from the Mojave Air & Space Port around 8:02 a.m. Attached beneath was the space plane dubbed VSS Unity, named by the late British physicist Stephen Hawking during a 2016 ceremony.
The two aircraft flew to about 46,500 feet above the Sierra Nevada mountains before the mothership released VSS Unity. After a few seconds, the two pilots fired up the space plane's rocket motor to propel the spacecraft to supersonic speeds of Mach 1.87 during a planned 30-second "partial duration burn," Virgin Galactic said in a blog post released after the test.
The space plane reached 84,271 feet before its "downhill return" to land around 9:15 a.m.
Minutes later, Virgin Galactic founder and British billionaire Richard Branson tweeted that the company was "back on track."
"Space feels tantalizingly close now," he added.
Thursday's successful test is a significant milestone for Virgin Galactic's testing program and puts the company one step closer toward its goal of ferrying tourists into suborbital space for a price tag of $250,000. Virgin Galactic hasn't officially disclosed a timeline for its first flights for paying customers.
Once Virgin Galactic is operational, tourists will receive three days of training to prepare for their flight. Customers will experience "several minutes" of weightlessness when their space plane reaches suborbital space, according to the company's website.
This space plane has now undergone 12 total flight tests. Mojave-based Virgin Galactic previously conducted a series of glide tests but had not fired up the space plane's rocket-powered motor.
The return to powered flight tests "had to happen for Virgin Galactic to proceed," said John Logsdon, professor emeritus at George Washington University's Space Policy Institute.
"This is a crucial first step, but other steps will have to be taken, other flights will have to happen, before they're ready to carry paying passengers," he said.
Almost four years ago, a previous version of SpaceShipTwo broke apart in midair during a powered test flight, killing one of two pilots.
The National Transportation Safety Board found that the failure was caused by premature deployment of a feather system designed to help the space plane reenter Earth's atmosphere. The agency later faulted that space plane's builder, Scaled Composites, saying the design should have protected against human error.
Since then, Virgin Galactic has moved spaceplane building duties in-house and VSS Unity was built by the company's Spaceship Co., which operates at the Mojave Air & Space Port. Virgin Galactic said it devised additional safety mechanisms to prevent the feather system from being opened too early.
The company said in its Thursday blog post that its next steps will be to analyze the data from Thursday's flight, and eventually progress to full-duration rocket burns.
"While we celebrate that achievement, the team remains focused on the challenging tasks which still lie ahead," Virgin Galactic said.
Branson first publicly announced Virgin Galactic's plans in 2004, declaring that his commercial space tourism firm would launch its first flight in 2007.
But progress has been difficult.
In 2007, three Scaled Composites technicians died when a routine test related to the yet-unbuilt space plane resulted in a sudden explosion.
Then, after Virgin Galactic's 2014 accident, the company was grounded for almost two years before restarting its flight test program in September 2016.
In the meantime, other new competitors — most notably Jeff Bezos' space company Blue Origin — have moved into the fledgling space tourism sector, long considered a dream for individuals who were not part of a nation's astronaut corps but wanted to experience space.
Blue Origin plans to offer suborbital rides to space in its New Shepard capsule, and has already completed seven flight tests of the booster and spacecraft system.
Even Elon Musk's SpaceX has dabbled in the tourism market. In 2017, Musk announced that the Hawthorne company planned to take two paying tourists around the moon.
Virgin Galactic hasn't been the only space tourism firm to face challenges.
In November, one-time competitor Xcor Aerospace filed for Chapter 7 bankruptcy. The company, which began as a Mojave start-up, had planned to build a space plane called the Lynx to carry tourists into space. Ultimately, Xcor underestimated the complexity and funding necessary to complete such a project.
Virgin Galactic will likely want to continue to attract more investment capital for its operations, said Marco Caceres, senior space analyst at Teal Group, an aerospace and defense market analysis firm. Beyond its billionaire backing, the company landed an investment in October from Saudi Arabia's primary wealth fund.
The Public Investment Fund of Saudi Arabia and Virgin Group said at the time that the $1 billion investment would go toward Virgin Galactic, as well as the Spaceship Co. and Long Beach-based Virgin Orbit, which plans to launch small satellites from the belly of a modified commercial airliner.
"The pioneers have the potential to really get a foothold in the market, and eventually be the big players," Caceres said. "Or they have the potential to disappear all together."
Analysts said Virgin Galactic will need to continue to make careful progress to build customer confidence in its program. Caceres said the company would likely need to complete at least six more successful powered tests, in addition to other reviews, to make sure all systems are working as expected.
"My sense is that Branson isn't shy," he said. "I think he's going to proceed cautiously, but at this point, now that they have SpaceShipTwo ready to go, they're going to have to continue to push the envelope."
Twitter: @smasunaga
---
UPDATES:
1:35 p.m.: This article was updated with more details about the spaceship's flight and the space tourism market and comments from George Washington University Professor Emeritus John Logsdon and analyst Marco Caceres.
9:50 a.m.: This article was updated with more details about the spaceship's flight, and comments from Virgin Galactic founder Richard Branson.
This article was originally published at 9:40 a.m.
---
Sign up for the California Politics newsletter to get exclusive analysis from our reporters.
You may occasionally receive promotional content from the Los Angeles Times.