Porn producer sues YouTube knockoff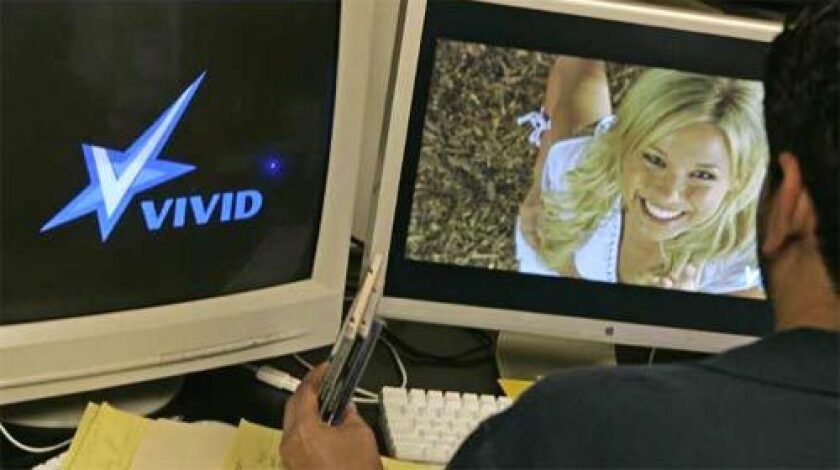 Los Angeles Times Staff Writer
A major porn producer filed a lawsuit Monday against an X-rated knockoff of YouTube, alleging that it profited from piracy by allowing its users to post videos that include copyrighted material.
Vivid Entertainment Group filed the lawsuit in Los Angeles federal court against PornoTube and its parent, Data Conversions Inc., which does business in Charlotte, N.C., as AEBN Inc.
The suit is apparently the first of its kind in the adult film industry, which has done a better job than the major Hollywood studios in finding ways to profit from putting entertainment products on the Internet.
But in the last year or so, the rapid increase in consumption of all manner of videos on the Web has in some ways hurt the porn producers more than the mainstream companies because consumers of adult fare often get what they are looking for in clips of five minutes or less. Free short clips are easy to find on the Web, undercutting the established porn producers, which earn most of their money from long-form videos.
"We've decided to take a stand and say 'no more,' " Vivid co-Chairman Steven Hirsch said. "We will go after all the free sites."
In legal terms, the Vivid suit echoes the claims of a lawsuit Viacom Inc. filed this year against YouTube, which is owned by Google Inc. The question at the heart of both cases is just how hard a website must work to ensure that users don't post videos belonging to someone else.
The law on that matter is unsettled, attorneys said. YouTube and other sites have compromised with some mainstream producers, agreeing to split ad revenue generated while their clips are played.
Hirsch said he wasn't interested in negotiating a similar deal or in constantly keeping watch for Vivid material popping up without the company's permission.
"I can't be a policeman, and I don't intend to be," Hirsch said.
Vivid has an additional beef with PornoTube. Although Vivid is required by law to record the ages and birth names of its performers, PornoTube has an unfair competitive advantage because it doesn't always comply, according to the lawsuit.
An AEBN executive didn't respond to a request for comment.
The suit accuses PornoTube of hosting excerpts of tapes that include such Vivid titles as "Night Nurses," "Where the Boys Aren't 7" and the private work of TV personality Kim Kardashian. The suit seeks damages of $150,000 per infringed work.
Other porn companies also are upset by the explosion in Web video sites, many of which rely on user submissions that borrow heavily from copyrighted material.
"What's happening in the industry is an unacceptable amount of theft," said Jon B., a vice president at Red Light District who asked that his full name not be used because family members don't know what he does.
He said Internet piracy might be reducing his company's profit 35%.
The executive said suing websites was likely to prove futile because so many existed and because file-trading occurred over decentralized networks, leaving no single party to sue.
Instead, he said Red Light was considering suing individual downloaders for pirating copyrighted material, as the music industry is doing.
"If it scares them enough, if it can take away 20% of the illegal downloads, we'll be doing the best that we can," he said.
Hirsch said the Internet remained a positive overall for Vivid, helping to provide new ways to generate revenue to make up for declining DVD sales.
Piracy has always existed, but it's more detrimental for the company as it tries to sell more of its content over the Web, Hirsch said. Competing with free Internet videos is bad enough, but competing with free versions of Vivid's material is maddening, he said.
Industry revenue as a whole is up, but it is getting split into more pieces, said Farley Cahen, publisher of Adult Video News Online magazine.
"In the past, it was peer-to-peer networks" that took a modest amount of technical ability to use, Cahen said. "Now, there's PornoTube, XTube, RedTube -- any kind of -Tube you can think of."
"There are longer and longer clips that are free, and the companies are at a loss over what to do."
---
Your guide to our clean energy future
Get our Boiling Point newsletter for the latest on the power sector, water wars and more — and what they mean for California.
You may occasionally receive promotional content from the Los Angeles Times.