Volkswagen reaches $1.2 billion settlement with U.S. dealers over emissions scandal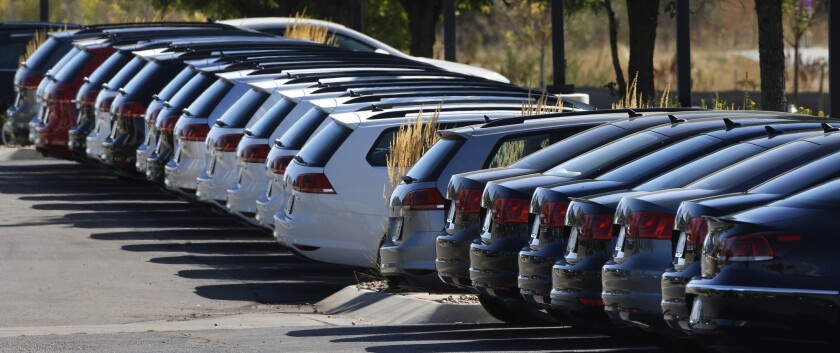 Volkswagen has agreed to pay its U.S. dealers up to $1.2 billion to compensate them for losses suffered as a result of the company's emissions cheating scandal, according to a settlement agreement filed Friday in federal court in San Francisco.
The dealers are expected to receive about $1.85 million each, but they can choose to opt out of the deal and pursue their own lawsuits against Volkswagen. A judge still has to approve the settlement before it can go into effect.
Volkswagen's U.S. sales have fallen since the scandal first came to light a year ago, and the agreement will help compensate dealers for what they said was a loss in value of their dealerships.
Several Los Angeles-area Volkswagen dealerships declined to comment about the settlement, with some referring questions to their attorneys.
"The Volkswagen-branded franchise dealer class action settlement filed today represents an outstanding result for Volkswagen's 652 franchise dealers as of Sept. 18, 2015," said the dealers' lead counsel Steve Berman, in a statement.
Volkswagen declined comment beyond a statement it issued Friday noting that the settlement "is not intended to apply to or affect Volkswagen's obligations under the laws or regulations of any jurisdiction outside the United States."
The automaker previously reached an agreement with attorneys for U.S. vehicle owners. That deal calls for it to spend up to $10 billion buying back or repairing about 475,000 vehicles involved in its scandal and paying their owners an additional $5,100 to $10,000 each.
That settlement also includes more than $2.5 billion for unspecified environmental mitigation and an additional $2 billion to promote zero-emissions vehicles.
The dealer payout is yet another financial hit for Volkswagen, which disclosed in April that the scandal had cost the company $18.2 billion in 2015 alone.
Karl Brauer, executive publisher at Kelley Blue Book, said the billions Volkswagen is paying related to the emissions scandal sends a strong message to the industry about sidestepping regulations.
"This is a massive tab," Brauer said. "Does this represent a strong enough message to Volkswagen and all other manufacturers? I think it does."
While the dealers' cut is a fraction of the overall payout, Brauer said they are receiving a substantial benefit from the agreement, which will be disbursed over 18 months.
"It's hard to have but so much sympathy for the dealers when they're going to get $100,000 a month for a year and a half," Brauer said.
Also on Friday, attorneys for vehicle owners said in a court filing that more than 311,000 people have registered for compensation under automaker's vehicle-owner deal and less than 3,300 people have opted out.
"There is resounding support for this consumer class settlement and the substantial benefits it provides," Elizabeth Cabraser, lead attorney for Volkswagen owners, said in a statement.
U.S. District Court Judge Charles R. Breyer gave the vehicle owners' deal preliminary approval in July, and he is expected to make a final decision on Oct. 18.
It does not cover about 85,000 more-powerful Volkswagens and Audis with 3-liter engines also caught up in the emissions scandal.
The scandal erupted in September 2015 when the California Air Resources Board and the EPA said they had discovered software in certain 2-liter VW diesel vehicles that made the engines run more cleanly during emissions testings. In regular driving, the vehicles were found to spew up to 40 times the legally allowed amount of nitrogen oxide.
Regulators later said the software, called a defeat device, also was installed in some Volkswagen and Audi 3.0-liter diesel vehicles.
Last month, more details about the scandal emerged when a longtime Volkswagen engineer from Southern California pleaded guilty in federal court to charges he helped design and implement the software.
James Robert Liang, 62, a Newbury Park resident, pleaded guilty in federal court in Detroit to a single charge of conspiring to defraud the United States, commit wire fraud and violate the Clean Air Act. He faces up to five years in prison and a $250,000 fine.
Liang had worked in Volkswagen's diesel development department in Wolfsburg, Germany, starting in 1983, before transferring to the company's test facility in Oxnard. In 2006, he and other VW employees started work on a new diesel engine for U.S. vehicles, the plea agreement said.
When they realized they could not design an engine that would adhere to the strict U.S. standards while also delivering solid road performance, they created the defeat devices, according to court papers.
If the software detected the vehicle was undergoing a test, it told the car to emit only enough nitrogen oxide to pass the inspection. Otherwise, court papers said, it permitted the cars to pump substantially more nitrogen oxide into the atmosphere.
Liang said he and his co-conspirators "misrepresented" that the VW diesel vehicles met U.S. emissions standards during certification meetings for new cars with the U.S. Environmental Protection Agency and the California Air Resources Board and "hid the existence of the defeat device from regulators," according to the plea agreement.
Liang is cooperating with the government in an ongoing criminal investigation, the U.S. Department of Justice said last month. Such cooperation is generally a sign that federal prosecutors are seeking to charge others in a case.
The Associated Press and staff writers Samantha Masunaga and Del Quentin Wilber contributed to this article.
---
UPDATES:
3:30 p.m.: This article was updated with comments from the dealers' attorney and industry expert Karl Brauer, as well as some additional details on the settlement.
1 p.m.: This article was updated with information about a plea agreement last month and additional financial details.
This article was originally published at 11:10 a.m.
---
Your guide to our new economic reality.
Get our free business newsletter for insights and tips for getting by.
You may occasionally receive promotional content from the Los Angeles Times.