Wal-Mart is buying online men's clothing retailer Bonobos for $310 million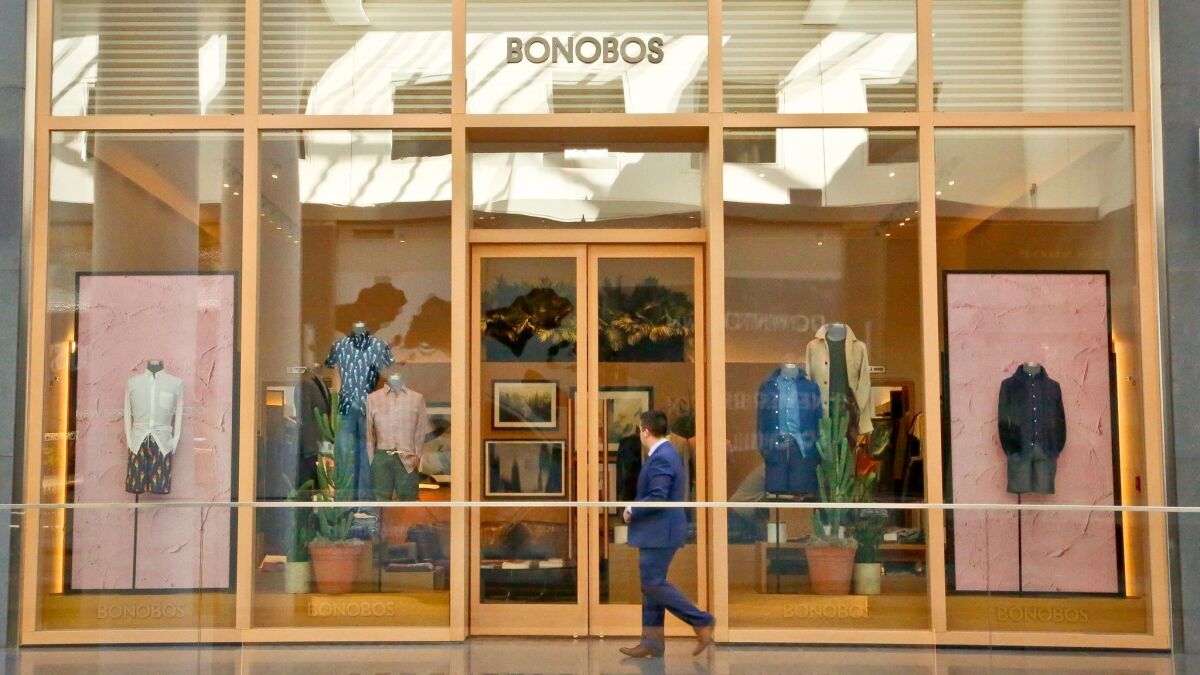 Wal-Mart Stores Inc. is buying online men's clothing retailer Bonobos for $310 million in cash, showing that its appetite for hip clothing brands shows no sign of abating as it looks for ways to gain on Amazon.com Inc.
It's a sign of the aggressive direction Wal-Mart is taking since buying Jet.com last year and keeping that company's founder as head of its online division. Wal-Mart has since bought clothing seller ModCloth, footwear retailer ShoeBuy.com and outdoor gear seller Moosejaw as it focuses on brands appealing to younger shoppers.
Bonobos, which started out selling pants online, caters to male shoppers looking for help putting together a wardrobe.
Targeting Bonobos is a good move for Wal-Mart as it tries to compete with Amazon, which has been quickly expanding its clothing business, Internet consultant Sucharita Mulpuru-Kodal said.
"If you roll up enough of these online startups, you create a meaningful share" of business, she said. She also said Wal-Mart can learn from millennial customers.
While Wal-Mart keeps trying to compete against Amazon by pushing harder into the online space, Amazon announced a bold move into bricks-and-mortar stores Friday by saying it would buy Whole Foods in a deal valued at about $13.7 billion.
The Bonobos deal, announced Friday, is expected to close at the end of the second quarter or the beginning of the third quarter of this fiscal year. Bonobos Chief Executive and founder Andy Dunn will report to Marc Lore, the CEO of Wal-Mart's U.S. online operations.
"Adding innovators like Andy will continue to help us shape the future of Wal-Mart," Lore said. "They've created an amazing product and customer experience, and that will not change."
Bonobos sought to reassure customers that the deal wouldn't hurt its brand. "Everything from our product quality, to design, to our customer service will stay the same," it said on Twitter.
Bonobos started online but, like many similar startups, has also opened some showrooms. Customers at the Guideshops can try on pants, shirts, ties, belts and jackets with suggestions from stylists. They can order online at the store and have their clothes delivered to their homes or offices a few days later.
The company operates more than 30 stores in cities including Los Angeles, Chicago, New York and Atlanta, and it has planned to have 100 by 2020. The acquisition by Wal-Mart will help Bonobos expand its business.
Still, Mulpuru-Kodal said, it is a bit of "a game of Monopoly."
"Wal-Mart has huge coffers. Even if one of them shows promise, it pays for the rest," she said.
Bentonville, Ark.-based Wal-Mart's online business is gaining momentum but remains a distant second to Amazon. It increased 63% in the fiscal first quarter, up from 29% growth in the previous period. That marked the fourth straight quarter of gains.
Under Lore's direction, Wal-Mart also has been working to accelerate the integration between Walmart.com and Jet.com, and trying to take advantage of its scale in areas such as shipping and sharing its products. Wal-Mart also is starting to offer discounts on thousands of online-only items when customers elect to have them shipped to one of the company's stores for pickup rather than shipped to their homes.
Wal-Mart is also launching an incubator lab focused on projects in robotics, virtual and augmented reality, and artificial intelligence as it aims to compete more aggressively with Amazon.
Sign up for the California Politics newsletter to get exclusive analysis from our reporters.
You may occasionally receive promotional content from the Los Angeles Times.