Wanda to sell off $9.3 billion in tourism assets to tackle debt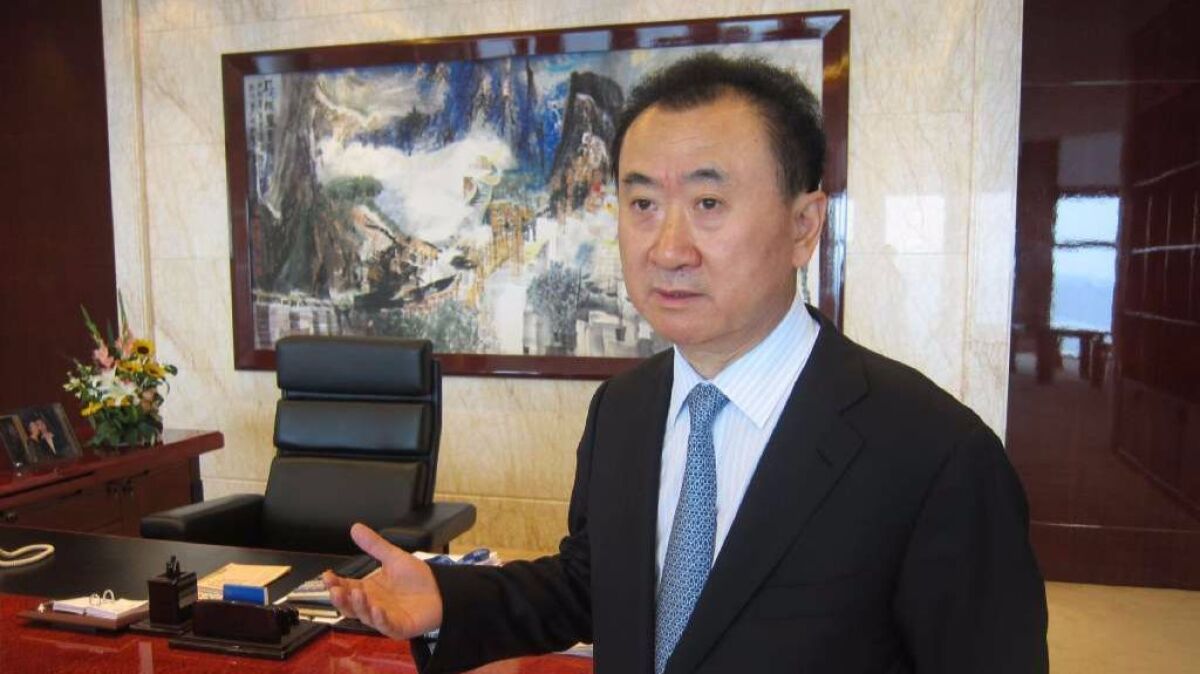 Few companies embody China's global ambitions more than the Dalian Wanda Group, a real estate giant that bought America's second-biggest cinema chain, a Hollywood studio and pledged billions to unseat the Walt Disney Co. as a top theme park brand.
But in a move Monday that underscores Beijing's growing unease with corporate debt, Wanda said it would sell $9.3 billion in tourism projects and hotels to real estate rival Sunac China.
The move comes as China's central government is calling on some of the country's most aggressive firms to dial back their debt-driven expansion, often overseas. Over-leverage in China's economy has become a growing concern. In May, Moody's downgraded China's sovereign credit rating for the first time since 1989.
Wanda has been among the private Chinese companies most active in investing abroad. In 2012, it purchased AMC Theatres for $2.6 billion. Four years later, it snapped up Hollywood studio Legendary Entertainment for $3.5 billion. The company has since hit road bumps in the U.S. as its movie ambitions have been diminished by flops and scuttled deals, including a failed $1-billion bid for Dick Clark Productions.
Primarily a real estate company, Wanda also took aim at the tourism industry. Last year, it announced that it would spend nearly $15 billion on a rival theme park to Shanghai Disneyland and build more than a dozen malls. The company is also building a $1-billion condominium and hotel tower in Beverly Hills.
In a joint statement issued Monday, the companies said Sunac would buy majority control of 13 tourism projects, which include theme parks, and 76 hotels. The tourism sites will retain Wanda's name and the companies said they would cooperate in other industries, including film.
Sunac China is a major residential developer based in the northern city of Tianjin founded by billionaire Sun Hongbin, a Harvard graduate who once served prison time in China for embezzlement. The company recently invested in troubled Chinese tech firm LeEco.
These are uncomfortable times for China's biggest tycoons — some of whom are garnering closer scrutiny as President Xi Jinping further consolidates power in the run-up to the 19th Party Congress scheduled for the fall. After a prolonged anti-corruption campaign directed at government officials, Xi appears to be targeting powerful businessmen, political scientists say.
Wanda is one of four major Chinese companies with big overseas investments that is under investigation by China's banking regulator for excessive risk. Wu Xiaohui, the chairman of Anbang Insurance Group, was detained by police last month. His detention follows the seizure of another billionaire, Xiao Jianhui, who was taken from a luxury hotel in Hong Kong and hasn't been seen since.
Another one of the four companies under investigation, Fosun International, had to quash online rumors that Chairman Guo Guangchang had also disappeared. The last company, financial services firm HNA, is now enmeshed in a scandal with exiled billionaire Guo Wengui.
Part of the issue, experts say, is that Beijing could be recalculating its position on overseas investment. Recently, the country's leaders have emphasized strengthening trade ties in emerging markets along a modern-day Silk Road, titled One Belt, One Road. In contrast, the companies in question have directed their investments to North America and Western Europe at a time when Xi wants more investment in Southeast and Central Asia.
"My guess is that real estate in the U.S. is not seen as fitting that bill," said Clayton Dube, director of the U.S.-China Institute at USC. "Getting a studio, theaters — that might be seen as a soft power acquisition and thus useful, but an office/condo tower in Beverly Hills isn't."
In short, Beijing doesn't want its state banks to lend money to companies whose investments don't benefit the Chinese economy.
Communist Party leaders are likely to be thinking "we keep having to expand the money supply, and we don't appreciate that you're just sucking it out of China. And it's not cool to be that rich anymore if you're not giving back to the motherland," said Anne Stevenson-Yang, research director at J Capital Research.
The pullback in political support, combined with stricter capital controls, has fueled a 20% decline in outbound deals by Chinese companies in the first half of 2017 compared to the same period last year, according to the Rhodium Group.
Experts say the deals will continue, but not at 2016 rates — when Chinese companies invested a record $45.6 billion in the U.S.
"I wouldn't say we're at the end [of China's boom in outbound deals], but we've certainly seen a huge clampdown," said Fraser Howie, coauthor of three books on the Chinese financial system, including "Red Capitalism: The Fragile Financial Foundations of China's Extraordinary Rise."
The difference now, Howie said, is that Chinese regulators are thinking more strategically.
"I can see why the Chinese Communist Party would want to have ownership of a German robotics manufacturer, or an agricultural firm, to be in Chinese hands," he said. "But I don't think they give a hoot whether Dick Clark Productions is owned by China or anyone else. These are soft, intangible things that the Communist Party doesn't get. They want hard stuff — assets, control of land, control of technology, things like that."
Follow me @dhpierson on Twitter
Staff writer Jonathan Kaiman in the Times' Beijing bureau contributed to this report.
ALSO
This Chinese billionaire rode into town late last year looking like a Hollywood conqueror. What happened?
The Fed took bold steps to boost the economy. Will undoing one of them rattle markets?
George Skelton: AT&T and Verizon want free rein to put new wireless transmitters in your neighborhood. Here's why that's a bad idea
---
UPDATES:
2:55 p.m.: This article was updated to include context about Wanda's history and comments from Clayton Dube, director of the U.S.-China Institute at USC.
This article was originally published at 10:40 a.m.
Sign up for the California Politics newsletter to get exclusive analysis from our reporters.
You may occasionally receive promotional content from the Los Angeles Times.