KKR's Internet Brands plans to buy WebMD in a $2.8-billion deal 
WebMD has found a remedy for its volatile business: A $2.8-billion sale to El Segundo online media company Internet Brands.
The Internet's leading destination for information about rashes, coughs and other ailments has gone through mergers and sales multiple times since its founding in the late 1990s. But investors made a fresh case for a deal earlier this year, contending that being at the cross-section of healthcare and the Internet should be more valuable than what traders were paying for WebMD shares on the stock market.
Internet Brands, owned by the private equity firm KKR, affirmed that view Monday in announcing the proposed acquisition. It would take WebMD private for $66.50 a share, or about a 20% premium to the New York company's Friday close of $55.19.
Internet Brands Chief Executive Bob Brisco said in a statement that combining his company's websites with WebMD's would "catalyze" growth. The companies declined to make Brisco, a former Los Angeles Times executive, available for an interview.
WebMD generated about $705 million in revenue last year, about 80% of which came from selling advertising inside its websites and magazine. The rest came from selling subscriptions for wellness education programs to insurers and employers. Profit reached $91 million last year.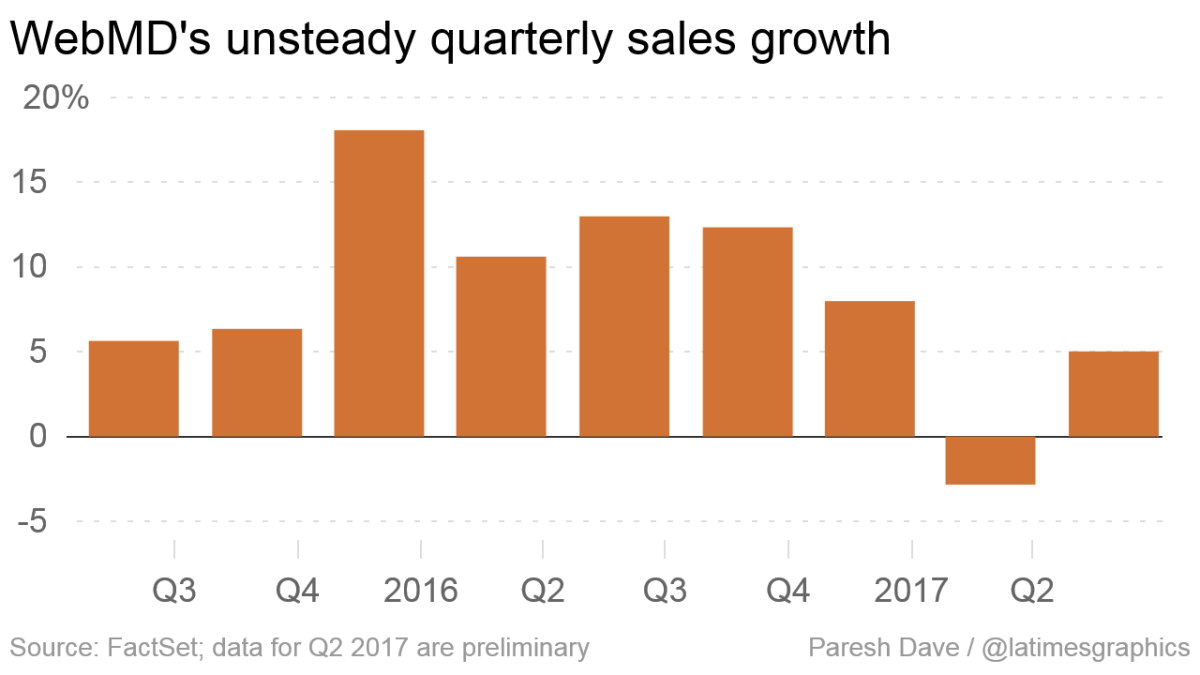 But investors have held back amid concerns about weakened ad sales growth, increased competition from firms such as Google and uncertainty about planned expansions into additional services for doctors and consumers.
WebMD has considered reducing its reliance on drug ads — spending on which can fall sharply depending on regulatory issues — by perhaps collecting a fee to connect users to medical testing labs, appointment booking tools and telemedicine apps.
Most users, after all, are entering the site thinking they may be sick or hurt. Linking people to accredited services could reduce criticism of WebMD for fostering fear among patients and acting as a shill for the pharmaceutical industry.
Internet Brands' websites such as Dentalfind.com and Plasticsurgeons.com could tie into such goals. The company also runs message boards and online guides about healthcare and prescription drugs.
On the doctor side, WebMD's Medscape portal for industry news could pair with Internet Brands' marketing and website-building services. About 60% of WebMD's ad revenue comes from Medscape, which the company says is visited by "a substantial majority" of doctors in the U.S. at least once a year.
What the acquisition would mean for WebMD's experiments with new technology is unclear. The company has tested virtual reality apps for training doctors and is developing bots to answer user questions on Amazon Echo speakers and Facebook Messenger.
Financial analysts said they were pleased to see a high price materialize. WebMD shares have danced around $60 a few times, but they haven't been able to maintain steady price growth since the company's 2005 initial public offering.
"We view the acquisition news as validation of our longstanding positive thesis of WebMD's strategic positioning, with unrivaled reach to consumers and physicians serving as an ever-important (and perhaps underutilized) platform amidst ongoing trends toward healthcare consumerism," wrote Nicholas Jansen of Raymond James, which markets WebMD shares.
Internet Brands is paying more for WebMD than the $1.1 billion KKR paid in 2014 for the El Segundo firm. Singapore's state-owned Temasek Holdings owns a piece of Internet Brands, too.
Last year, Internet Brands picked up Fodor's Travel from book publisher Penguin Random House to add to a vast portfolio that includes Carsdirect.com, Lawyers.com and Weddingbee.com.
WebMD attracts about 72 million visitors a month, making it the 36th-most-popular online destination in the U.S., behind properties such as BuzzFeed and Netflix in the rankings, according to research firm ComScore.
How much user overlap there is between Internet Brands sites and WebMD wasn't disclosed. But every added WebMD visitor would give Internet Brands a bigger chunk of the about $20 billion in annual online ad spending left after Google and Facebook get their cut.
The acquisition is expected to close during this year's fourth quarter, WebMD said.
Education start-up JumpStart Games sold to Chinese gaming company
A pair of venture capital firms sold their long-held stakes in Torrance start-up JumpStart Games Inc. to a Chinese company this month.
TeleSoft Partners and Azure Capital didn't respond to requests to comment on why they decided to sell. The firms first invested in JumpStart in 2008. DreamWorks Animation also sold its shares in JumpStart. Terms of the deal were not disclosed.
NetDragon WebSoft, which draws hundreds of thousands of simultaneous users to its education apps and mobile games, becomes the latest owner of JumpStart. Founded in 1991 as Knowledge Adventure, the maker of "MathBlaster" and "School of Dragons" has passed through several owners, including Vivendi Universal Games.
But NetDragon says it's committed for the long term. Vice Chairman Simon Leung said he wants to share technology with its new division to make games playable in augmented and virtual realities. He also wants to bring JumpStart products to China.
"We believe it's going to be a significant part of our business," he said.
NetDragon generated more than $410 million in revenue during its last fiscal year. Its publicly listed shares have crept up since the acquisition announcement.
JumpStart Chief Executive David Lord said his company had been hobbled by debt the last couple of years and had been unable to invest in new initiatives as a sale process rolled on.
"School of Dragons" helped widen JumpStart's reach; 60% of sales now come from outside of North America. But there are many untapped regions. JumpStart charges about $85 for an annual membership to its services.
"We had built a big platform but needed a big distribution partner to get to the next level," Lord said.
NetDragon plans to retain JumpStart's more than 110 employees. It becomes the latest Chinese player in Southern California's gaming scene. Tencent wholly owns "League of Legends" maker Riot Games and just under 5% of Activision Blizzard.
Rental car company raises $25 million in funding
Fox Rent-A-Car, which bills itself as the nation's fifth-largest vehicle rental company, raised $25 million to refinance debt.
The funding comes from a pair of private equity firms and an insurance company. NewSpring Capital, which led the funding round, has previously invested in companies such as Nutrisystem and Innovid.
Fox, founded in 1989, hadn't raised outside funding before.
"What we saw was a really nice base business with a strong management team, and we spent a lot of time wrapping our arms around their growth strategy and obviously bought into that," said Anne Vazquez, a partner at NewSpring Capital.
Fox, known as a budget option for leisure travelers, said that it would now have the financial flexibility to expand availability and improve services. In March, the company purchased car-sharing technology from Silicon Valley start-up JustShareIt.
Elsewhere on the Web
In case you missed it
---
UPDATES:
6:05 p.m.: This article was updated with additional reporting about the El Segundo online media company Internet Brands and context about WebMD's business.
This article was originally published at 5:15 a.m.
FOR THE RECORD: An earlier version of this article incorrectly listed Jam City among Southern California gaming companies owned by Chinese firms.