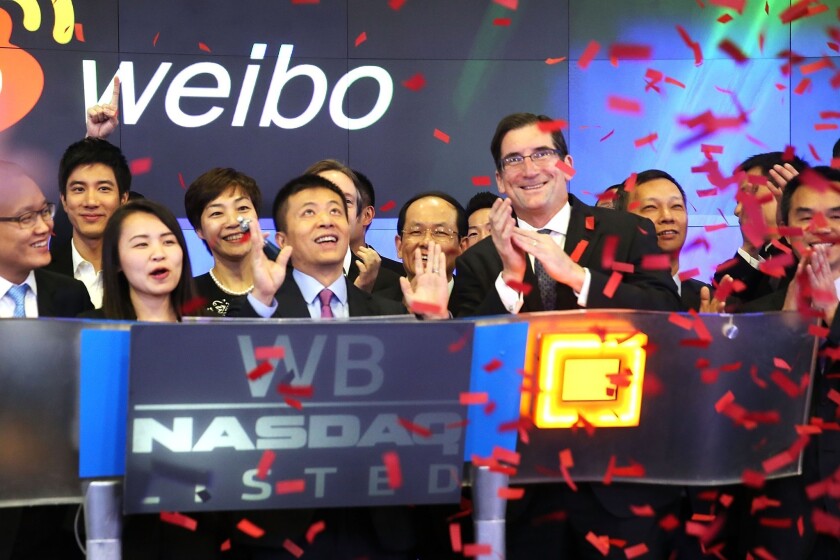 Shares of microblogging site Weibo surged as much as 44% on its first day of trading, a robust start for the first of three major Chinese tech companies planning initial public offerings in the U.S. this year.
"The company did miraculously, considering that virtually anything that had the letters 'IPO' in front of it over the last couple of weeks suffered a slicing session in terms of valuations," said David Menlow, president of research firm IPOfinancial.com.
Although Weibo's American depositary shares opened Thursday below their $17-a-share offer price, they "headed up like a hockey stick," Menlow said.
Trading on the tech-oriented Nasdaq exchange under the WB symbol, the shares gained $3.24, or 19%, to close at $20.24.
Weibo's IPO sets the stage for what is expected to be a gigantic public offering from e-commerce juggernaut Alibaba Group later this year. Alibaba, which last year paid $585.8 million for an 18% stake in Weibo, said it intends to list its shares in the U.S. and could raise $15 billion.
Chinese e-commerce site JD.com also has filed to go public on Wall Street.
Weibo's IPO started out a bit weak as the stock, priced late Wednesday, brought in a less-than-expected $285.6 million. The sale of 16.8 million shares set Weibo's value at nearly $3.5 billion, and the day's gains pushed it to $4.1 billion.
Owned by Sina Corp., Weibo launched in 2009 after the Chinese government started blocking Twitter, Facebook and other Western social media sites. Weibo is allowed to operate because, like all major Chinese Internet sites, it is willing to censor its users' content.
Commonly called China's version of Twitter, Weibo has operated more like a hybrid of Twitter and Facebook to become one of China's most popular sites.
Users share opinions, news, pet photos and jokes on the platform and can follow each other. Many brands, government departments and celebrities, including Tom Cruise and Samuel L. Jackson, have Weibo accounts.
It also features polls, threaded comments, games, instant messaging and apps.
Weibo has been alternately hailed as a force that has pushed the boundaries of free speech in China and criticized as weak for letting government propaganda authorities frequently block or delete posts they don't like. In some cases, accounts have been deleted entirely.
Still, it often takes five to 30 minutes to block a post, so many users have a chance to see breaking news on Weibo before it may disappear.
How many people use Weibo is unclear.
The company said in its prospectus that it had 129.1 million monthly active users and 61.4 million daily active users as of December. But some studies indicate that the core group of users is just a tiny fraction of that.
One major concern for some investors: Recent government crackdowns on social media sites may be driving people off Weibo and onto more private services such as WeChat, a messaging and social networking app.
Jason Q. Ng said in his book, "Blocked on Weibo," published last year, that of 700,000 terms the author searched on the site, he came up with more than 1,000 blocked keywords.
The largest share were names of people, such as Communist party members who are shielded from criticism, and political terms such as 6-4, a reference to the June 4, 1989, Tiananmen Square massacre. Many users circumvent such bans through clever puns and other locutions.
Besides censorship worries, many observers question whether Weibo can be a money-making enterprise.
The company said it began generating revenue in 2012, primarily from customers who purchase advertising and marketing services and, to a lesser extent, from platform partners who develop games for its users to play.
Weibo said revenue nearly tripled last year, rising to $188.3 million from $65.9 million the prior year. Its net loss narrowed to $38.1 million last year from $102.5 million.
IPO experts have cautioned that Chinese companies in the U.S. have had a mixed record historically on Wall Street.
"Leading Chinese companies have done well here; a lot of smaller companies have faced some difficulty," said Max Wolff, chief economist and strategist at Citizen.VC.
Kathleen Smith, principal of IPO investment advisory firm Renaissance Capital, said the lower-than-expected pricing of the Weibo IPO and others over the last few weeks indicated a more disciplined IPO market.
Valuations are coming in lower so investors can get discounted pricing, she said.
"It has become a buyer's market, not a seller's market," she said. "A necessary correction."
She said she was encouraged by Weibo's strong trading debut, which she called "a good indication of investor interest in Chinese Internet properties."
Twitter: @byandreachang, @JulieMakLAT
Chang reported from Los Angeles; Makinen from Beijing.
---