House committee launches investigation into Wells Fargo sales tactics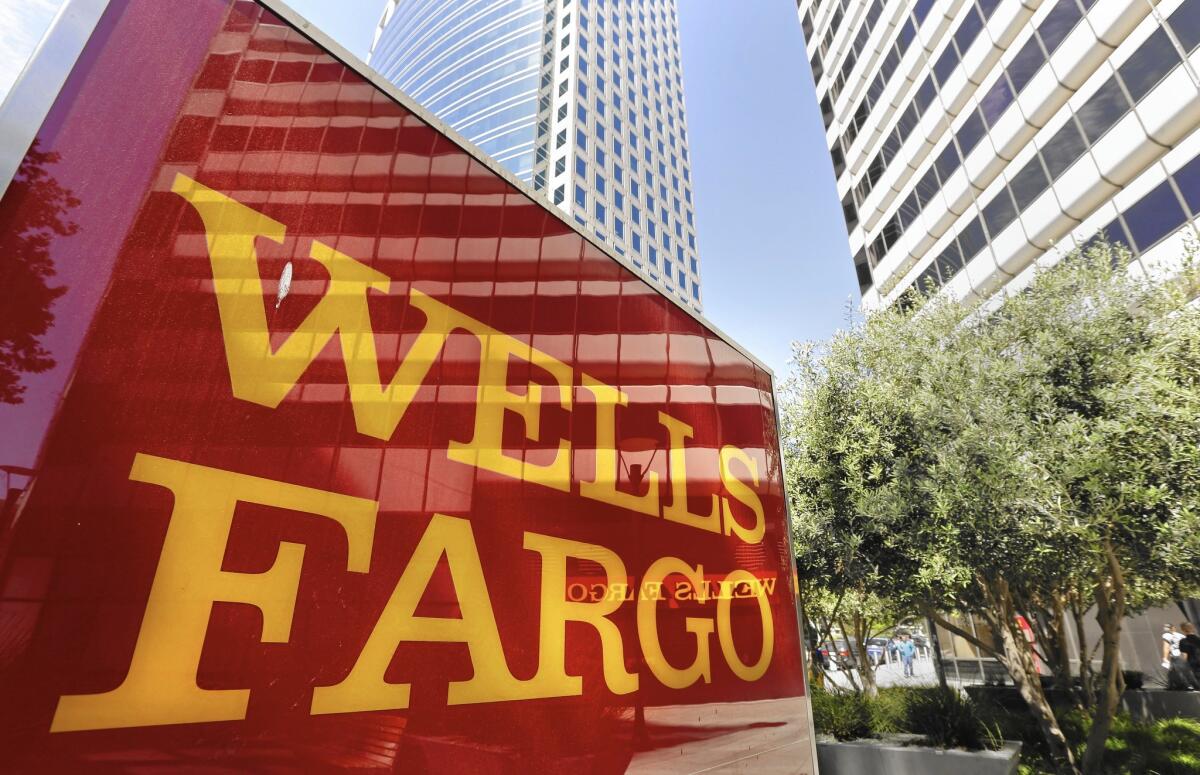 Reporting from Washington —
The House Financial Services Committee has launched an investigation into improper sales tactics at Wells Fargo & Co., and plans to call the bank's chief executive to testify at a hearing this month.
Rep. Jeb Hensarling (R-Texas), the committee's chairman, said Friday that the probe would look into "alleged fraud that led to the opening of unauthorized customer accounts at Wells Fargo and the role of Washington regulators in monitoring and investigating this activity."
The panel's investigation comes as the Senate Banking Committee is looking into the matter and will hear testimony from Wells Fargo Chief Executive John Stumpf at a hearing Tuesday. The Justice Department also has started an investigation that could lead to civil or criminal charges.
The probes come after the bank agreed last week to pay $185 million to settle investigations by Los Angeles City Atty. Mike Feuer and federal regulators.
The sales tactics, first uncovered by the Los Angeles Times in 2013, involved thousands of bank employees opening as many as 2 million accounts that customers did not authorize in order to meet aggressive sales goals.
Wells Fargo has fired 5,300 employees for improper sales tactics since 2011.
In a letter to Wells Fargo general counsel James M. Strother, Hensarling said that "the committee is very concerned by these serious allegations." He requested "all records related to the questionable sales tactics" that were produced or made available to Los Angeles and federal officials.
The committee also requested documents from the federal regulators involved in the settlement: the Office of the Comptroller of the Currency and the Consumer Financial Protection Bureau, which imposed a $100-million fine on Wells Fargo, its biggest enforcement action ever.
Reps. Maxine Waters (D-Los Angeles) and Al Green (D-Texas) had requested Sept. 9 that Hensarling hold a hearing.
"We need answers as to how this happened and why this happened. We need answers about who's being held accountable for this fraud," Waters told reporters on a conference call Friday.
Wells Fargo said Friday in a statement that, "We welcome the opportunity to provide the committee with information on this matter and to discuss steps we have taken to affirm our commitment to customers."
In addition to calling Stumpf to testify at the hearing, Hensarling requested that four Wells Fargo executives be made available for interviews with committee staff.
They include Carrie Tolstedt, senior executive vice president for community banking, who headed the unit in which the unauthorized accounts were opened. Wells Fargo announced in July that she was retiring at the end of the year.
There have been calls for Wells Fargo to recover some of the money paid to executives involved with the scandal, including Tolstedt, who Fortune magazine estimated will receive $124.6 million in a retirement pay package. The process is known as a clawback.
Five Democratic senators wrote to Stumpf on Friday asking whether the bank would use clawback provisions to recover compensation paid to Tolstedt and other top executives.
"This was not the work of a few rogue employees over the course of a few weeks. Wells Fargo had a longstanding, systemic problem created by stringent sales quotas and incentives imposed by senior management," said the letter from Sens. Elizabeth Warren of Massachusetts, Sherrod Brown of Ohio, Jack Reed of Rhode Island, Bob Menendez of New Jersey and Jeff Merkley of Oregon.
In response to the furor, Wells Fargo said this week that it would eliminate all sales goals for credit cards, checking accounts and other retail banking products starting Jan. 1.
Chief Financial Officer John Shrewsberry said the bank also had invested $50 million to improve its monitoring of employees' activities, including adding a "mystery shopper program" to identify improper sales tactics.
At the same time, Shrewsberry and Stumpf sought to deflect blame for the scandal from upper management, with Shrewsberry saying the terminated employees were "really more at the lower end of the performance scale, where people apparently were making bad choices to hang on in their job."
Stumpf during an appearance on CNBC's "Mad Money" said he was fully accountable for the problems but does not plan to resign.
Also Friday, the public interest group Public Citizen said it had filed a shareholder resolution with Wells Fargo asking the board of directors to study whether the bank should be broken up because it is too large to be effectively managed.
"Rather than acknowledging a management breakdown, CEO John Stumpf blamed a minority of bad employees," the resolution said. "He claimed there was no reason for the employees to commit the fraud. … Taking CEO Stumpf at his word, then, we believe he effectively argues that his firm is so large as to be unmanageable."
The bank's shares fell 72 cents, or 1.6%, to $45.43 on Friday. The shares are now off nearly 9% since announcement of the settlement Sept. 8.
Follow @JimPuzzanghera on Twitter
---
UPDATES:
3:50 p,m.: This article was updated with comment from Wells Fargo and additional background.
10:45 a.m.: This article was updated with information about a shareholder resolution filed by Public Citizen.
This article was originally published at 10:20 a.m.