Wells Fargo, accused of signing up customers for unneeded insurance, could face sanctions from state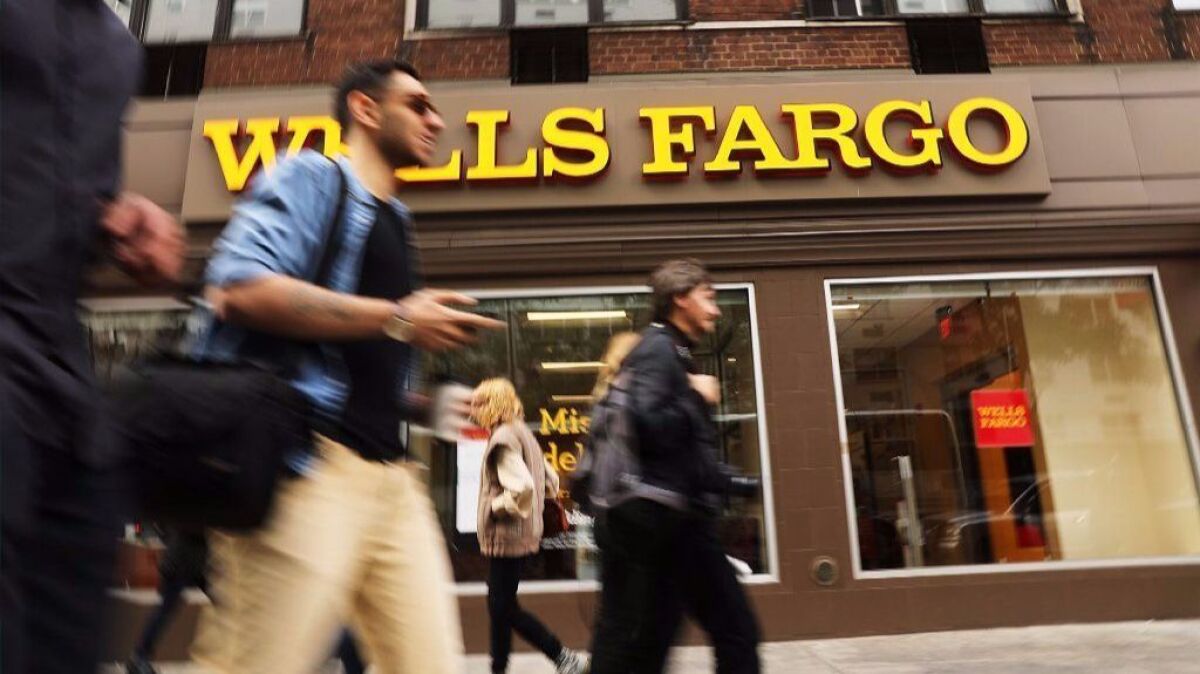 California's insurance regulator wants to suspend or revoke Wells Fargo & Co.'s license to sell insurance in the state after accusing the bank of setting up more than 1,400 renters insurance and life insurance policies for customers who never asked for them.
The move, announced late Tuesday, comes after the department launched an investigation last year into the San Francisco bank's insurance brokerage business following the sham accounts scandal in response to allegations from former workers at New Jersey insurer Prudential that Wells Fargo had signed customers up for life insurance policies without their knowledge or consent.
It's not clear what impact, if any, the department's action would have on the bank, which has been taking steps to exit the insurance business. Just this week, the bank finalized the sale of its commercial insurance brokerage and has also sold off its crop insurance business. And last month, the bank announced it was exiting the personal insurance business as well.
The bank does not offer personal insurance policies of its own but has long brokered policies from third-party carriers. The insurance policies in question were offered by Prudential, American Modern Insurance Group and other companies.
Wells Fargo spokeswoman Catherine Pulley said the decision to leave the personal insurance business was not related to the department's investigation, but she offered an apology for the bank's insurance sales practices.
"We are sorry for any harm this caused our customers and we are making things right for them as part of an ongoing remediation," she said. "We will continue to make critical changes to our businesses and operations to better serve customers and build a stronger bank."
The investigation found 1,469 cases in which customers had policies, mostly renters insurance, opened in their names between 2008 and last year. The department said bank workers were not supposed to help customers sign up. Instead, the policies were available for purchase at kiosks in Wells Fargo branches.
However, a legal filing by the department outlining the alleged wrongdoing references language from an internal Wells Fargo report that noted bank workers did have incentives to sell insurance policies that were similar to those that led to the opening of unauthorized checking and savings accounts: incentive pay and sales goals.
The filing said most customers would have had premiums for these policies — which ranged from $12 to $37 a month — taken directly from their Wells Fargo accounts.
The department alleged that it would "be against public interest" to allow Wells Fargo to continue to participate in the insurance industry and that its licenses to act as an insurance broker should be suspended or revoked.
"Companies that are licensed to transact insurance have an obligation to act with integrity, comply with all state and insurance laws and represent the best interests of consumers," California Insurance Commissioner Dave Jones said in a statement. "When any producer violates consumer trust in the name of profit, it reflects poorly on the entire profession."
Problems with the bank's insurance sales practices first came to wide attention a year ago, when three former Prudential employees sued the insurer, claiming they had been fired for raising concerns about policies sold through Wells Fargo.
They alleged that many Prudential policies sold through the bank appeared to be linked to bogus email addresses and that many customers canceled their policies after paying a single monthly premium.
Pulley said the bank started an internal review of those products and has been cooperating with the state Insurance Department's investigation. It suspended offerings of renters and life insurance policies last year.
The department said it has found 1,258 unauthorized renters insurance policies from American Modern; 187 life insurance policies from Great-West Financial; 18 life insurance policies from Prudential; and six renters insurance policies from Assurant.
Wells Fargo can respond to the department's accusations. An administrative law judge will hold a hearing and make a recommendation to Jones on whether Wells Fargo should lose its license or face other penalties.
Wells Fargo has had other insurance problems, though not related to its insurance referral program. The bank acknowledged earlier this year that it improperly charged hundreds of thousands of auto-loan customers for car insurance policies they did not need.
The bank said it would pay $80 million in refunds and compensation to harmed borrowers, including some 20,000 customers who fell into default and had their cars repossessed because of the added cost of the unneeded policies.
Insurance has been a small fraction of Wells Fargo's overall business, generating revenue of $1.3 billion last year out of the bank's total revenue of $88.3 billion.
Follow me: @jrkoren