Wells Fargo orders 2 former top executives to pay back $75 million after scathing report on accounts scandal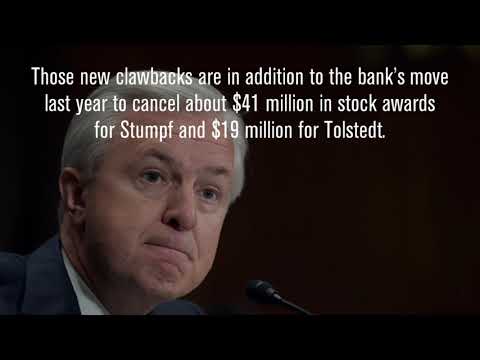 The bank has said that as many as 2.1 million checking, savings and other accounts were created without customer authorization. (Sign up for our free video newsletter here http://bit.ly/2n6VKPR)
In a long-anticipated report released Monday, Wells Fargo & Co. pinned the blame for its unauthorized-accounts scandal on weak corporate oversight, an overly trustful former CEO and the executive who led its community banking division.
The San Francisco bank also said it would take back more than $47 million in pay from the former community banking executive, Carrie Tolstedt, and $28 million from former Chief Executive John Stumpf.
Those new clawbacks are in addition to the bank's move last year to cancel about $41 million in stock awards for Stumpf and $19 million for Tolstedt. In 2015, their last full year with the bank, Stumpf made $19.3 million and Tolstedt made $9.05 million
The report was commissioned by the bank's board last year and prepared by the Shearman & Sterling law firm. Its release, which comes two weeks before the bank's annual shareholder meeting, marks the latest in a series of moves the bank had made over the past several months — including management changes, a class-action settlement and an ad blitz — to put the scandal behind it and win back customers' trust.
The report goes out of its way to name names, putting much of the blame for the bank's unethical practices on Stumpf, Tolstedt and on a corporate structure that it said gave too much autonomy to Tolstedt and the leaders of other bank divisions.
Stumpf and Tolstedt are gone, but the other, systemic problems detailed in the report will take longer to correct and signal Wells Fargo is in for a potentially lengthy internal rebuilding process, according to a Monday research note by analysts R. Scott Siefers and Brendan Nosal at investment bank Sandler O'Neill.
"While there are few new bombshells in the report, it really hammers home the extent of the cultural/reporting structure issues in the bank, as well as questions about how long it will take to turn around and reinvent the company," they wrote.
The report alleges that Tolstedt not only failed to see the potential harm caused by unauthorized account openings and other unethical sales practices — but that she tried to keep information about those practices away from the board and others at the bank. That included the number of workers fired for unethical conduct.
"Tolstedt effectively challenged and resisted scrutiny," the report said, describing Tolstedt and members of her "inner circle" as "insular and defensive."
Tolstedt, on the advice of her lawyer, declined to be interviewed during Shearman & Sterling's investigation, according to the report. She announced her retirement in July and planned to step down in December, but left in September after the settlement was announced.
In an emailed statement Monday, Enu Mainigi, an attorney for Tolstedt, said, "We strongly disagree with the report and its attempt to lay blame with Ms. Tolstedt. A full and fair examination of the facts will produce a different conclusion."
Stumpf, meanwhile, was overly deferential to Tolstedt, the report found, and to the bank's longstanding focus on cross-selling, which required employees to sell multiple services to individual customers. As a result, it said, he was "too late and too slow" to make changes.
The report noted that Stumpf defended Tolstedt and did not fire her even after a board member suggested doing so in 2015. Stumpf called Tolstedt the "best banker in America," according to the report.
The report gave Wells Fargo CEO Timothy Sloan, who replaced Stumpf in October, a pass on the scandal, saying that although he was one of the bank's top executives during the height of the bank's bad practices, he had "little contact with sales practice matters."
On a conference call Monday, Sloan said he regrets not acting faster once the magnitude of the bank's problems became clear.
"In hindsight, I wish we would have taken more action and done things more quickly," he said, adding that he wishes he had called for swifter changes to the banks sales-goal system.
The bank eliminated sales goals, but not until October, several weeks after the bank's settlement with regulators was announced and nearly a year after Sloan had been named chief operating officer. In that position, he supervised Tolstedt and the community banking division.
The report paints the bank's board as being out of the loop on the scope of the sales problems. Asked Monday if he should resign, Wells Fargo Chairman Stephen Sanger, who has been on the bank's board since 2003, defended the board's actions, saying it has acted properly since the scandal came to light.
"As we got information, we acted appropriately," he said.
Echoing the Shearman & Sterling report, Sanger said the board was not made aware of the size of the problem — millions of potentially unauthorized accounts, and 5,300 workers fired for bad practices — until the bank reached a $185-million settlement with regulators last year.
The internal bank investigation was released just days after an influential shareholder advisory firm said that board members failed to properly oversee the bank and could have done more to prevent "unsound retail banking sales practices."
Institutional Shareholder Services, which advises big investment firms on corporate governance issues, recommended Friday that shareholders vote against the election of 12 of the bank's 15 board members, including Sanger, at the bank's upcoming annual meeting.
The bank's board called that recommendation "extreme and unprecedented," and said shareholders should wait for the release of the Shearman & Sterling report.
Dennis Kelleher, chief executive of banking advocacy group Better Markets, said he supports Institutional Shareholder Services' recommendation and called the report a whitewash aimed at protecting the board and Sloan.
He said the report demonstrates that the board was out of touch or willfully ignorant of activity that he said amounts to criminal fraud and identity theft. He also said it strains credulity that Sloan — who was chief financial officer from 2011 until 2014 — and the board were so out of the loop.
"This report details egregious criminal conduct and widespread knowledge of it going all the way back to 2002," he said. "And it talks about a board that was somewhere between passive and unconscious. The level of willful blindness required for this kind of criminal practice to continue year after year is simply not credible."
Board members, according to the report, feel they were misled by reports from Tolstedt and others that downplayed problems with the bank's sales practices.
For instance, the board in the spring of 2015 requested information on the number of workers fired for sales violations but, according to the report, did not get accurate figures until May 2016.
In a research note Monday, Siefers and Nosal wrote that the report is interesting in that it indicates that the board was not aware of what was happening within the bank.
"We are a little surprised by the extent to which the board of directors appears to have been in the dark about the scope of the issue," they wrote.
Siefers and Nosal also pointed out that the scandal is forcing Wells Fargo to change two of things that analysts have long thought made it a better bank: it's focus on sales and its decentralized structure, which gave a great deal of autonomy to different units within the bank. But that, according to the report, also allowed the sales practice problems to fester.
"The company is probably in the midst of a top-down reinvention that would wipe away much of what has differentiated [Wells Fargo] for decades," they wrote. "Hard as it is to believe now, before the scandal erupted, [Wells Fargo's] sales culture and decentralized structure were both considered attributes."
Wells Fargo's practices were uncovered in a 2013 Los Angeles Times story that found overbearing sales pressure was leading bank employees to create bank accounts for customers without their knowledge or authorization.
Monday's report found that Wells Fargo took steps to address problematic sales practices in 2002 and noticed a big uptick in firings over sales-practices violations by 2004 — nearly a decade before The Times story and a dozen years before the bank's practices came to national attention.
The Los Angeles city attorney sued the bank in 2015, and Wells Fargo agreed on Sept. 8, 2016, to pay $185 million to regulators. The bank has said that as many as 2.1 million checking, savings and other accounts were created without customer authorization. The settlement created a firestorm and congressional inquiries during which Stumpf was pilloried.
Stumpf resigned in October and was replaced by Sloan, the bank's president and chief operating officer, who has led the bank's effort to put the scandal behind it.
The bank has eliminated sales goals for branch workers, fired a handful of regional banking executives and cut pay to its top brass. In addition to taking back or cancelling a total of $135 million in compensation that would have gone to Stumpf and Tolstedt, it has cancelled $32 million in bonuses that would have gone to Sloan and other current executives.
The bank is also making changes at the corporate level aimed at ensuring different business units at the bank have stricter oversight — something Shearman & Sterling found was lacking in the past.
Still, those steps and Monday's report will not put an end to Wells Fargo's troubles.
Last month, the bank agreed to pay $110 million to settle a class-action lawsuit filed two years ago over the unauthorized accounts. However, attorneys representing plaintiffs in similar cases have said they expect to object to the deal and hope to get a better one.
Several federal and state agencies also have opened their own investigations into the bank's practices, looking for evidence of criminal identity theft, violations of labor law and other possible failings.
In one recent development, the Occupational Safety and Health Administration this month found that the bank in 2010 improperly fired a manager after he reported potential fraud to Wells Fargo's in-house ethics hotline. OSHA ordered the bank to rehire the manager and pay him $5.4 million in back pay, damages and legal fees.
That finding, which Wells Fargo has said it will challenge, seems to back up claims of other former workers who say they were fired for reporting unauthorized account openings and other ethics violations. In its report, Shearman & Sterling said it has not found "a pattern of retaliation," though it noted that finding is based on a limited review.
The scandal has taken a toll on Wells Fargo's consumer banking business. Over the last several months, the company has seen a marked slowdown in customers visiting branches and opening new accounts.
The bank reported that credit card applications were down 53% in February compared with the same month last year, while customers opened 40% fewer checking accounts.
But those flagging figures and the hundreds of millions of dollars the bank has agreed to pay in refunds and civil and regulatory settlements haven't turned off investors or meaningfully damaged the bank's bottom line.
The bank reaped a profit of $21.9 billion last year and its stock, which fell sharply in the wake of last year's regulatory settlement, is back to trading near its all-time high.
Shares of Wells Fargo closed Monday down 30 cents, or about half a percent, to $54.54 Monday.
Twitter: @jrkoren
---
UPDATES:
3:40 p.m.: This article was updated with additional clawback figures and details from the report.
2:20 p.m.: This article was updated with a closing stock price, comments from Wells Fargo CEO Timothy Sloan and additional comments from Sandler O'Neill and Better Markets.
10:40 a.m.: This article was updated with comments from a research note by Sandler O'Neill and the latest stock price.
9:40 a.m.: This article was updated with a statement from Carrie Tolstedt's attorney.
9 a.m.: This article was updated with the latest stock price and details on the bank's efforts to reform itself.
8:15 a.m.: This article was updated with the latest stock price, comments from banking advocacy group Better Markets, details on an OSHA case and information about Wells Fargo's profits.
7:10 a.m. This article was updated with comments from Wells Fargo Chairman Stephen Sanger.
6:35 a.m. This article was updated with additional background on the bank's unauthorized-accounts scandal and more details from the report.
6:05 a.m.: This article was updated with background on the bank's unauthorized-accounts scandal and additional details from the report.
5:40 a.m.: This article was updated with additional details from the report.
The article was originally published at 5:20 a.m.