L.A. auto finance firms must refund $44 million for collection tactics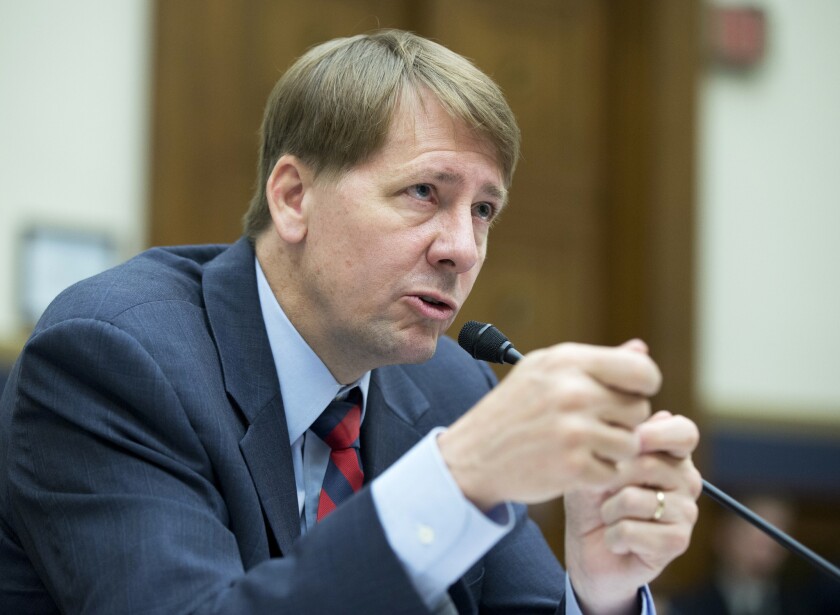 Reporting from Washington —
Two auto lending companies controlled by low-profile L.A. billionaire Don Hankey will have to pay more than $48 million in fines and refunds after a federal consumer watchdog found the lenders were using illegal tactics to collect on loans.
Among the hardball tactics, according to the Consumer Financial Protection Bureau, was a program that disguised debt collectors' caller ID information to make it appear calls were coming from pizza parlors or florists.
Westlake Financial Services and subsidiary Wilshire Consumer Credit, both part of Hankey's Mid-Wilshire conglomerate Hankey Group, also falsely threatened to file criminal charges against borrowers; contacted employers, family and friends without required permission; and changed the terms of loans without informing customers, the bureau said.
"Consumers struggling to pay their bills deserve to be treated with respect, not subjected to illegal threats and deceptive phone calls," said Richard Cordray, director of the bureau, which announced the action Thursday.
The tactics, most of which were used between January 2010 and April 2014, violate the federal Fair Debt Collection Practice Act and the Truth in Lending Act, the bureau said. Westlake executives blamed the abuses on rogue employees and said they have put systems in place to prevent further illegal activity.
The bureau ordered the companies to pay $4.25 million in fines and to give $44.1 million back to borrowers in a combination of cash refunds and debt forgiveness. The lenders must also submit plans to the bureau detailing how they will make sure they are in compliance with debt-collection rules, and keep recordings of all debt-collection calls for the next five years.
Westlake Financial purchases and services auto loans while its subsidiary Wilshire Consumer Credit provides high-interest loans secured by auto titles. Both firms specialize in loans to borrowers with bad credit. Wilshire Consumer Credit is the first auto-title lender cited by the agency, according to the advocacy group Center for Responsible Lending.
One practice the bureau highlighted was the use of a software program called Skip Tracy that allowed debt collectors to select a phone number and caller ID text that customers would see when called about their loans. Pretending to be family members and even flower shops and pizza delivery services, the collectors tried to get borrowers to disclose their location or the location of the vehicle, for possible repossession, the bureau said.
The practice was used to place calls related to 137,000 loan accounts, the bureau said. Westlake has about 329,000 customers.
Ian Anderson, president of Westlake Financial, said it was never company policy for debt collectors to threaten borrowers or to use Skip Tracy to disguise calls as coming from another business. Instead, the software was intended to be used only to make calls appear to be coming from local numbers instead of toll-free numbers that consumers often will not pick up — a practice the firm said was legal, though no longer used.
"It was just to get the customer to pick up the phone," Anderson said. "Once we get the customer to pick up the phone, we can tell them how important it is that they make their payment."
Still, he acknowledged that the company's commission-based compensation system might have encouraged bad behavior as collectors sought to make contact with debtors.
Chris Kukla, a senior vice president at the Center for Responsible Lending, said hardball tactics are a common feature of many collectors handling borrowers with bad credit. "A lot of these folks are cash-strapped, and [lenders] are making a bet that they're not going to hire a lawyer," he said.
Anderson said the company over the last few years has made commissions a smaller part of overall compensation, fired collectors who broke policies, beefed up compliance staff and started monitoring more calls to keep collectors in bounds. The companies, he said, also are in the process of installing an automated system that will analyze debt-collection calls. "In retrospect, I'm glad we put in place the things we have," he said. "It's unfortunate we couldn't fix it all in the past."
Westlake has a portfolio of more than $2.5 billion in loans, many of them charging interest rates of more than 20% a year. And Westlake is just one of seven firms that make up the multibillion-dollar empire controlled by Hankey, estimated to be worth $2.56 billion.
ALSO:
United's new CEO acknowledges airline's failures
Workers allege 80-hour weeks with no overtime at UC Berkeley sporting events
Volkswagen, Audi sales increase over last year despite emissions cheating scandal
---
Be your money's boss! Learn how to make a budget and take control of your finances with this eight-week newsletter course.
You may occasionally receive promotional content from the Los Angeles Times.