Gasoline prices hit harder outside the U.S.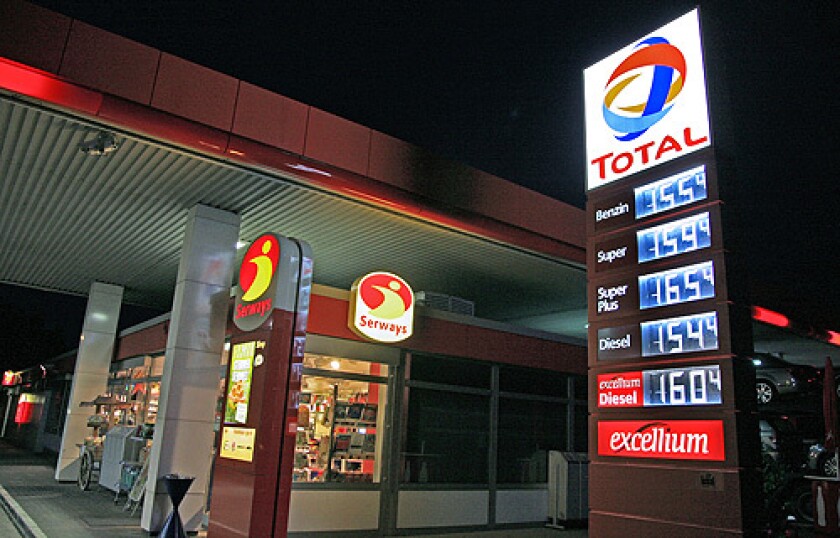 Los Angeles Times Staff Writer
Honked off by Los Angeles pump prices? Cheer up. You could be commuting in Oslo, where gasoline costs $9.85 a gallon and filling up a Mini Cooper would set you back $130.
That's the priciest petrol on a list of world gas prices released Wednesday by Associates for International Research Inc., a Massachusetts relocation consulting firm that tracks the cost of living in dozens of countries.
In fact, at just over four bucks a gallon on average, U.S. gas is still cheap compared with much of the world.
"It's small consolation, I know," said Michael Shore, a senior manager at the consulting firm. But "the prices that [Americans] are paying now, Europeans have been paying for a long time."
And it's not just Europe. People all over the developing world are shelling out more for gas than Americans -- who are considerably wealthier. That includes drivers in the East African nation of Eritrea ($9.46 a gallon), Kenya ($5.94), Chile ($5.18), Nicaragua ($5.07), India ($4.94) and El Salvador ($4.70). In a more extensive study completed by the firm in March, consumers in nearly three-quarters of about 150 nations surveyed paid more for fuel than Americans did.
There are some motorists who pay considerably less than American drivers. The world's lowest-priced gasoline can be found in oil-rich Venezuela, where, at 12 cents a gallon, you can fill a Hummer for less than the price of a Big Mac.
So why the big price differences around the world? Experts say retail gas prices are influenced by a variety of factors, including the cost of refining, distribution and marketing. But the biggest single variable is government policy: Some countries tax gasoline heavily; others subsidize it to make it cheap.
Many countries choose the former. In the U.S., state and local taxes account for about 19% of the price of the average gallon of gas, according to the Energy Information Administration. In England, where London drivers are paying nearly $9 a gallon, taxes account for 81.5% of the pump price.
European countries have long relied on hefty fuel levies to fund road work and social programs and to encourage conservation. The same is true for some Asian nations including South Korea ($7.33 a gallon) and Japan ($6.30) -- both of which import all of their crude.
"When you don't produce a drop of oil . . . the focus is on promoting efficiency," said Sung Won Sohn, economist at the Smith School of Business at Cal State Channel Islands.
The philosophy is different in some oil-rich countries that subsidize fuel as a way to share the wealth and keep citizens happy. Drivers pay less than 50 cents a gallon when they fill up in Saudi Arabia and Iran. Gas is cheaper than milk in Venezuela, which spends an estimated $11 billion subsidizing gasoline.
But whether it is individuals or governments picking up the tab, the fallout from exploding crude prices is being felt around the globe.
Some consumers in Europe are screaming at legislators to lower fuel taxes. Truckers in Britain have staged three protests this year over the soaring cost of diesel, which is nearing $10 a gallon. Fishermen in France, Spain, Italy, Portugal and Belgium have staged similar angry demonstrations.
Many Californians may go a few miles out of their way to find the cheapest fill-up, but Dutch trucker Patrick Leenders heads to another country. Diesel in his hometown of Montfort is around $9.24 a gallon. His route delivering industrial materials often takes him south out of the Netherlands. So he tries to keep enough fuel in the tank to last until he reaches Luxembourg, 155 miles away, where diesel is a relative bargain at $7.57 a gallon.
The 39-year-old is a salaried driver, so high fuel costs are his boss' headache. But Leenders said many of the independent truckers he knows are in big trouble.
"A lot of them tell me they'll be bankrupt by the end of the year," he said.
The pain is especially cruel in the developing world, where people like Gorette Odaga -- a Kenyan woman who has never owned a car and probably never will -- still are getting slammed by rising fuel costs.
A 32-year-old beautician in Nairobi, Odaga has been the sole breadwinner for her three children since her husband died in 2003. Daily round-trip bus fare for the kids to get to school has quintupled over the last year to $1.54 -- an impossible increase on top of rising costs for food and cooking fuel.
For a time, Odaga woke the children before dawn to begin the 4.3-mile walk in the dark. But they were exhausted by the time they arrived at school -- particularly 5-year-old Sandra. Gangs roam the road and Odaga feared for their safety.
So she transferred the children to a school closer to home -- even though it's lower-performing.
"At least they are secure," she said. "And I can save the [bus fare] to buy food."
It's much the same in Mogadishu, Somalia, where diesel fuel now tops $5 a gallon, a small fortune in that impoverished country. Jitney drivers sometimes charge one price in the morning and a higher price in the afternoon to cover the climbing cost of their fill-ups.
Ibrahim Mohamed now walks the five-mile round trip to his tailor shop. He said his earnings couldn't keep pace with rising fares, so "I will use my legs."
Consumers have it somewhat easier in countries where fuel is heavily subsidized. But the international price of crude has ballooned so fast that some governments are paring back this costly assistance.
China recently hiked retail gas prices by 16% and diesel by 18%. Gasoline now costs $3.40 in Beijing, according to Associates for International Research. That's a bargain by California standards. But it's hurting Wen Yipeng's livelihood.
A salesman at a Shanghai auto dealership that sells luxury cars, he said even his rich customers are holding on to their wallets, thanks to a sliding stock market and rising fuel prices. He said the dealership last year sold seven to nine Porsche Cayenne SUVs every month. Since gas prices went up June 20, he hasn't sold one.
Fuel-efficient "Japanese cars sell much better," he said.
In Mexico, it's just the opposite. Consumers there are snapping up used SUVs and full-size trucks from the United States. Gas costs about $2.62 a gallon in most of the country, making these gas guzzlers affordable to many Mexican drivers.
But the trend is worrying the treasury. Fuel consumption is soaring. Mexico will spend around $20 billion on gasoline and diesel subsidies this year -- about six times what it spends on defense. Some public officials have declared the subsidies unsustainable.
It's even worse in Trinidad and Tobago, where a gallon of gas costs about $1.82. The Caribbean country spent about $2 billion last year on motor fuel subsidies -- equivalent to 10% of its gross domestic product.
Car sales have exploded. Traffic is dismal in the capital, Port of Spain.
Local energy economist Gregory McGuire has recommended capping the subsidy, but he said the government has resisted.
"If the government were to increase gas prices tomorrow morning, they would have a riot on their hands," he said. "Everybody wants a car."
Dickerson reported from Mexico City. Special correspondents Nicholas Soi in Nairobi and Lutfi Sheriff Mohammed in Mogadishu contributed to this report. Cao Jun in The Times' Shanghai bureau also contributed.
---
Your guide to our clean energy future
Get our Boiling Point newsletter for the latest on the power sector, water wars and more — and what they mean for California.
You may occasionally receive promotional content from the Los Angeles Times.