With economic data mixed, Yellen says Fed will 'proceed cautiously' on interest rate hikes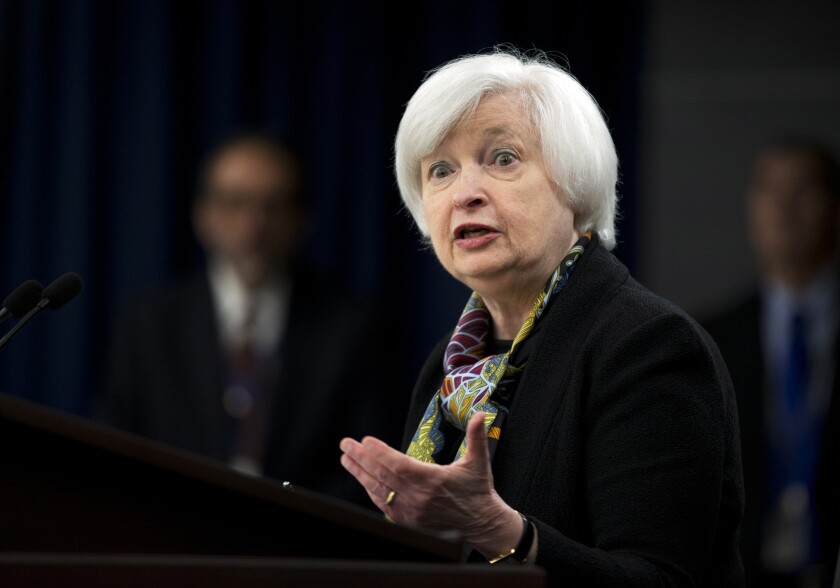 With mixed reports on the health of the U.S. economy this year, Federal Reserve policymakers will "proceed cautiously" on interest rate hikes, central bank Chairwoman Janet L. Yellen said Tuesday.
The comments in a speech to the Economic Club of New York, in which she noted the "bouts of turbulence" recently in financial markets and the global economy, appeared to all but rule out a hike in the Fed's benchmark interest rate at its next meeting on April 26-27.
Yellen did not specifically take an April hike in the so-called federal funds rate off the table. But her frequent mentions of uncertainty facing the U.S. economy signaled the policymaking Federal Open Market Committee was not eager to act after inching up the rate by 0.25 percentage point in December.
That hike ended seven years of keeping the rate near zero in an unprecedented attempt to boost growth during and after the Great Recession.
"Given the risks to the outlook, I consider it appropriate for the committee to proceed cautiously in adjusting policy," Yellen said.
After the Fed's March 15-16 meeting, central bank policymakers indicated they would raise the rate by 0.25 percentage points just twice this year. That was half of the four hikes in 2016 they had forecast in December.
See more of our top stories on Facebook >>
Yellen stressed that the Fed was prepared to change course as it responds "to the economy's twists and turns" to meet the dual goals of maximum employment and stable prices.
"Importantly, this forecast is not a plan set in stone that will be carried out regardless of economic developments," she said.
The labor market has improved significantly in recent years, with the unemployment rate down to 4.9% in February, from a high of 10% in 2009.
Analysts are expecting another solid jobs report from the Labor Department on Friday, forecasting the economy added 210,000 net new positions this month and the unemployment rate held steady at 4.9%.
But inflation remains well below the Fed's 2% annual target. Prices rose just 1% for the 12 months ended Feb. 29, the most recent data available.
Low inflation in recent months has been caused by sharply lower oil prices, Yellen said. She and her Fed colleagues have said oil's effects should be temporary but the course of inflation has been difficult to determine.
Excluding volatile food and energy prices, so-called core inflation was 1.7% for the 12 months ended Feb. 29.
The increase was "somewhat more than my expectation in December," Yellen admitted. "But it is too early to tell if this recent faster pace will prove durable."
Although she said that "the U.S. economy has proven remarkably resilient," there are significant risks from global economic and financial uncertainty that warrant a cautious approach.
Fed policymakers could act quickly to increase the federal funds rate -- which now is between 0.25% and 0.5% -- if the U.S. economy performs better than expected and needs to be quickly cooled, Yellen said.
But the central bank would have a much more difficult time trying to boost the economy if it stumbles because the interest rate, even after an additional hike or two, would remain very low, Yellen said.
Fed policymakers "would be able to provide only a modest degree of additional stimulus by cutting the federal funds rate back to near zero" in such a situation, she said.
Yellen said the Fed expects "moderate economic growth" and further improvement in the jobs market, but stressed that the turbulence abroad makes it difficult to be sure.
"I anticipate that the overall fallout for the U.S. economy from global market developments since the start of the year will most likely be limited, although this assessment is subject to considerable uncertainty," she said.
Follow @JimPuzzanghera on Twitter.
MORE BUSINESS NEWS
Edison International creates subsidiary to help large energy users
Stocks jump to highest levels of 2016 after Janet Yellen reassures investors
SunEdison stock dives 55% amid reports of SEC probe and possible bankruptcy filing
---
Your guide to our new economic reality.
Get our free business newsletter for insights and tips for getting by.
You may occasionally receive promotional content from the Los Angeles Times.