U.S. lifts ban on ZTE after the Chinese firm pays $1.4-billion penalty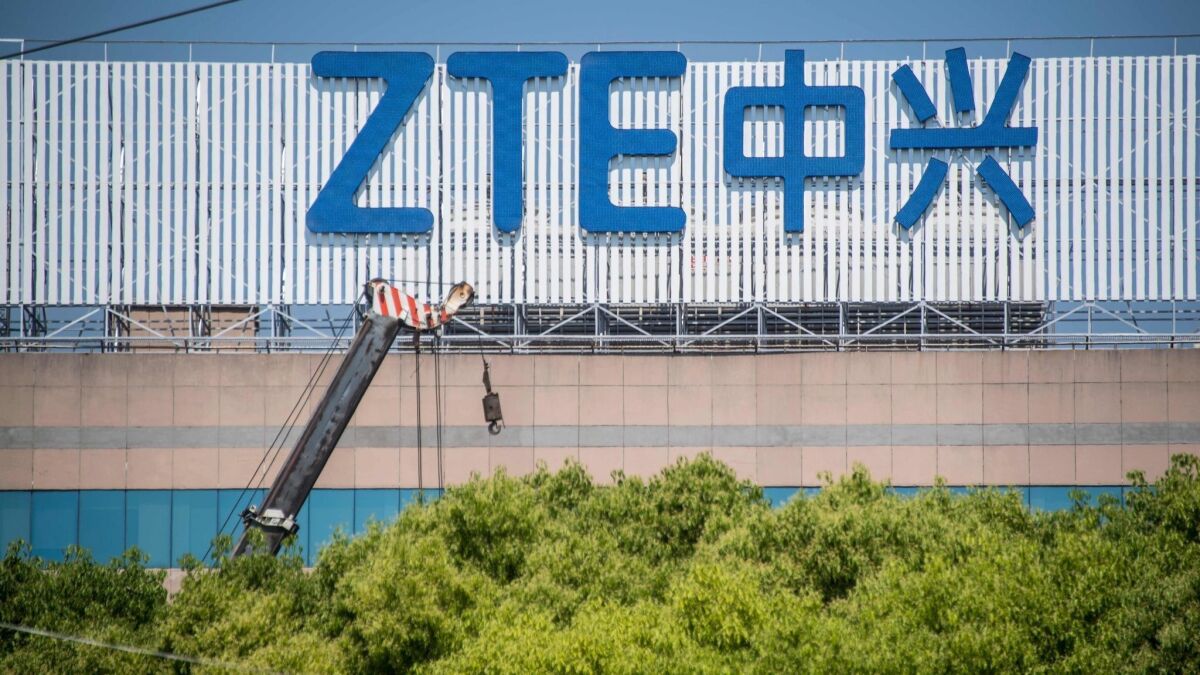 The U.S. Commerce Department has lifted the ban on American firms selling products to China's ZTE Corp., removing the final hurdle for the company to start rebuilding its business.
The ban was removed after ZTE paid the final tranche of a $1.4-billion penalty by placing $400 million in escrow at a U.S. bank, the department said in an emailed statement Friday. That sum comes in addition to $892 million in penalties the telecommunications-equipment maker has paid to the U.S. government after pleading guilty for violating sanctions, it said.
Removing the ban on ZTE was a key Chinese government demand amid escalating tensions between the world's two largest economies. Although those talks have stalled since the last high-level meeting in June, the United States and China have indicated their willingness to go back to the negotiating table. Neither is saying exactly what that would take.
In April, the Trump administration announced a seven-year ban on U.S. exports to ZTE after it said the company violated sanctions agreements by selling American technology to Iran and North Korea. The move forced ZTE to announce it was shutting down.
Then, President Trump reversed course in May, saying he was reconsidering penalties on ZTE as a personal favor to Chinese President Xi Jinping. Later that month, Trump's administration announced it would let the company stay in business if ZTE paid a new fine, changed its management and provided "high-level security guarantees."
Last month, ZTE took a major step forward in meeting the White House's conditions by ousting its entire board and appointing a new chairman. Its new management faces the challenge of rebuilding trust with phone companies and corporate customers. But the company is said to be facing at least $3 billion in total losses from a months-long moratorium that choked off the chips and other components needed to make its networking gear and smartphones.
This month, the Commerce Department granted ZTE a temporary reprieve to operate on a limited basis. Friday's order offers permanent relief to the company, which is China's second-largest telecommunications equipment producer.
A bipartisan group of U.S. lawmakers remains concerned about ZTE's threat to U.S. national security and is pushing for legislation aimed at restoring harsher penalties.
---
Sign up for the California Politics newsletter to get exclusive analysis from our reporters.
You may occasionally receive promotional content from the Los Angeles Times.