Traditional tipping isn't the only way — here are 3 alternatives that are on the table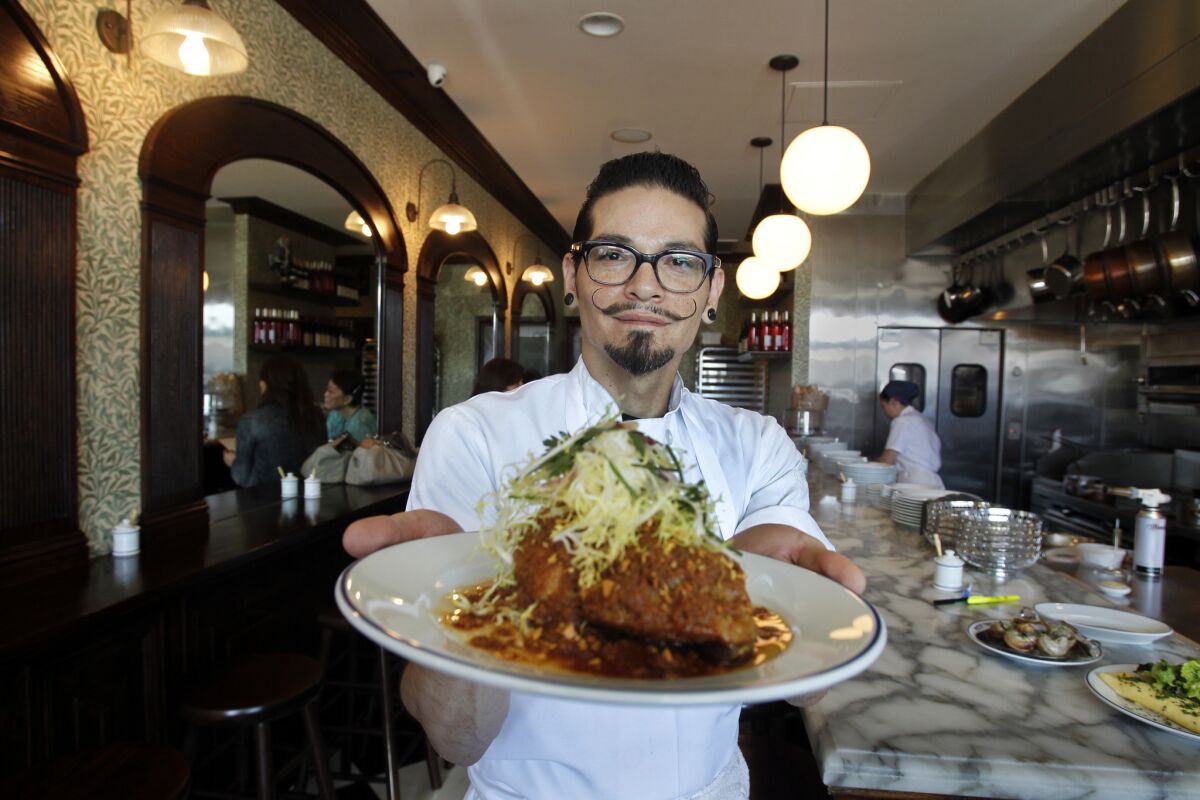 What are the alternatives to traditional tipping?
There are, increasingly, calls to abolish tipping altogether. Some restaurants are looking at alternative models that they say will help stabilize their revenues and manage their labor costs as minimum wage increases. These include:
All-inclusive pricing
Under this model, also called "all-in," tipping is eliminated and the entire cost of dining (rent, labor, food, etc.) is folded into the menu price. In October, New York-based chef Danny Meyer announced that restaurants in his hospitality group will no longer accept gratuities. Instead, wages for his employees will increase across the board, and those increased wages in turn will be factored into menu prices. Joe's Crab Shack also has abolished tipping at several of its locations nationwide; the chain increased wages for its employees and increased food prices by 12% to 15%.
SIGN UP for Jonathan Gold's Counter Intelligence dining newsletter >>
Locally, the Bel Air Bar + Grill announced that it will eliminate tipping, increase employee wages and increase menu prices accordingly. The decision, the restaurant says, "allows us to offer our entire staff a fair, living wage." Similarly, Bar Nine, a coffee shop and roaster in Culver City, eliminated tipping at its café as of Jan. 1, and the shop has increased the price of most of its drinks by about 50 cents. The shop says this modest increase is actually less than the average tip left at its shop, so customers probably will spend less than they did before they eliminated tips.
Service charges
The difference between tips and service charges is the difference between choosing to get on the 405 and being directed onto the freeway. In other words, you may choose to leave a tip, but you must pay the service charge. And unlike tips, revenue generated from service charges belongs to the employer, not the employees, though most restaurants that have implemented the charge have indicated that at least a portion of the revenue will directly benefit their employees. Los Angeles restaurants that have implemented mandatory service charges include: Trois Mec, Petit Trois, Jon & Vinny's, Odys + Penelope, Nozawa Bar, KazuNori, BierBeisl Imbiss, Simbal and Osso. The charge generally varies from 15% to 20% of the total bill.
Hybrid models
Some restaurants earmark a portion of your tip to a specific employee benefit. Alimento, for instance, has two gratuity lines, one for the kitchen and the other for the wait staff, essentially leaving it entirely up to you as to how much of your tip should be allocated where. And a group of restaurants, including Lucques, AOC, Tavern, the Hungry Cat, Rustic Canyon, Huckleberry, Milo + Olive, Cassia, Esters, Republique, Redbird and Mélisse, include a 3% "Healthy L.A." charge on their bills to cover the cost of health insurance for their employees. The charge can be removed upon request.
And then there are restaurants that combine mandatory service charges with tips. At Bestia, for instance, a 3% "Kitchen Appreciation Charge" is added to the bill. Pok Pok attempted something similar at its second restaurant in Chinatown, with a mandatory 5% service charge on the bill that was intended to benefit the kitchen staff. Recently, however, owner and chef Andy Ricker eliminated the charge; as he told Playboy, it didn't quite work: Customers didn't know how much to tip on top of the charge, servers were undertipped as a result, and no one — except maybe the cooks — was very happy.
---
Sign up for the California Politics newsletter to get exclusive analysis from our reporters.
You may occasionally receive promotional content from the Los Angeles Times.