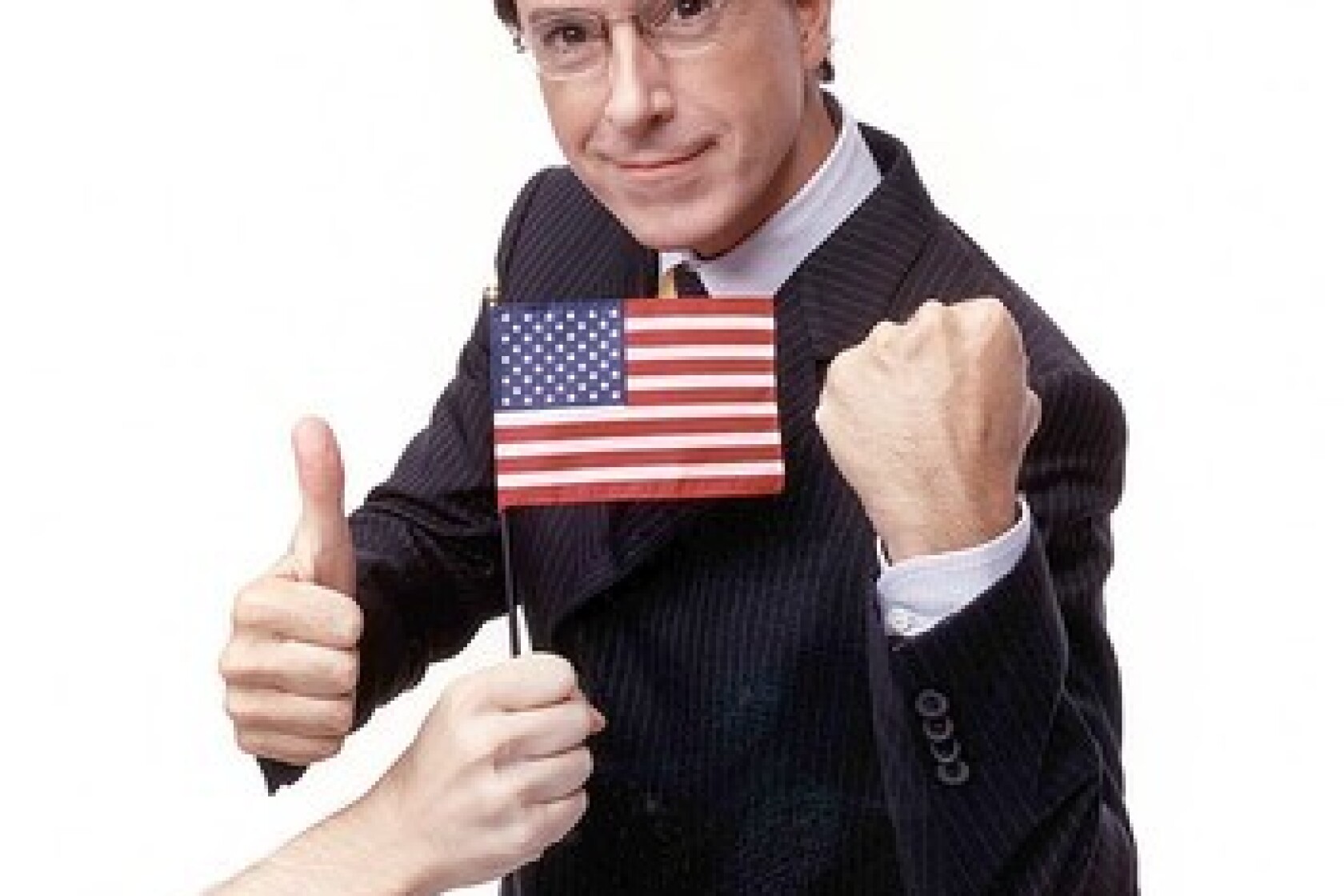 The writers' strike would take an immediate toll on television viewers' favorite programs, dealing a setback to shows that are written day-to-day.
Prime-time scripted series have episodes through mid-January or early February, depending on how many reruns they space out in the next few months. Unscripted shows -- such as "Survivor," "The Amazing Race," and, when it returns in January, "American Idol" -- would continue uninterrupted.
Here's a look at where many shows stand:
"Colbert Report" and "The Daily Show," late night
Would go into repeats immediately.
(Martin Crook / Comedy Central)
"Entourage" and "Big Love," HBO
Are currently in the writing stages and were scheduled to air in the summer of 2008.
(HBO)
"Lost," ABC
Expected to have eight out of 16 episodes ready. Midseason, none have aired yet.
(ABC)
"Gossip Girl," CW
Expected to complete 13 of 22 episodes.
(KC Bailey / The CW)
"Scrubs"
Expected to complete 12 of 18 episodes.
(Scott Garfield / NBC Universal)
"Jericho," CBS
Will have seven of seven episodes.
(Robert Voets / NBC)
"Friday Night Lights,"
Expected to complete 15 of 22 episodes.
(Bill Records / NBC Universal)
"Battlestar Galactica," Sci Fi
Has 10 hours of episodes, plus a two hour movie to air this Fall.
(Carole Segal / Sci Fi Channel)
"Men in Trees," ABC
Has five episodes left over from last season, 10 new episodes shot, four more scripts to shoot; adds up to 19 out of 27 for the season.
(ABC)
"Damages," FX
No word yet on whether it would be picked up
(FX)
"Monk" and "Psych," USA
Enough scripts in hand to guarantee a full second half of each season.
(Carin Baer / USA Network)
"Nip/Tuck," FX
5th season, the 22 episodes were planned for two cycles: 14 to run from now to February and eight next year. All 14 in the first cycle have been written. So, only the second cycle could be affected.
(Michael Becker / FX)
"The Shield," FX
The final season is written, no date set for airing.
(Prashant Gupta / FX)
"The Wire," HBO
Completed and will air as scheduled.
(Paul Schiraldi / HBO)
"Law & Order: Criminal Intent," USA
Enough for first half of the season (10); the second half (12) will be affected (meaning not enough scripts to guarantee production start as scheduled.)
(Virginia Sherwood / NBC Universal)
"Cane"
Expected to complete all 13 episodes.
(Robert Voets / CBS)
As the networks and cable channels figure out their post strike plans, anything's possible. CBS, for one, has announced the return dates for its top shows. Here's what we know so far.
ABC
Likely to be back with new episodes in the spring


Samantha Who?

Boston Legal

Brothers & Sisters


Won't be back until next season


Private Practice

Pushing Daisies

Dirty Sexy Money


On the bubble


Women's Murder Club

Cashmere Mafia

Carpoolers


Dead?


Big Shots

Notes From the Underbelly

Cavemen


The rest


Eli Stone

October Road

Men in Trees

According to Jim
All the above have multiple new episodes left.

Miss/Guided
(seven episodes) hasn't yet premiered


NBC
Likely to be back with new episodes in the spring


The Office

30 Rock

Law & Order

Law & Order: Special Victims Unit

My Name Is Earl

Medium

ER


Won't be back until next season

On the bubble

Dead?

Definitely dead

We await details on...


Life

Las Vegas

Scrubs

Lipstick Jungle


CBS
The following will be back with new episodes, and here are return dates, and number of episodes to come:


Two and a Half Men, March 17, nine new episodes

How I Met Your Mother, March 17, nine new episodes

The Big Bang Theory, March 17, nine new episodes

NCIS, April 8, seven new episodes

Criminal Minds, April 2 with seven new episodes

CSI: Crime Scene Investigation, April 3 with six new episodes

CSI: Miami, March 24 with eight new episodes

CSI: NY, April 2 with seven new episodes

Without a Trace, April 3 with six new episodes

Cold Case, March 30 with five new episodes

Ghost Whisperer, April 4 with six new episodes

Moonlight, April 11 with four new episodes

Rules of Engagement, April 14 with six new episodes

Numb3rs, April 4 with six new episodes


On the bubble

Dead?

We await details on...


The New Adventures of Old Christine

Welcome to the Captain

Jericho (has multiple new episodes left)

Swingtown (hasn't aired yet)

Jericho
(seven already shot episodes to air starting Tuesday)

Swingtown
(hasn't yet aired)

Fox
Likely to be back with new episodes in the spring


Back to You

'Til Death

Bones


Probably won't be back until next season

On the bubble

Definitely dead:

We await details on...


House

Prison Break
And the yet-to-premiere series "Unhitched" (March 2), "New Amsterdam" (March 4), "The Return of Jezebel James" (March 14) and "Canterbury's Law" (April 14) all have multiple episodes


CW
Likely to be back with new episodes in the spring


Smallville

Supernatural

The Game

Reaper

One Tree Hill
(multiple new episodes already shot, more probable)


On the bubble


Aliens in American and Everybody Hates Chris both have multiple new episodes left to air but more have not been ordered yet.


Dead?

Definitely dead

HBO
Strike proof


In Treatment
(First season airing now; all episodes were completed before the strike)


Likely to be back in late 2008/early 2009

Writing to resume immediately after the strike ends on


Entourage

Big Love

Flight of the Conchords

Tell Me You Love Me


On the horizon


True Blood
(Two episodes were completed before the strike; this series is expected to debut in the fall.)

12 Miles of Bad Road
(Five episodes shot on another new series; no air date scheduled yet.)


Showtime
Likely to be back in late spring/early summer


Weeds
(Scheduled to go in production in April)

Secret Diaries of a Call Girl
(Eight episodes of a new half-hour comedy series have already been shot)

The Tudors
(Ten episodes of season 2 have been shot; season 2 is scheduled to debut March 30.)

State of the Union
( Tracey Ullman's new show, is set to premiere March 30 with five episodes.)


We await details on...

Production schedules and debut dates unavailable.


Dexter

Californication

Brotherhood


FX
On next month


Dirt
(The strike-shortened seven-episode season begins airing in March.)

The Riches
(The strike-shortened season begins airing in March.)


Strike proof


30 Days
(The documentary show was unaffected by the strike; a six-episode season airs in early summer)

The Shield
(Production on all 13 episodes of the seventh and final season are completed, but awaiting final edit. Will air sometime after the summer.)


Back in late 2008/early 2009

Writing on all the shows is set to resume as soon as the strike ends.


Damages

Rescue Me

Nip/Tuck

It's Always Sunny in Philadelphia


USA
Back this summer


Monk

Burn Notice

The Starter Wife

Law & Order: Criminal Intent

In Plain Sight

Psych

--Los Angeles Times
---