L.A. to host all-electric race car series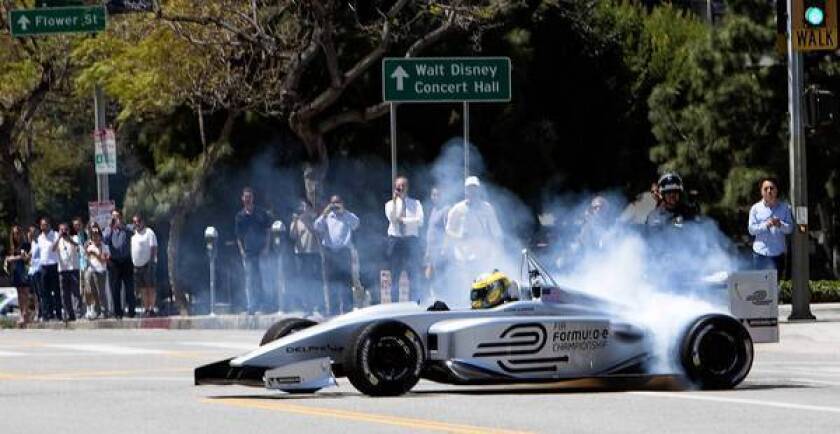 Los Angeles will be one of 10 cities globally to host an all-electric race series — dubbed Formula E — as soon as 2014, Mayor Antonio Villaraigosa announced.
The series will be the first in the world to feature fully electric open-wheel race cars similar to those that recently raced at the Long Beach Grand Prix.
"These cars are not your grandma's Priuses," Villaraigosa said Monday. "Imagine cutting-edge technology on display that will push the boundaries of what electric cars can do."
The races are organized and promoted by Formula E Holdings. The company was formed by a private group of investors that won a bid to promote the series from FiA, the governing body that oversees a range of motorsports including Formula One. FiA will also oversee these races.
By hosting such a race in a city already receptive to hybrid cars, Formula E hopes to demonstrate that electric cars are a viable and fun alternative to gas-powered machines.
"It's a problem of perception," said Alejandro Agag, chief executive of Formula E.
Electric race cars, driven by famous drivers, can change that perception, he said.
Currently, Miami and L.A. are the only U.S. cities that will host Formula E races. Of the 10 cities, six others have been announced: Rome, London, Rio de Janeiro, Buenos Aires, Beijing and Putrajaya, Malaysia.
Formula E organizers said they expect the race to come to L.A. in late 2014 or early 2015. The cars would race on downtown streets, though the course has not yet been announced.
All of the city's costs associated with the race will be covered, Villaraigosa said.
"It's not going to cost us a dime," Villaraigosa said. "No public money. [Formula E is] paying for everything."
Although he won't be in office by the time the race comes to L.A., Villaraigosa made it clear that the race will be a reality regardless of who succeeded him.
"We've arranged to make sure we get the permitting and all the things done," Villaraigosa said. "Either one of the two people running for mayor are going to be 100% for this."
---
Your guide to our new economic reality.
Get our free business newsletter for insights and tips for getting by.
You may occasionally receive promotional content from the Los Angeles Times.