Southern California renters have an edge over home buyers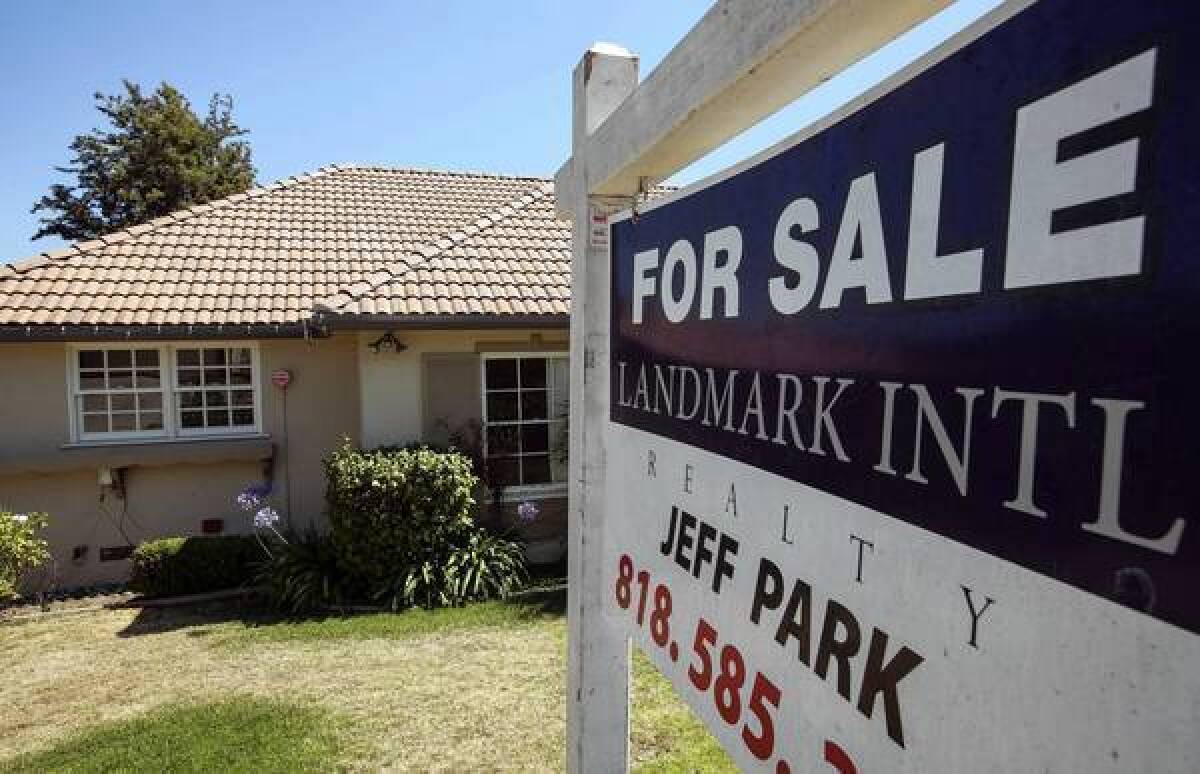 Why buy when you can rent?
With a frenzied housing market shutting out would-be buyers all over Southern California, sending that check to the landlord is looking smarter every day.
The rental market provides a stark contrast to the red-hot housing recovery. In Los Angeles County, apartment rents have risen only slowly, with an expanding supply of rentals holding down prices. In downtown Los Angeles, an apartment building boom has even driven rents down by 5% over the last year, to an average of $1,990 in the second quarter.
Rents also declined in the single-family home market, where an influx of cash investors is driving up prices for home buyers. These new investors, including some cash-rich Wall Street firms, have scooped up properties to hold and rent.
Erin Keegan and her fiance decided to keep renting after losing bidding wars on a home — twice.
The couple, who rent a small house in West Adams, lost out to an investor when they tried to purchase a two-bedroom Victorian last summer. This year, after the home was rehabbed and relisted for sale, their second offer couldn't compete with a buyer paying $56,000 more than the asking price.
"I just couldn't believe it sold for that much," Keegan said. "That was definitely the nail in the coffin."
In comparison, the rental market seems sane.
The tide of investors is boxing out prospective buyers but creating new opportunities for renters. The median rent for single-family homes in L.A. County fell 4.1% last quarter compared with the same period last year, according to real estate website Trulia. Contrast that with the county's 29% year-over-year median home price gain in July.
The diverging paths of the rental and buyer markets are an anomaly — they've risen in tandem for most of the last century. But the housing bubble, crash and subsequent recovery have exerted starkly different economic forces on the rental and home markets.
The sharp rise in home values and interest rates has made buying less of a sure bet in some neighborhoods, including Westwood, Culver City and the Miracle Mile, said Richard Green, director of USC's Lusk Center for Real Estate.
"A year ago, it was an easy call to buy" over renting, he said. "Now it's sort of a pick 'em call."
In the second quarter, average rents for Los Angeles County apartments reached $1,652 a month, basically flat from the prior three months and a 2.2% increase over last year, according to a report from commercial real estate brokerage Marcus & Millichap. That yearly increase mirrors wage and income growth in the region.
Renters simply have more options in the market. L.A. County is currently in the first year of a two-year apartment-building boom, according to the report, which predicts builders will finish 6,000 units this year, about twice as many as last year.
Demographics are driving the building. A large population of young adults, who tend to favor apartment living, has spurred builders to break ground. The younger generation is also putting off major life events, such as marriage and children, that often spur home purchases, said Annie Gerard, principal with Apt Market Research.
"We have this perfect storm of people the appropriate age for apartments," she said.
For most of the last century, home prices and rents tended to rise in line with inflation, according to research from Dean Baker, co-director of the Center for Economic and Policy Research. Starting in 1995, Americans increasingly saw their homes as an investment tool, which drove up home prices faster than rents, he said.
But after the housing bubble popped, home prices fell hard. Rents declined as well, but not as much. And rents started rising again as more renters entered the market when they lost their homes to foreclosure. In 2011, apartment rents climbed 6.2% in L.A. County because of the new demand, along with a slowdown in the construction of new units.
Now, the growth in rent prices has moderated as home prices have soared.
Sarah Vandenbusch, 43, has lived in the same junior one-bedroom in Burbank for 15 years. Since she moved in, the story producer for reality TV shows said her rent had increased about $10 to $20 each year. But not recently.
"The past two years it didn't go up," she said. "I am riding it nicely at $690."
In general, most people who plan to live in their homes at least five years may still be better off buying, Baker said.
Real estate agent Brittany Walter, who specializes in northeastern Los Angeles, has seen about 1 in 6 of her clients abandon their home search in the last year. They resolved to rent after a frustrating search for a home — something Walter advises against, because she believes home prices will only rise further.
Her clients tell her: "We will just take a break for another year and see the market slow down."
Some signs of a slowdown are emerging as the number of homes on the market increases. The median home price in Southern California remained flat from June to July, at $385,000, according to DataQuick, though experts caution against viewing one month of data as a trend.
For those who can find the right home in a tight market, buying can make more sense than renting, according to the website Trulia. The buyer of an L.A. County home between April and June would save 26% over renting a similar property — if they lived in the home for seven years, then sold it, a Trulia analysis concluded. But the buyer's advantage has contracted sharply in recent months.
Keegan and her fiance, who lost out on buying the same house twice, plan to stay in their one-bedroom home, where rent hasn't increased in five years. "When I feel that mania coming," she said, "I don't want anything to do with it."