A new idea for faster boarding: by carry-on bag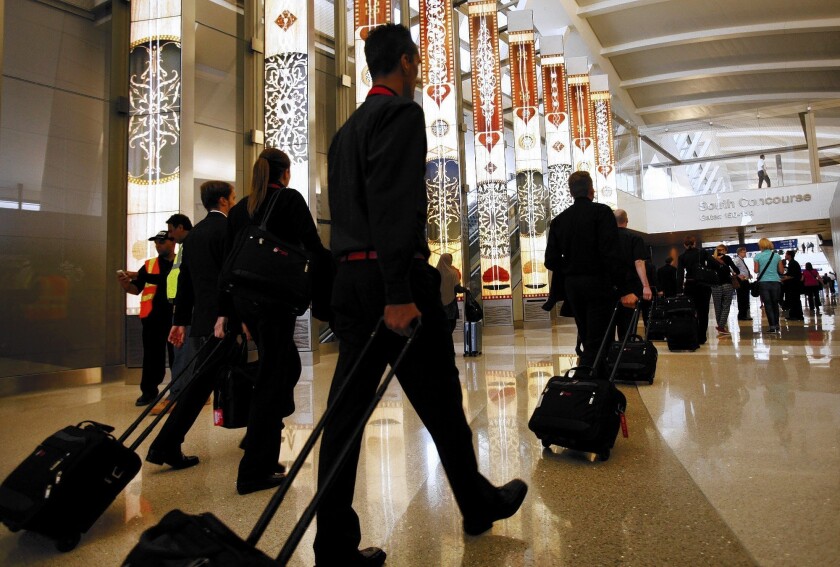 Looking to save money and time, the airline industry has for years tried to come up with the fastest way to seat passengers.
Some airlines board from the back of the plane to the front. Others seat passengers in the window seats first, then the middle seats and finally the aisle seats.
Now an academic study suggests airlines could cut boarding time by seating passengers based on how many carry-on bags they are hauling.
The study from Clarkson University School of Business in New York recognizes that a lot of boarding time is wasted as passengers shuffle around the cabin looking for space to stow their carry-on bags in the overhead compartment.
Under a boarding method suggested by R. John Milne, an assistant professor of engineering management, passengers are seated from the back of the plane to the front and from the windows to the aisles.
Milne adds another wrinkle: He also suggests airlines seat passengers in a way that spreads the carry-on luggage throughout the plane. In each row, the airline would seat at least one passenger with two bags, one passenger with one bag and one passenger with no bags.
"So now you don't have delays where people are trying to cram all their luggage in the overhead compartment," Milne said in an interview.
Milne's study found that this boarding method can cut seating time by an average of 3% compared with a back-to-front boarding scheme. For a large carrier such as Delta Air Lines, the process could save as much as $10 million a year, according to his study, published this month in the Journal of Air Transport Management.
So far, the boarding process has been tested only on a computer simulator, and Milne said he hasn't offered the idea to any airline.
Pay extra for a quiet flight?
If a ban on cellphone calls on commercial planes is lifted, a majority of travelers said they would be willing to pay extra to sit in a chatter-free "quiet zone" on the planes.
That is the finding of a poll of more than 3,400 fliers by the travel website Airfarewatchdog. Of those polled, 53% said they would pay to sit in an airplane's "quiet zone."
It's a relevant question because the Federal Communications Commission is now accepting public comment on a proposal to lift the 22-year-old ban on cellphone calls on commercial airlines. Three airlines, Delta, JetBlue and Southwest, all say they will not allow cellphone calls even if the ban is lifted. United Airlines said it is still evaluating its passengers' views on the subject but for now will continue to ban calls.
But the poll result raises the question: Would airlines allow onboard cellphone calls just to charge passengers a fee to sit in a quiet zone?
George Hobica, founder of Airfarewatchdog, said he doesn't think airlines would charge such a fee. But he added: "It's dangerous to second guess airlines when it comes to passenger fees."
Marijuana still on Denver's no-fly list
Colorado recently became the first state where small amounts of recreational pot can be legally sold in specialty shops.
But if you are flying out of the Centennial State with a doggy bag of marijuana, be warned that Denver International Airport has a zero tolerance for the chronic.
Travelers are already prohibited from carrying marijuana through the airport's security gates. The airport now plans to adopt a rule this week to ban pot in the main terminal as well. The airport is installing signs that include marijuana among the list of prohibited items on airport property, said airport spokeswoman Stacey Stegman.
"We are just clarifying that the airport is not the place for marijuana," she said.
But if you forgot to leave your pot at home when flying through the airport, don't stress. If Transportation Security Administration officers find small amounts of marijuana on travelers, the agency says, it will refer the matter to local law enforcement.
Airport police at Denver International will probably not arrest you for carrying small amounts of pot on your first offense, Stegman said. If you insist on getting on your flight, you must toss it in the trash, she said. If you can't part with your marijuana, Stegman said you will need to leave the airport with it.
At Los Angeles International Airport, you can fly with less than eight ounces of marijuana but only if you have a legitimate medical marijuana identification card, LAX officials said. But you will be questioned, and airport police will try to verify your card; so set aside extra time for your pot delay.
---
Your guide to our new economic reality.
Get our free business newsletter for insights and tips for getting by.
You may occasionally receive promotional content from the Los Angeles Times.