Column: It's battle stations for game developer Treyarch, maker of 'Call of Duty: Black Ops 4'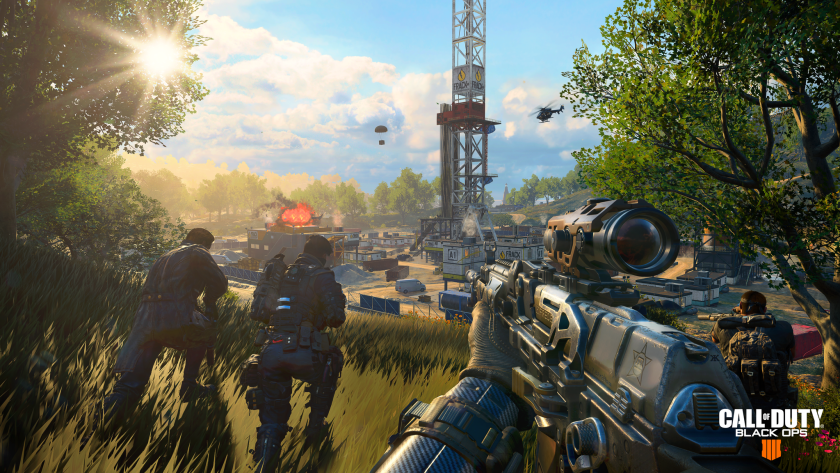 A screen on the wall at Santa Monica's Treyarch design studio is counting down the hours until the Oct. 12 release of "Call of Duty: Black Ops 4," one of the most highly anticipated video games of the year.
It's all hands on deck. Game designers, programmers and engineers are racing to put the finishing touches on the latest installment of a franchise that dates back to 2003 and has generated more than $15 billion in sales.
To put that in perspective, the two dozen James Bond movies since 1963 (or more if you count two independent films) have grossed less than half that amount.
I spent several hours recently touring the company's offices, watching as sound effects were layered in, virtual guns were tweaked to perform better and rough edges on characters were smoothed over.
The game has been in beta mode for the last few weeks, meaning that even though it hasn't been officially released, millions of people worldwide have been testing it out online, showering Treyarch with feedback and first impressions. Treyarch is a subsidiary of Santa Monica-based Activision Blizzard.
"You can't make everyone happy," said David Vonderhaar, Treyarch's studio design director. "But we'll take passionate fans over anything else. And we have a large, vocal, passionate fan base."
My own video game skills maxed out with "Doom" and "Duke Nukem." So I had my teenage son check out "Black Ops 4's" new battle royale mode, called Blackout.
Battle royale is the hot thing in first-person shooters, allowing dozens of players to go head-to-head in kill-or-be-killed combat.
It's pretty intense. Blackout's graphics are state of the art, almost photo-realistic, and the virtual environments seem to sprawl for miles. You get stronger as you go, finding new weapons and gear, looting the bodies of those you vanquish.
My son said he liked Blackout — it reminded him of another shoot-'em-up game, "PlayerUnknown's Battlegrounds" — but he felt things should move even faster, especially when looting.
Vonderhaar told me he's heard that from a lot of beta players. Don't be surprised if such a change is made by the game's official release.
"The community, collectively, is usually pretty right," acknowledged Dan Bunting, Treyarch's co-studio head.
Even so, the Treyarch team is trying to stay at least a few steps ahead of hard-core players, and is particularly eager to surprise people with Easter eggs, storylines and cool weapons. (For the uninitiated, Easter eggs are tricks or surprises you come across as you play a game.)
How well Treyarch pulls this off will determine if "Black Ops 4" is just a placeholder until the next "Call of Duty" title appears in a year or so, or if it takes on a life of its own, being played and updated for years.
"Our hope is that this is the biggest game we've ever made," Bunting said.
Vonderhaar gave him a look across the table in Treyarch's way-cool, multimedia-equipped conference room. "It is the biggest game we've ever made," he said.
One big question is how a "Call of Duty" battle royale game will fare against "Fortnite," the hugely popular battle royale shooter game that, my son informs me, is the one to beat at the moment.
"Fortnite," like a growing number of video games, is available for free, with revenue generated by players purchasing upgrades.
"Black Ops 4," on the other hand, costs $60 up front. Will sufficient numbers of gamers shell out that amount when they have similar action available for nothing down?
The Treyarch guys say they aren't worried.
"There's a lot of game," Vonderhaar said of "Black Ops 4." "There's a lot of value."
Added Bunting: "There's more storytelling, more characters. It's a really big experience."
And zombies. Don't forget zombies.
A zombie level was included almost as an afterthought a decade ago with "Call of Duty: World at War," as much for the amusement of the developers as an added attraction for players. Zombie mode has since expanded to become one of the game's chief selling points.
Jason Blundell, Treyarch's gloriously titled director of zombies, gave me a sneak peek at the still-under-wraps zombie mode of "Black Ops 4," which wasn't released to beta testers.
The level I saw was set on Alcatraz Island, and had all the blood and gore one would expect from in-your-face encounters with the undead.
Blundell said he knows how seriously players take zombie mode, so he and his crew have worked harder than ever to add detail and nuance to the action, depending on how deep you want to go in exploring this part of the "Call of Duty" world.
And, yes, there will be Easter eggs, some almost impossibly difficult to unlock or solve.
"We've still got Easter eggs out there that are 8 years old and haven't been solved," Blundell said with a wicked glint in his eye.
Global video game sales will reach $138 billion this year, growing to $180 billion by 2021, according to market researcher Newzoo. Much of that growth will be on the mobile front, particularly smartphones.
It's a notoriously fickle marketplace, with gamers gravitating to whatever's generating the most buzz — and leaving lots of roadkill in their wake. "Angry Birds," anyone?
Other big titles coming out between now and year's end include "Red Dead Redemption 2" (Oct. 26), "Fallout 76" (Nov. 14), "Battlefield V" (Nov. 20) and "Super Smash Bros. Ultimate" (Dec. 7).
I asked Treyarch's leaders if they're already thinking about their next "Call of Duty" title (they share game development with two other Activision design studios, Sledgehammer and Infinity Ward).
Vonderhaar and Bunting both said they're living entirely in the moment, and their sole concern right now is tinkering with "Black Ops 4" right up to the finish line.
I know from my son's experience — and my not-inconsiderable financial investment in the franchise over the years — that some "Call of Duty" titles hit the target ("Modern Warfare"), and some not so much ("Ghosts").
I also know that it would take something special to pull my son and his friends away from "Fortnite" and their other free-to-play obsession, "League of Legends."
I told him "Black Ops 4" will have three separate zombie modes, with one set on the Titanic.
That got his attention.
David Lazarus' column runs Tuesdays and Fridays. He also can be seen daily on KTLA-TV Channel 5 and followed on Twitter @Davidlaz. Send your tips or feedback to david.lazarus@latimes.com.
---