Groucho Marx's former home in Hollywood Hills West fetches $3.81 million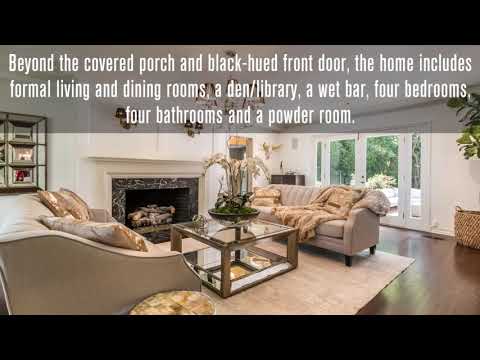 A Hollywood Hills West estate once home to film comic Groucho Marx has sold for $3.81 million.
A Hollywood Hills West residence where film comic Groucho Marx once lived has sold again, this time for $3.81 million. It had previously changed hands 11 months ago for about 10% less, $3.45 million, records show.
The seller, a San Francisco-based technology investor, lightly updated the corner-lot traditional in the Hollywood Regency style after acquiring it last November. It had been renovated and expanded by the previous owner.
Built in 1935, the handsome two-story sits behind fences and gates and has a brick walkway leading to the front door. A trio of dormers line the sloping roofline, which extends over the covered front porch.
Within about 3,700 square feet of interior space is a formal living room, dining room, den/library and a wet bar. The center-island kitchen opens to a family room with a wall of built-ins. A writer's nook sits off the master suite. There are four bedrooms, four bathrooms and a powder room.
Outdoors, there's a brick-rimmed swimming pool with a raised spa. A shower room with a sauna sits near the pool. Lawns and hedges complete the roughly 10,000-square-foot lot.
Juliet Zacarias of Sotheby's International Realty was the listing agent. Jason Woodruff of Keller Williams Realty represented the buyer.
Marx, whose scores of credits included "Duck Soup" (1933), "Animal Crackers" (1930) and TV's "You Bet Your Life" in the 1950s, bought the property in 1946 and owned it for about three years. Celebrated horror film producer Irwin Yablans, known for the "Halloween" films, is another former owner.
Twitter: @LATHotProperty
MORE FROM HOT PROPERTY:
Beverly D'Angelo finds a buyer for her 1920s Spanish-style home in Beverly Hills
Villa Maggio, Frank Sinatra's desert retreat, returns at $3.7 million
H-shaped Midcentury home by Richard Banta comes to market in Adams Hill
Pasadena Craftsman hits the market for the first time in a quarter-century