Jay-Z and Beyonce are reported to have bought a Bel-Air mansion for $90 million.
Jay-Z and Beyoncé may be worth more than a billion dollars combined, but the couple ultimately used conventional financing in order to purchase their first Los Angeles-area home.
The rapper/hip-hop magnate and his superstar wife, through blind trusts, paid $88 million for the sprawling contemporary estate, public records now show. Also revealed in the records is that the couple is carrying a mortgage amount of $52.8 million.

Plug that into any mortgage rate calculator (we happened to used Google's search-based calculator) and that amounts to 30 years of monthly payments at $252,075 based on an interest rate of 4%.
To put that into perspective, that's roughly 40% of the July median sales price — $610,000 — for single-family homes in Los Angeles County, according to CoreLogic. It's also about $50,000 more than the U.S. median home value of $200,400, according to Zillow.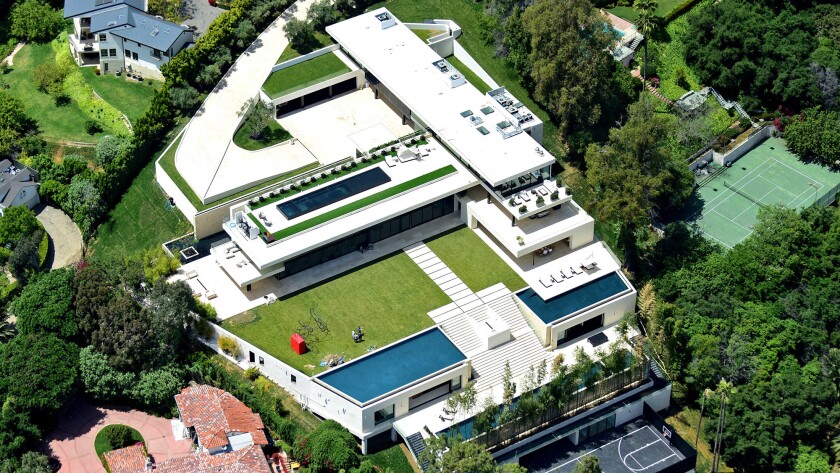 So what does $88 million buy in L.A.?
For Jay-Z and Beyoncé, its a monolithic-vibe modern mansion with approximately 30,000 square feet of living space, four outdoor swimming pools and a spa and wellness center.
Developed by Dean McKillen, the son of Irish billionaire and property investor Paddy McKillen, the residence sits behind gates on about two acres and comprises six structures. Amenities include spa and wellness facilities, a media room and separate staff quarter. There's also a full-sized basketball court.
McKillen bought the property through a corporate entity four years ago for $15 million, records show. The developed property was completed this year.
The off-market transaction is now the highest sale of 2017 in Los Angeles County, besting the $85-million deal for David Geffen's Malibu compound that recorded in May. Historically, it is L.A.'s six-largest sale of a single-family home, trailing last year's pair of $100-million deals, the 2000 sale of the Conrad Hilton estate for $94 million, the $90-million sale of Owlwood and Fleur de Lys, which traded three years ago for $88.3 million.
Jay-Z, whose legal name is Shawn Carter, is considered among the greatest performers in hip-hop, with nearly two dozen Grammy Awards to his name. "Reasonable Doubt," "The Blueprint" and "The Black Album" are among his many hit records.
Beyoncé Knowles-Carter, winner of 22 Grammys, gained fame as a member of Destiny's Child before striking out on her own to become one of the world's bestselling solo artists. Her most recent album, "Lemonade," has sold more than 2.5 million albums worldwide.
They have a combined net worth of $1.16 billion, according to Forbes.
To read the article in Spanish, click here
Twitter: @LATHotProperty
MORE FROM HOT PROPERTY:
Maroon 5's Adam Levine falls for a new spot on the Westside
Modern mansion goes for the gold with Cristal vault and two gilded sports cars
Former Laker Derek Fisher seeks $6.2 million for customized Hidden Hills home
Hyperloop One executive shatters price record in La Cañada Flintridge
---