Hot Property: If walls could talk
It's been said that every home tells a story. We'd argue that some tell more than one. This week's collection includes a Pacific Palisades place that's had two rounds of celebrity ownership and a Bel-Air estate with 80 continuous years of Hollywood history.
Want to take a look inside a celebrity home? Check out our video of actor Peter Paige's Hollywood loft. Yes, that Peter Paige from "Queer as Folk."
Once you're done reading about these deals, visit and like our Facebook page, where you can find Hot Property stories and updates throughout the week. That's also a great place to leave us a tip about a celebrity home deal.
– Neal J. Leitereg and Lauren Beale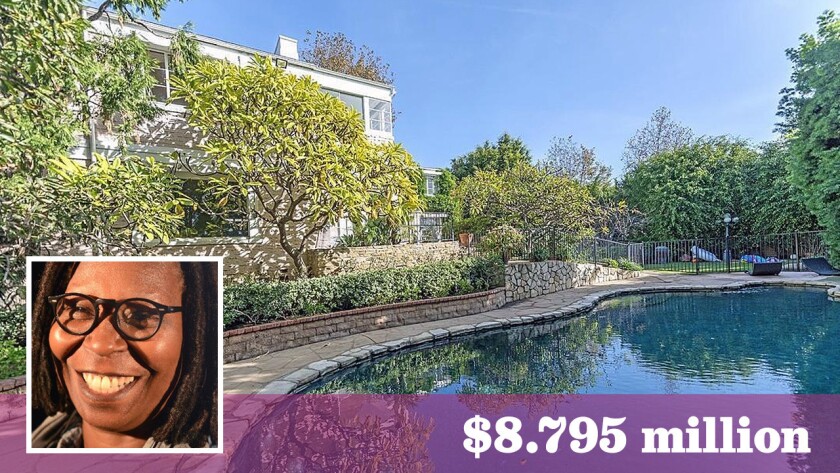 Two owners of note
Comedian-actress-talk-show-host Whoopi Goldberg has listed a house with a Hollywood history in Pacific Palisades at $8.795 million. The residence was also once the home of actor David Niven.
Designed for grand-scale entertaining, the 1933 house retains such period features as the marble checkerboard-pattern foyer floor. The 7,039 square feet of living space includes living, dining and family rooms, a library, six bedrooms and six bathrooms.
Flagstone surrounds the irregular-shaped swimming pool.
The multitalented Goldberg, 62, has won Emmy, Grammy, Tony and Academy awards. She landed her Oscar for acting in the 1985 film "The Color Purple." She has been on "The View" as a co-host since 2005.
Niven, who died in 1983 at 73, was in such films as "Around the World in 80 Days," "The Pink Panther" and "Separate Tables," for which he won a best actor Oscar.
Producer sells in Beverly Hills
Music producer Richard Perry has officially beat it out of Beverly Hills, selling his home of six years for $8.535 million.
Perry bought the home for $7.2 million and had lived there with his former partner, actress Jane Fonda. The couple announced last year that they were ending their relationship of nearly a decade. Fonda has since bought a town home in Century City for $5.45 million.
The gated contemporary home, built in 1961 and since renovated, was previously owned by late television director John Rich.
Within the more than 7,500 square feet of interiors is an updated kitchen, a great room, four bedrooms and 6.5 bathrooms. The lower level holds a recording studio, media room and wet bar.
Perry, 75, is credited with scores of popular music hits during the 1960s and '70s. He has worked with such artists as Rod Stewart, Carly Simon and the Pointer Sisters.
A new place to jam
Reggae musician Ziggy Marley, the son of Bob Marley and frontman for Ziggy Marley and the Melody Makers, has bought a spacious Spanish-style estate in Toluca Lake through a trust for $5.55 million.
Set on half an acre, the home is entered through a two-story rotunda.
Roughly 9,300 square feet of living space include a formal living room, a double-island kitchen, a library, a screening room and a wine cellar. There are five bedrooms and seven bathrooms.
A covered loggia, a meditation garden, an outdoor kitchen and a swimming pool make up the grounds.
Marley, 49, also has released six solo albums and four live albums. His hits include "Beach in Hawaii," "Love Is My Religion" and "True to Myself."
Last sold in 1936
The longtime home of the late Mexican American actress Lupita Tovar and her husband, talent agent and Metro-Goldwyn-Mayer producer Paul Kohner, has come back on the market in Bel-Air for $9.995 million. Kohner bought the house in 1936 for $17,500, according to reports at the time.
The tile roof and whitewashed brick Spanish two-story dates to 1935. The 3,550 square feet of living space contain six bedrooms, five bathrooms, a formal dining room, an office/den and a living room.
A paver patio with an outdoor fireplace, a swimming pool, lawns and lush landscaping complete the grounds of more than an acre.
Tovar, who died in 2016 at 106, appeared in more than 30 films including "The Invader" with Buster Keaton and "South of the Border" with Gene Autry.
$1 million off the top
Doug Ellin, the creator of HBO's "Entourage," has relisted his Beverly Hills mansion for $8.995 million after failing to find a buyer for $9.995 million when he first listed it in the fall.
The two-story home cost him $5.93 million in 2008, so there's still plenty of profit margin.
The traditional home sits on nearly a third-acre with a swimming pool.
The 5,780 square feet of living space is entered through a two-story foyer. Features include a step-down rotunda bar that opens to the backyard. There are six bedrooms and seven bathrooms.
Ellin, 49, created, wrote for and produced "Entourage," which ran from 2004 to 2011. He also directed and wrote the screenplay for the 2015 "Entourage" movie.
His favorite room
Writer, director and producer Peter Paige lives in a modernist Hollywood loft, and the high-ceilinged main living space is his favorite spot to be. The aesthetic style – part provocative, part gentlemanly – is reflected in an eye-catching wall of art, his chesterfield sofa set and the cheery peacock-blue rug. Paige is also an actor, known for his character Emmett Honeycutt on Showtime's "Queer as Folk."
From the archives
Ten years ago, tennis champion Pete Sampras and his wife, actress Bridgette Wilson, put their Beverly Hills home on the market for $25 million. The 11,000-square-foot English Tudor-style house, built in 1933, had been recently remodeled and expanded.
Twenty years ago, actor Robert Loggia and his wife, Audrey, sold the Brentwood house where they had been living while remodeling their Bel-Air home. The 5,000-square-foot Mediterranean-style house they sold for $1.2 million was built in 1990 and set in a gated community.
Thirty years ago, actor Mickey Rooney's former Encino estate was for sale at $1.395 million. Built in 1931, the two-story Mediterranean-style mansion had six bedrooms, 5.5 bathrooms, three patios, four fireplaces, a pub room and a walk-in vault.
What we're reading
Singer Diana Ross' childhood home is for sale in Detroit at $132,500. Built in 1913, the multi-story residence, which can be a duplex or single-family house, has four bedrooms, 2.5 bathrooms and 2,112 square feet of living space.
A bulldozer has demolished a Frank Lloyd Wright-designed medical clinic in Whitefish, Mont., despite the efforts of preservation groups. Dezeen reports it was the famed architect's first intact building to be destroyed in more than four decades.
A ranch once owned by former President Lyndon Johnson is for sale in Johnson City, Texas, for $2.8 million. The 142-acre property still has some trappings from his day, reports SecondShelters.com, including a house that served as Secret Service quarters.
---
Inside the homes of the rich and famous.
Glimpse their lives and latest real estate deals in our weekly newsletter.
You may occasionally receive promotional content from the Los Angeles Times.