Hot Property: The bustle of spring
The market is heating up as we ease into the traditionally busy spring home-sale season. This week's collection includes some eyebrow-raising prices. A U.S. ambassador has her estate in Bel-Air priced at $37 million, and a ranch once owned by a beloved actor is asking $16.5 million in Los Olivos.
Take a peek inside the Hot Property Home of the Week with a video tour from Fox 11. The Roland Coate-designed Monterey Colonial in Arcadia blends East Coast style and West Coast sensibilities. The 12,250-square-foot home is listed for $11.8 million.
Once you're done reading about these deals, visit and like our Facebook page, where you can find Hot Property stories and updates throughout the week. That's also a great place to leave us a tip about a celebrity home deal.
– Neal J. Leitereg and Lauren Beale
Worth singing about
Actress-singer Jayma Mays of "Glee" fame and her husband, actor Adam Campbell, have sold their home in historic Los Feliz for $3.595 million — $800,000 more than their asking price.
The hip two-story, built in 1925, was remodeled and expanded during the couple's decade of ownership.
The open-space floor plan includes a living room, a center-island kitchen and a combined dining and family room area. There are four bedrooms and 3.5 bathrooms plus an office/media room.
Mays, 38, is known for her television roles on "Glee," "Ugly Betty" and "The Millers." She currently appears on the sitcom "Trial & Error."
Campbell, 37, appeared on the Tina Fey-produced sitcom "Great News," which in January wrapped up its second season.
Rocket has lift off in Tarzana
Trevor Ariza of the Houston Rockets has wrapped up some business away from the court, selling his gated estate in Tarzana for $3.25 million.
Built in 1990, the contemporary Mediterranean home has about 8,700 square feet of living space. There are two master suites, each with a fireplace and sitting area, for a total of five bedrooms and eight bathrooms.
Sliding doors open to a fenced swimming pool and a trellis-topped barbecue station. Steps lead to a basketball half-court and a 1,300-square-foot casita containing a gym.
Ariza, 32, has spent the last four seasons with the Rockets. The veteran guard-forward previously won an NBA title in 2009 with the Lakers.
Onto her next life phase
U.S. Ambassador to Denmark Carla Sands has listed her villa in Bel-Air for sale at $37 million.
The Italian-style home sits behind gates on four acres in the Moraga Estates community.
The 14,700 square feet of living space features formal living and dining rooms and an office/library with a fireplace and a bar. Combined with the guesthouse, there are six bedrooms and 11 bathrooms.
The manicured gardens and sprawling grounds contain a swimming pool, outdoor lounging spaces and a loggia for al fresco dining.
Sands built the residence in 2002 with her late husband, real estate mogul Fred Sands. After his death in 2015, she replaced him as chief executive of Vintage Capital, which has over $150 million in assets.
'Maverick' territory up for grabs
An amenity-filled 400-acre ranch that was once owned by the late actor James Garner is for sale in Los Olivos at $16.5 million.
Called Rancho La Zaca, the bucolic property boasts a 25-acre vineyard, a shooting range, a stocked pond, equestrian facilities and miles of hiking and riding trails. One can just picture the star of "Maverick" slow-poking his way through the spread on horseback.
The 8,000-square-foot main house was commissioned by Garner in the 1990s and includes five bedrooms, seven full bathrooms and two half-baths. There are separate houses for the ranch and vineyard managers.
The Emmy-winning actor, who died in 2014 at 86, starred on such popular television series as "The Rockford Files." His film work included "The Great Escape" (1963), "Murphy's Romance" (1985) and "Space Cowboys" (2000).
Strutting it in Pacific Palisades
Model and show host Tyra Banks has put a Mediterranean-style town home in Pacific Palisades up for sale at $1.499 million.
The remodeled two-story has an 1,800-square-foot floor plan that includes a dining area adjoined to a center-island kitchen, living room with a fireplace, two bedrooms and 2.5 bathrooms.
Banks, 44, gained fame after being a cover model for Sports Illustrated and working for Victoria's Secret. Since then, the California native has gone on to produce "America's Next Top Model" and "The Tyra Banks Show."
A view of the slopes
The onetime home of alpine ski racer Lindsey Vonn is for sale in Park City, Utah, at $1.45 million.
The 4,320-square-foot wood-shingle and stone house takes in expansive views of three ski areas and a nature preserve. Hardwood floors, 8-foot alder doors, granite counters and travertine floors are among the features. There is an office, a bar, four bedrooms and four baths.
Vonn, 33, sold the lodge-like property in 2013, the year she divorced fellow alpine skier Thomas Vonn.
She won a gold medal in the 2010 Vancouver Olympics, four World Cup overall championships and multiple World Cup titles in downhill, combined and Super-G.
Her favorite room
Because she spends only half a year in Los Angeles, actress Brittany Curran didn't focus much energy on redoing her Valley Village-area home. But the retro kitchen was different. The 27-year-old actress, who in June will start filming the fourth season of the television series "The Magicians" in Vancouver, tore up the white linoleum floors and painted the walls a sky blue. She said she loves to spend her weekends in the space, cooking and entertaining.
The actress, a fan of vintage of items, has champagne glasses from the 1950s.
(Kirk McKoy / Los Angeles Times)
Curran, an avid cook and baker, says that "everything happens in the kitchen."
(Kirk McKoy / Los Angeles Times)
She collects teas from the farmers market.
(Kirk McKoy / Los Angeles Times)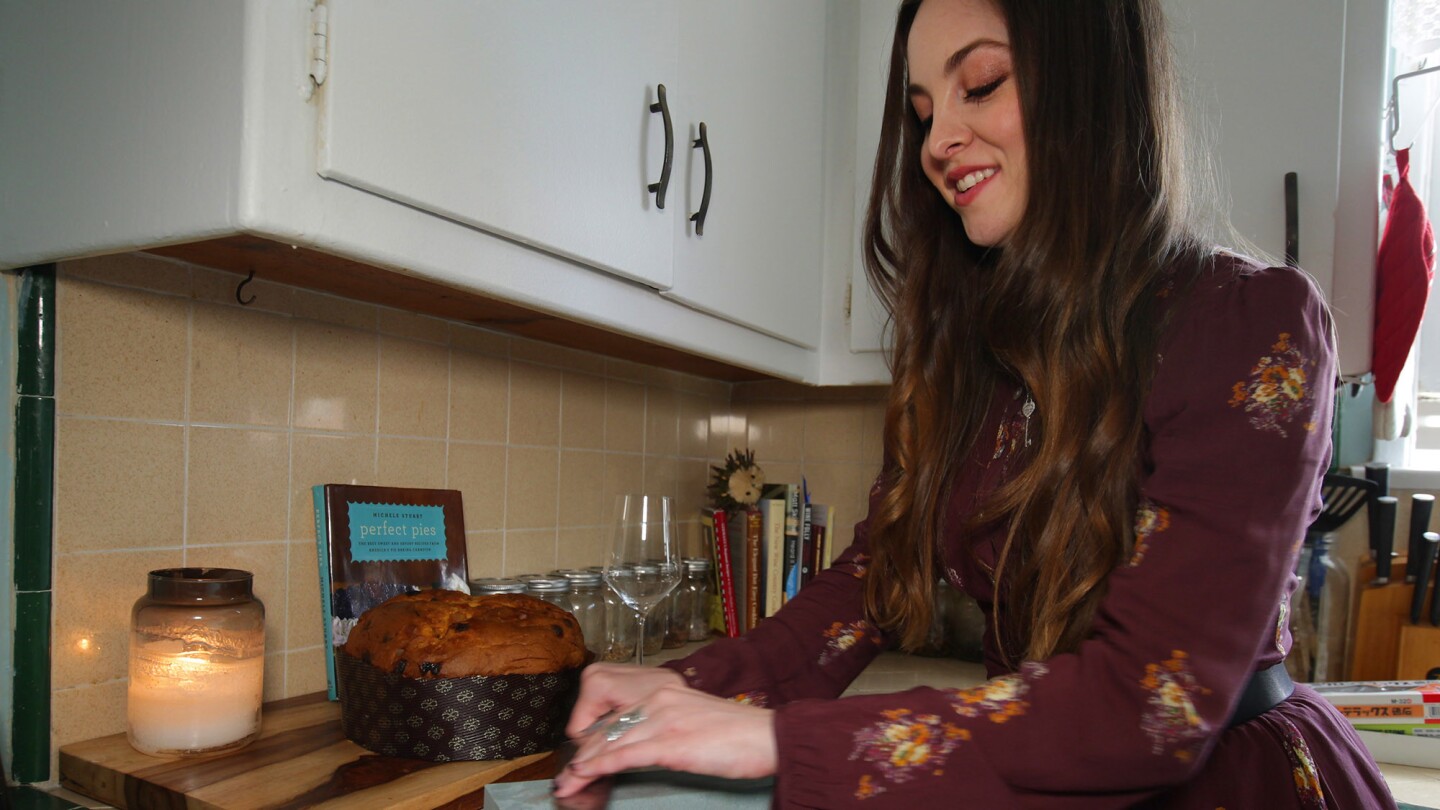 The kitchen is the only room in her home that she felt compelled to redo to make her own.
(Kirk McKoy / Los Angeles Times)
From the archives
Ten years ago, Coco Crisp, of the 2007 World Series champion Boston Red Sox, purchased a $3-million getaway in a gated Rancho Mirage community. The home had four bedrooms and seven bathrooms in 8,500 square feet as well as a pool, a spa and a waterfall.
Twenty years ago, actor Nicolas Cage bought a gated Westside home for just under its asking price of about $7 million.The 1940 Country English-style home had nine bedrooms, a screening room, a gym and guest house in 13,000 square feet.
What we're reading
A Monterey home that once hosted gatherings with such famed guests as author John Steinbeck, marine biologist Doc Ricketts (from the book "Cannery Row") and artist Francis Whitaker is listed for sale at $995,000, reports SFGate.com. The 1,200-square-foot historic house was commissioned in 1930 by the painter James Fitzgerald.
Talk about sitting on the dock of bay. Estately.com is always on the lookout for unusual homes. This week's find is a $70,000 floating home in Bayview, Idaho. The 1940 cottage comes complete with one bedroom, two bathrooms and 510 square feet of living space. Needless to say, there are expansive water views.
---
Inside the homes of the rich and famous.
Glimpse their lives and latest real estate deals in our weekly newsletter.
You may occasionally receive promotional content from the Los Angeles Times.