Chiara Ferragni's No. 1 must-have in her new home was a spare bedroom that could be converted into a closet. The 5,000-square-foot Beverly Hills house she rented 10 months ago fit the bill.
The fashion blogger and designer moved to Los Angeles two years ago from her native Milan and has leveraged her 10 million social media followers into her own brand of shoes, backpacks and T-shirts.
Given her dedication to all things fashion, her walk-in closet is the focal point of her home.
Why is this room your favorite?
I finally have enough space for all my stuff, as well as plenty of room for my guests. I used to live in a three-bedroom house that was like a cottage in Silver Lake. For my closet, it was important for me to have space in the middle to move around. In my other place, everything was just packed in.
How did you convert the spare bedroom into a closet?
Everything is custom-made. I hired a contractor to put in shelves and racks to hold all my things. It cost about $10,000 to complete. Also, because it was a bedroom, it had its own walk-in closet, which I use to keep my more special pieces.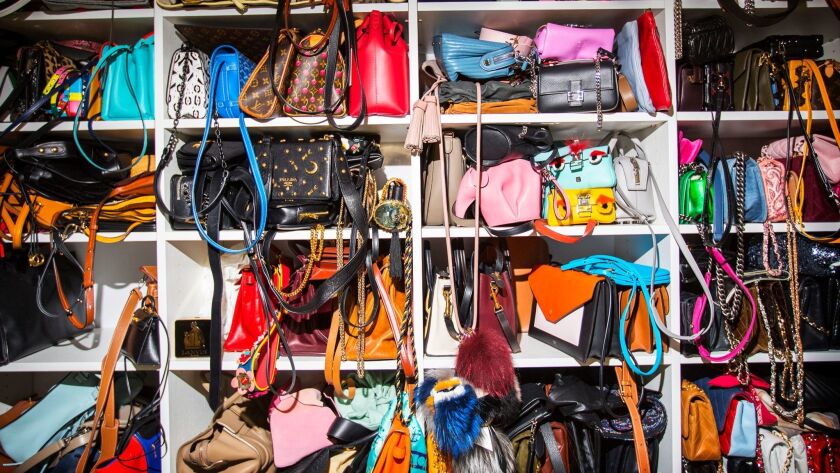 Any idea how many shoes and bags are in here?
Maybe about 200 of each. I'm not a crazy shopper. I work with so many designers that I get a lot of stuff. I like to keep pieces for my archives. My mother gave me my first Chanel bag when I was 18, and I still use it.
Is it all high-priced designer stuff or a mix?
I'm all about mixing. I have things that have cost $5, and others that go up into many thousands.
How do you keep the room organized?
I might leave things in my bedroom for one or two days, but then I will bring them here and put them in their place. I know where everything is in this room.
Do you ever get rid of anything?
Sometimes I feel overwhelmed. Or maybe I receive things I wouldn't wear. And I do love giving things away. I do something with my friends I call a bazaar. They come over and select things I don't want any more.
If there was an emergency and you had to race out of here, what would you take?
My Hermes crocodile bag. And my favorite leather jacket.
Is there one item you really want to add to your collection?
I once saw this amazing Chanel clutch bag. It was like a Russian matryoshka nesting doll. It was impossible to find at the time, plus the price was off-limits to me back then. I'd love to have that.
MORE FROM HOT PROPERTY
Playful Palm Springs retreat was once owned by Walt Disney
'Lawless' director John Hillcoat buys a breezy contemporary in Malibu
Ducks captain Ryan Getzlaf sells his home in Corona del Mar for $6.025 million
---