My Favorite Room: Sonya Walger's open ground floor is where all the living happens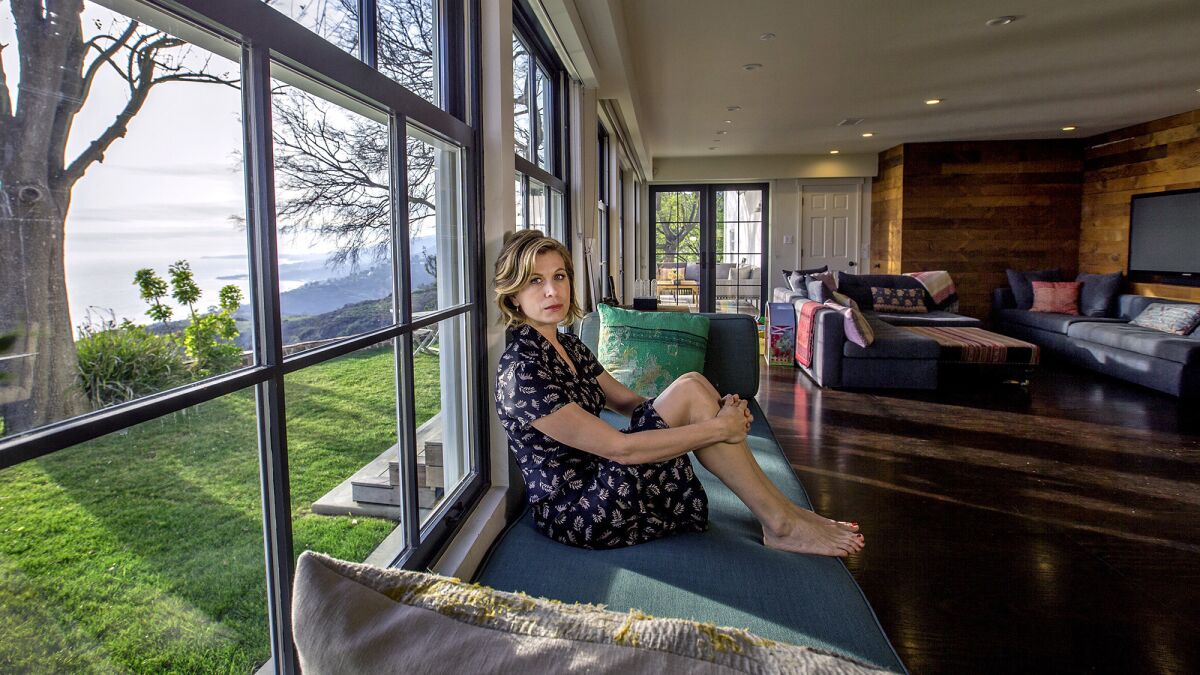 When "Lost" actress Sonya Walger began remodeling her five-bedroom Malibu house several years ago, she was told it would take just eight weeks.
It took eight months.
"It was epic," said Walger, who is starring in the Shonda Rimes series "The Catch." "Hilariously, I left with a baby in arms and came back with a toddler and pregnant."
The ambitious project — which involved gutting the ground floor and moving a staircase — "was hell," she said. Walger, who has two children with screenwriter husband Davey Holmes, temporarily lived on the second floor, "crammed over a toaster oven with crashing and banging below."
You knocked down all the walls to create a kitchen/living-room/dining-room hybrid. Why is that now your favorite room?
The whole ground floor is one giant, open plan — you can see all the way through. And there are windows and French doors the length of the house, so I can stand at the stove and look out at the ocean.
What kind of vibe were you going for?
It's surprisingly cozy, which is not something I expected to feel. I didn't want it to feel echo-y or overly modern. So we used an enormous amount of raw wood, the brainchild of our friend Tess Bethune. There's a little rug and armchair in front of the fireplace. There's a wonderful window seat that's the focus of the whole room, with drawers underneath it for the kids' toys. The kids pile on top of me, and I read them stories there; friends sit there to chat with me while I cook. We created a number of corners so that, while the room is big, each section feels like it has its own identity.
What do you have in the way of decor?
We're all big, big readers. I love a good nook. There's a huge built-in bookcase, and it's such a reflection of my family. I studied English literature at Oxford, so there's Chaucer. It's next to Nigella Lawson's latest cookbook. There's the entire Mr. Men series. My husband was a playwright, so there's a Tom Stoppard play. We're not big tchotchke people; we're pretty lean in terms of little ornaments.
There's always a script kicking around somewhere, some dog-eared copy. But I'm not particularly sentimental. My husband calls me "throwy-outy" — he's horrified at how easily I dispense with things. People I won't let go of, but things, mementos from shows, I'm not particularly attached to. I'm the absolute opposite of a hoarder.
Your father is from Argentina — anything from there?
We have these woven cloths, these frazada blankets originally from Peru that I've collected over the years during trips to South America. The big ottoman is upholstered in one of those, and the armchair too. I try to go once a year or every two, but little children make travel horrendous.
The room sounds like a spectacular entertaining space.
We host a lot. The only thing we don't do downstairs is sleep. I love cooking — I make dinner pretty much every night. We have 40 people over for Thanksgiving, 30 people for Easter lunch, 35 people on Christmas Eve. People tend to expect to spend their holidays with us, which is lovely and an expectation I carry with pride.
MORE FROM HOT PROPERTY
Plenty of room for family in Santa Barbara's San Roque area
In quick move, San Antonio Spurs' LaMarcus Aldridge sells his Newport Coast house
The U.S.' priciest house for sale is a Bel-Air mansion that includes 7 staffers and a helicopter
---