Artesia City Hall is on Clarkdale Avenue.
(Jesse Goddard / For The Times)
The major thoroughfare includes an area known as "Little India."
(Jesse Goddard / For The Times)
You won't find the same kind of housing deals that you usually see in other Gateway Cities.
(Jesse Goddard / For The Times)
The museum is on Alburtis Avenue, inside a 1929 house that was moved from its original location on Pioneer Boulevard.
(Jesse Goddard / For The Times)
Located near the eastern edge of the Gateway Cities, that unglamorous belt of communities hugging the L.A. County line from Pico Rivera to Long Beach, Artesia has been free to develop its own unique character outside its more famous neighbors to the north (Los Angeles) and south (the Orange County suburbs).
It's been doing so since 1875, when a schoolhouse was erected to educate the children of farmers drawn to the area by its fertile soil and numerous — you guessed it — artesian wells.
The little town thrived and by 1900 was home to 300 farmers who, according to the city's official history, raised an impressive variety of crops and livestock, including "grapes, sugar beets, other vegetables and fruits," chickens, dairy cattle and even "ferns and flowers" to sell in nurseries across the region.
By the 1920s Artesia had, in the main, narrowed its focus to dairy cows. An influx of Dutch and Portuguese immigrants helped build Artesia and the adjacent town of Dairy Valley (now Cerritos) into a regional center of milk and cheese production.
In fact, the Portuguese were the first group of international immigrants to put their distinctive stamp on Artesia's cultural fabric. In 1927 they founded the Artesia Divino Espirito Santo, an organization dedicated to preserving Portuguese traditions and culture. The Artesia DES held its festas in circus tents until the existing, and very much still active, hall was built in 1935.
Another immigrant community laid down roots in Artesia in the early 1970s, when Selecto Spices, the first Indian store in Southern California, decamped from its original Hollywood home and moved into a storefront on Pioneer Boulevard.
Kindred merchants began to set up shop in the city, which was more convenient for the large Indian communities in Cerritos and Orange County. Nearly 50 years later, Pioneer Boulevard's "Little India" is a nationally known shopping destination for goods from the subcontinent.
Although it may not be glitzy or coastal, Artesia boasts a mix of cultures today as diverse as that of any city in Southern California.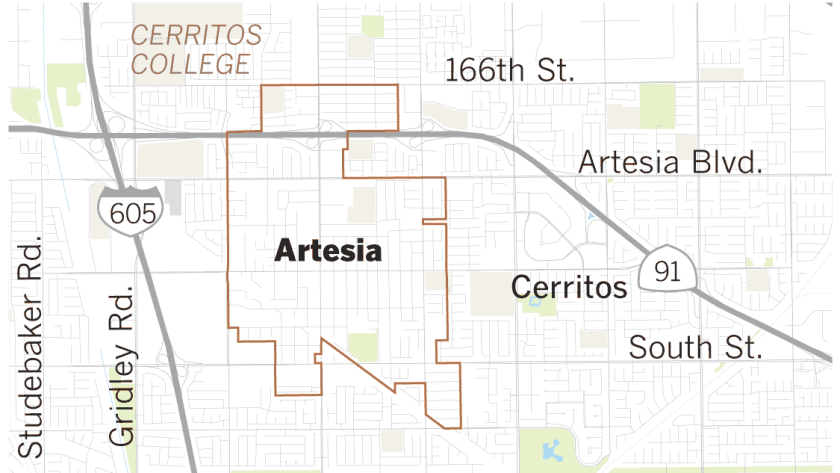 Neighborhood highlights
A taste of the subcontinent: For fans of Indian food, Pioneer Boulevard offers a concentration of some of the region's best places for samosas, tandoori chicken and other favorites.
On the county line: Artesia's location means convenient commutes to L.A. and Orange County, something that will become even easier when Metro's West Santa Ana Branch light-rail line opens in a decade or so.
A small-town feel: Cosmopolitan it may be, but at less than 2 miles square, and with fewer residents than many L.A. neighborhoods, Artesia has a friendly, hometown vibe.
Neighborhood challenge
Convenience at a price: Artesia's relatively easy commutes make it a popular destination for home buyers, meaning the deals that can be had in other Gateway Cities are not found here.
Expert insight
Troy Mire, a broker with All Pro Realty Group, said Artesia has been able to piggyback off the recent growth of its neighbor Cerritos.
"The upswing … has afforded more opportunities for business," Mire said.
All Artesian eyes are on the WB SR-91 Project, an initiative to improve Interstate 605 and State Route 91, both of which border Artesia. With a budget of $140 million, the project has plans that include adding a general-purpose lane going west, as well as improving the freeway entrances and exits.
"The proposed freeway changes will dominate the city's landscape and plans over the next 10 years," Mire said.
Market snapshot
In the 90701 ZIP Code, based on 13 sales, the median price for single-family homes in July was $525,000, down 20.1% year over year, according to CoreLogic.
Report card
All four public schools in the Artesia boundaries scored above 800 on the 2013 Academic Performance Index: Luther Burbank Elementary, at 860, Charles J. Carver Elementary, at 858, Faye Ross Middle, at 836, and John H. Niemes Elementary, at 816.
In the surrounding area, Cerritos High scored the highest of any high school, 869. Artesia High scored 777.
Times staff writer Jack Flemming contributed to this report.
---