Long-delayed seaside home project in San Clemente gets back on track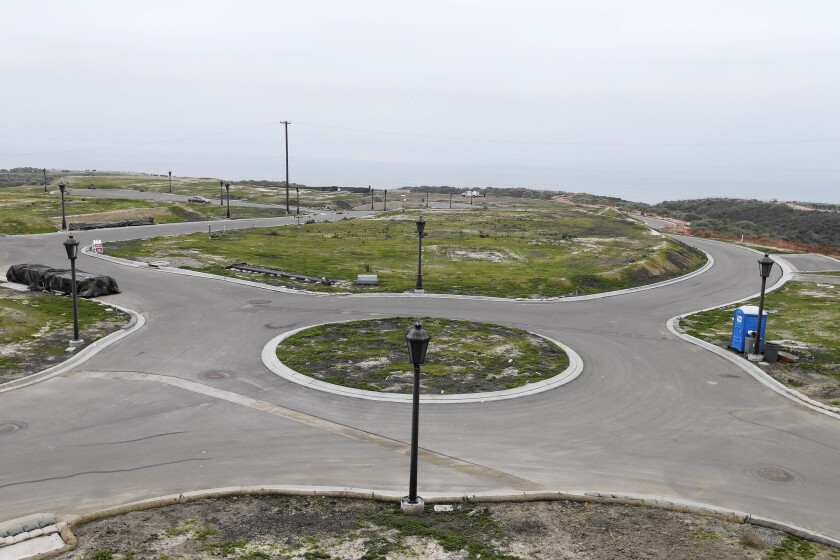 For years it has sat half-finished with paved roads and sidewalks leading to empty lots where million-dollar homes were supposed to look over one of the region's most prized coastlines.
The interrupted development in San Clemente eventually became a jarring reminder of how the recession ruined Southern California's housing market.
But now, with demand for high-end housing surging back, the long-delayed seaside residential development has been jolted to life. Work has begun anew on the 248-acre Sea Summit at Marblehead, where a new developer plans to build 309 single-family homes.
What to do with the sandstone bluffs overlooking the Pacific Ocean has been controversial from the start. The land was once used for agriculture but became the subject of major disputes pitting locals who wanted to preserve San Clemente's small-town charms and their environmentalist allies against the march of development that relentlessly filled Orange County's coast with housing.
The debate over the property's fate raged for nearly three decades; other proposals for the site included a 2,000-home subdivision, the Richard Nixon presidential library, and a golf resort. Finally, in 2002, a scaled-down plan that included parks and preserved canyons won over environmental opponents.
A previous owner graded lots for homes and paved streets and sidewalks before declaring bankruptcy in 2008 and leaving the project in stasis.
"It's been a long time coming," Mayor Chris Hamm said. "We are looking forward to it for sure."
Arizona developer Taylor Morrison Home Corp. and its financial partners reportedly paid more than $200 million for the site last year, beating out other large publicly traded home builders and international investors for the chance to create a subdivision with ocean views.
The Sea Summit project, last known simply as Marblehead, skidded to a halt after financier Lehman Bros. collapsed in 2008 and left Irvine developer SunCal short of funds. The Wall Street bank eventually took back the highly coveted project from SunCal after a bruising bankruptcy battle.
The seaside acquisition was viewed as a big catch for Taylor Morrison. Despite a rebounding housing market, the supply of new homes for sale in Southern California is at historic lows. And the project comes as many home builders have sharpened their focus on the upper end of the market, angling for high-demand spots in coastal California, where they can command top dollar from wealthy buyers.
And although the broader housing market has been sluggish, those high-end buyers are jumping in, capitalizing on near-record-low interest rates to buy seven-figure homes with relatively cheap money.
Sales of homes worth $2 million or more were at a record pace in Southern California through the first nine months of 2014, according to figures from CoreLogic DataQuick. Sales topping $1 million are back at their bubble-era peaks as well.
The median price of a new home sold in Orange County in December hit $867,750, up 22.7% from December 2013.
More than 100 acres of Sea Summit's land will remain undeveloped, a concession won by environmental groups that once opposed the project in hopes of keeping the site untouched. The developers plan to make the open space, including five parks, part of the neighborhood's appeal.
"We are constructing public trails that meander through the community," said Phil Bodem, a division president at Taylor Morrison. "There will be four or five miles of trails along open space and protected habitat."
The subdivision will cost $80 million to complete, he said.
Sea Summit will be divided into four neighborhoods intended to appeal to different tastes in buyers, Bodem said. There will also be a private club for residents, with a fitness center, pool, patios and a fire pit. Houses will range in price from just under $1 million to more than $3 million, he said.
The four neighborhoods — each named a shade of blue to evoke the ocean — will include one intended to appeal to families with its large home sizes and style of architecture. Another will sport homes on smaller lots around shared courtyards but built to high-end specifications in hope of attracting wealthy buyers interested in moving down from larger homes they no longer need, he said.
At the opposite end of that spectrum will be a cluster of large, luxurious homes built to appeal to what Bodem calls "custom buyers" who want top-of-the-line showplaces. Homes in the fourth neighborhood are intended to meld luxury with family appeal.
Sales will begin this summer after model homes are completed, he said. Buyers will be able to view them and select the characteristics they want in their own houses
"The first group will build their homes the way they want them," he said, including structural options such as room configurations. The homes are being designed by Robert Hidey Architects of Irvine and Mark Scheurer Architect of Newport Beach.
Also opening this year is Plaza San Clemente, an outlet shopping center with more than 70 stores and restaurants built by Newport Beach developer Craig Realty Group. It is connected to the new Sea Summit residential development by the once-stalled Avenida Vista Hermosa bridge that spans a ravine.
The first residents should move into Sea Summit by the end of the year, Bodem said.
---
Inside the homes of the rich and famous.
Glimpse their lives and latest real estate deals in our weekly newsletter.
You may occasionally receive promotional content from the Los Angeles Times.