Garcetti pledges to ease building permit process to boost construction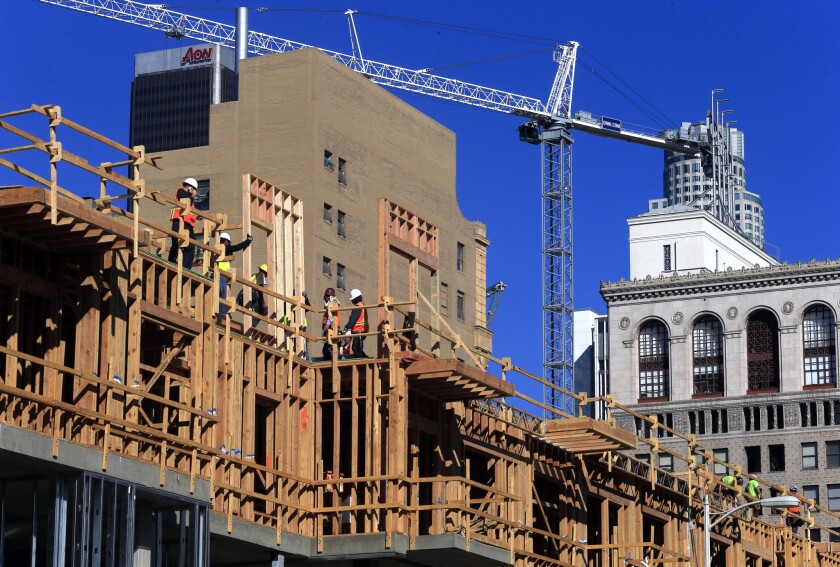 Mayor Eric Garcetti on Thursday announced a new permitting process he said could shave months off the time it takes to build something in Los Angeles.
Restaurants, charter schools and major projects costing $10 million or more would be eligible for a new case-management program, a single point of contact to guide such projects through the city's sometimes-Byzantine process of applying for permits and approvals.
Garcetti's office estimates that such a system could knock three to six months off typical construction timelines, which many builders say can often run for years.
"This back to basics initiative cuts red tape and increases customer service to make L.A. more attractive to investments that create jobs," Garcetti said in a statement. "When you're investing in L.A., City Hall should be there to help you and not add delays to your work order."
Under the initiative, projects receive case managers to coordinate permitting and approvals across various city departments, and projects worth $10 million or more get a full-time dedicated inspector.
The announcement comes on the heels of Garcetti's call last month to add 100,000 new units of housing in the city by 2021, and is one of several policy and administrative moves he's making to help meet that goal. Thirteen projects, worth a combined $903.6 million, are already utilizing the new permitting help, the mayor's office said.
Garcetti is not the first L.A. mayor pledging to make City Hall more user-friendly for builders. Antonio Villaraigosa and James K. Hahn before him also made pitches to streamline permitting. Yet builders say the city's process remains arcane and sluggish, driving up the cost of housing and development in L.A.
Keep an eye on housing and real estate in Southern California. Follow me on Twitter at @bytimlogan
---
Inside the homes of the rich and famous.
Glimpse their lives and latest real estate deals in our weekly Hot Property newsletter.
You may occasionally receive promotional content from the Los Angeles Times.