Room to stretch out in Rancho Cucamonga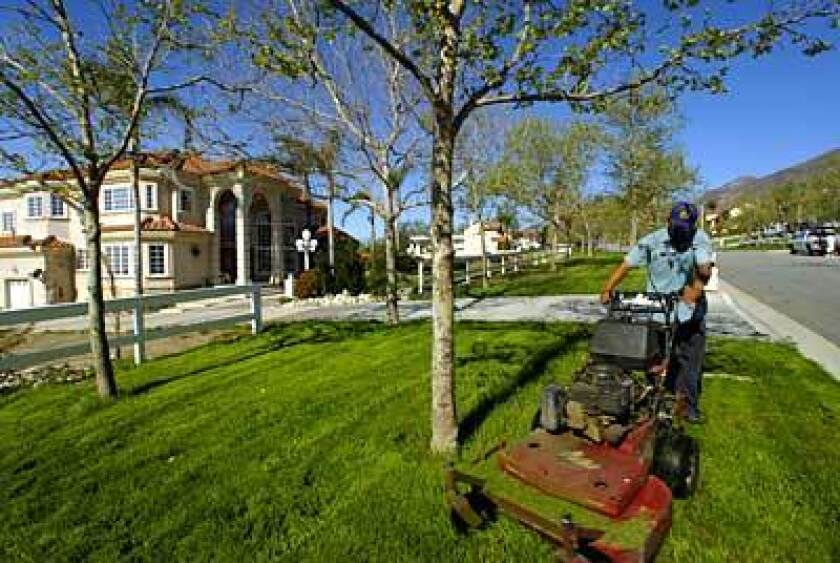 Special to The Times
Once a small-town stop on famed Route 66, the city is booming thanks in part to the recent opening of another roadway — a 14-mile extension of the 210 Freeway that has eased commutes into Los Angeles from this city on the western edge of San Bernardino County.
---
FOR THE RECORD: Rancho Cucamonga —An article in Sunday's Real Estate section omitted Rancho Cucamonga's newest high school, Los Osos, in a listing of area schools. The story also mistakenly said that Mt. Baldy "looms as a gorgeous backdrop" to the city. The backdrop is Cucamonga Peak. Mt. Baldy, while higher, is hidden from most of Rancho Cucamonga by other mountains.
---
The basics

Three distinct communities were combined to form the city of Rancho Cucamonga when it incorporated in 1977. To the east, Etiwanda's wind-blown fields have sprouted subdivision after subdivision over the last decade and new home construction continues unabated. Alta Loma stretches up the flank of Mt. Baldy and is known for its half-acre horse properties and million-dollar homes. The community that was formerly called Cucamonga lies along historic Route 66 and has a mix of commercial development and older subdivisions. Although Alta Loma and Etiwanda retain their names in mailing addresses, Cucamonga is now Rancho Cucamonga.

Drawing card

The city's proximity to Ontario International Airport and to the corporate offices and warehouse facilities springing up around it has drawn business executives looking for housing, said Cheryl Gillotti of Re/Max Legends in Alta Loma. Half-acre horse properties in Alta Loma start at more than $600,000 and neighborhoods at the north end of Haven Avenue have million-dollar homes, Gillotti said.

Realtor Lili Hwang's clients are a mix of residents trading up to larger homes and transplants from Orange and Los Angeles counties seeking more house for their half-million dollars. A four-bedroom, 2,300-square-foot newer home starts at about $470,000 in Etiwanda, Hwang said.

At the lower end of the price range, homes built in the 1970s with 1,800 to 2,200 square feet are selling in the mid- to high $300,000 range.

Good news, bad news

Mt. Baldy looms as a gorgeous backdrop to this city of 146,000. Rancho Cucamonga's perch high on the mountain's flank affords sweeping views of the valley to the south but leaves northern neighborhoods vulnerable to wildfires such as last fall's 60,000-acre Grand Prix fire, which destroyed 135 homes including 13 in Rancho Cucamonga. And the strong Santa Ana winds that whipped that fire out of control are a periodic annoyance in Etiwanda, which is just south of the Cajon Pass, spurring some residents to move to the more sheltered neighborhoods of Alta Loma.

In the works

The city hopes to keep the retail attention of its transplants from Orange and Los Angeles counties with a 147-acre open-air regional mall called Victoria Gardens, slated to open in October with 120 tenants, including three department stores, upscale specialty stores such as Pottery Barn and Williams-Sonoma, and movie theaters and dining. The project, at the juncture of Interstate 15 and Foothill Boulevard, is intended as a downtown district for Rancho Cucamonga and will include a 530-seat performing arts center, meeting facility and public library branch by 2006.

On the market

As of mid-month, there were 134 properties listed for sale in Rancho Cucamonga, ranging from $215,000 for a 1,000-square-foot condo to $2 million for a 7,474-square-foot home on 2.14 acres in Alta Loma.

Report card

Rancho Cucamonga is served by four elementary school districts and one high school district, a legacy of its pre-incorporation days. In the Alta Loma School District, elementary schools serving the city scored from 800 to 845 on the 2003 Academic Performance Index on a scale of 1,000, while Alta Loma Junior High scored 750 and Vineyard Junior High scored 756. In the Etiwanda School District, elementary schools serving the city scored from 744 to 881, Etiwanda Intermediate scored 745 and Summit Intermediate scored 770. Central School District has four elementary schools serving Rancho Cucamonga and scores ranged from 710 to 795; Cucamonga Middle School scored 728 and Ruth Musser Middle scored 757. Cucamonga School District's Cucamonga Elementary scored 667, Los Amigos Elementary scored 706 and Rancho Cucamonga Middle school scored 642.

Chaffey Joint Union High School District has three high schools serving the city. Alta Loma High scored 671, Etiwanda High scored 729 and Rancho Cucamonga High scored 713 on the 2003 API.

Stock report

The city has 35,941 single-family residences and 13,023 multi-family units.

Historical values

Single-family detached resales:

Year...Median Price

1990...$164,500

1995...$145,000

2000...$180,000

2002...$245,000

2004*...$325,500

*Year to date
---
Sources: DataQuick Information Systems, https://www.cherylgillotti.com , https://www.lilihwang.com , https://www.ci.rancho-cucamonga.ca.us , api.cde.ca.gov and the City of Rancho Cucamonga Planning Department
---
Inside the homes of the rich and famous.
Glimpse their lives and latest real estate deals in our weekly newsletter.
You may occasionally receive promotional content from the Los Angeles Times.