What's green and well educated? Claremont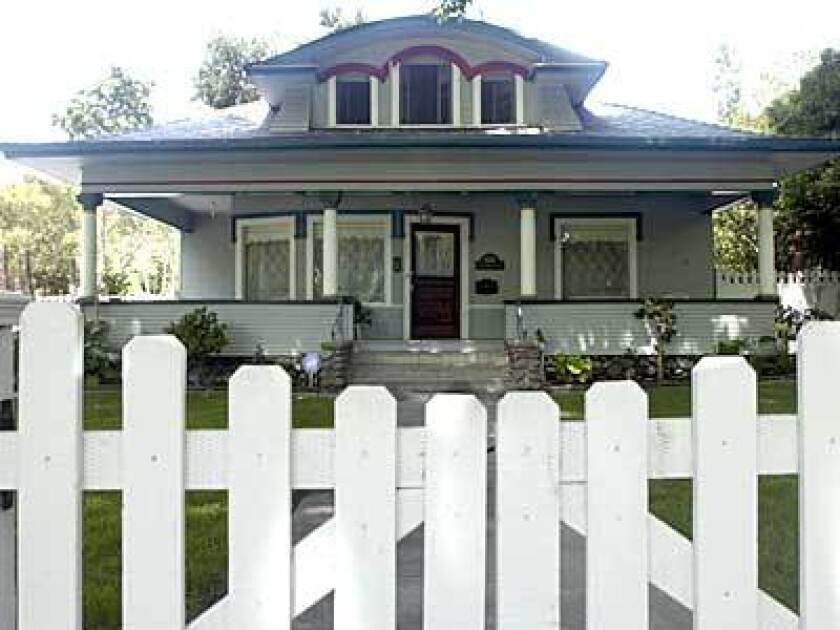 Special to The Times
Claremont, a city of 36,000 on the eastern edge of the San Gabriel Valley, is a lot like the prom queen who is class valedictorian: beauty and brains. With 23,500 trees on public land and more than 10,000 residents with advanced degrees, it's no wonder that Claremont is called the "city of trees and PhDs."
Wow factor
Claremont's slogan could just as easily be: "They come for the degrees; they stay for the trees."
At the center of town are the seven Claremont Colleges (often referred to as the "seven sisters"): Claremont McKenna, Claremont Graduate University, Harvey Mudd, the Keck Graduate Institute of Applied Life Sciences, Pitzer, Pomona College and Scripps College.
Graduates, smitten by the foliage, the abundance of parks and the downtown Village area with more than 25 restaurants and eateries, often make Claremont their permanent home.
Smart planning
The colleges aren't the only evidence of brainpower.
Intelligent planning and foresight have been Claremont hallmarks since early citizens planted trees when the city incorporated in 1887.
Claremont owes its unified look to deliberate planning, strict regulations regarding the size and height of signs and an active architecture commission.
Another Claremont planning principle, the placement of 21 neighborhood parks, many adjacent to public schools, enhances the city's feeling of open space and enables schools to use neighborhood facilities.
Insider's view
In 1992, the city acquired 1,200 acres of foothill land and is preserving it as a wilderness park. The park is popular for hiking, strolling and mountain biking. A pending grant application could add 240 acres to the wilderness preserve.
Good news, bad news
The 210 Freeway extension, which was completed this year, has eased the commute for motorists and relieved traffic congestion on Foothill Boulevard and Baseline Road. But the freeway is also a sore point for many residents, who complain about the perpetual humming sound in their neighborhoods.
Report card
Seven elementary, one intermediate and one high school make up the Claremont Unified School District. The California School Recognition Program has designated eight of the nine as "distinguished schools." Scores on the API range from 644 to 851, out of a possible 1,000, in the elementary schools. The middle school scored 764 and the high school 782.
Hot spots
Finding a neighborhood in Claremont amounts to choosing a decade.
Vintage homes from the 1920s and '30s dominate the neighborhood next to the Village, where homes range from a 1,100-square-foot Craftsman for $400,000 to 4,000-square-foot Mediterraneans in the $1.2-million range.
For 1950s and '60s homes, the Town Ranch neighborhood is popular with families. The public schools are all within walking distance.
During the late 1960s and '70s, the hillside neighborhood of Claraboya was developed and quickly became a favorite of those looking for view homes.
In the 1990s, development began again. Large custom homes on half-acre and acre lots are available in three northeast developments. Prices range from $800,000 to $1.5 million, said Nicole Troli of Prudential Realty.
On the market
Claremont had 58 single-family homes for sale in mid-June. A 1,051-square-foot starter was listed for $274,900; asking price on a 5,245-square-foot home on an acre was $1,795,000.
Historical values
Single-family detached resales for the 91711 ZIP Code:
Year...Median Price
1990...$240,000
1995...$186,000
2000...$251,000
2002...$325,000
2003*...$342,000
*year to date
---
Sources: DataQuick Information Services, Nicole Troli, Prudential Realty; Claremont Chamber of Commerce; Anthony Witt, City of Claremont; https://www.ci.claremont.ca.us .
---
Inside the homes of the rich and famous.
Glimpse their lives and latest real estate deals in our weekly newsletter.
You may occasionally receive promotional content from the Los Angeles Times.