Fed cuts interest rates again by a quarter point, but future drops this year are in doubt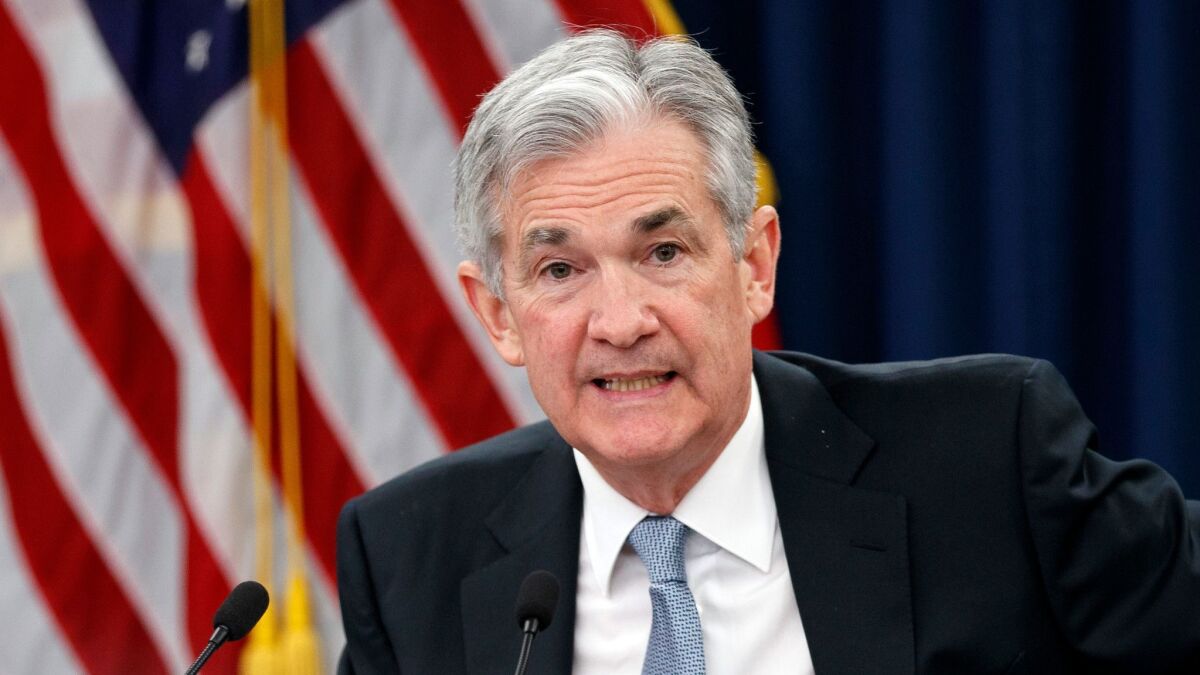 WASHINGTON —
Federal Reserve officials on Wednesday cut interest rates for a second straight time as insurance against a recession, but there was a growing divide among policymakers about the future path of rates.
At their meeting this week, a majority of Fed officials projected no more rate reductions in the foreseeable future, signaling that for now the central bank was done providing additional monetary support to a U.S. economy that has slowed amid trade tensions and a weakening global economy.
U.S. stocks initially fell upon the news but later recovered as the Fed's leader, Jerome H. Powell, gave a fairly upbeat assessment of the American economic outlook at a news conference.
President Trump, however, was clearly disappointed. He has been hammering Powell to cut rates more aggressively. And less than half an hour after the Fed issued its policy statement Wednesday, the president again lit into his handpicked chairman and the institution.
"Jay Powell and the Federal Reserve Fail Again. No "guts," no sense, no vision! A terrible communicator!" Trump tweeted.
Powell, as he has previously, declined to respond to the president's attacks and name-calling. (Trump last week referred to Fed policymakers as "boneheads.")
"I continue to believe that the independence of the Federal Reserve from direct political control has served the public well over time, and I assure you that my colleagues and I will continue to conduct monetary policy without regard to political considerations," Powell said when asked about Trump's criticisms. "We're going to use our best judgment based on facts, evidence, and objective analysis in pursuing our goals."
The Fed pursues its objectives — maximum employment and stable inflation — primarily by adjusting short-term interest rates. And on Wednesday, the central bank, as expected, announced that it was shaving a quarter percentage point from its key interest rate — to between 1.75% and 2% — a repeat of its action July 31.
In making back-to-back rate cuts, the Fed is aiming to shield the American economy against head winds from the U.S.-China trade war and slowing growth in Europe and Asia. Tariffs and other trade uncertainties have hurt domestic manufacturing, weakened business spending and raised the risks of recession.
"They're just trying to make sure we don't fall into recession," said Valentin Haddad, a finance expert at the UCLA Anderson School of Management. "For most individuals, the rate cuts are a good deal," he added, noting that they will hold down mortgage rates and other borrowing costs that the Fed's benchmark rate influences.
But Fed policymakers are split on just how much preventive medicine is warranted when the U.S. economy is still expanding at a healthy clip. As in the prior meeting, two of 10 voting Fed officials dissented to making a rate cut, saying that they preferred to keep rates unchanged.
And there was a third dissent in this week's meeting, from a policymaker who wanted to make a bigger, half-point rate cut.
The divide reflects the difficulty that Fed officials face as they chart a course fraught with economic crosscurrents as well as unusually strong pressure from the president.
The Fed doesn't want to appear to be buckling to political pressure or enabling Trump's unpredictable, aggressive trade actions, but neither can the central bank sit still in the face of turbulence from the trade war as well as weakness in the global economy. Powell said research shows that the Fed shouldn't wait until the economy unravels before acting.
"It can be a mistake to try to hold onto your firepower until a downturn gains momentum," he said in addressing concerns that the central bank's precautionary rate cuts would leave it with less ammunition when the next recession comes.
The Fed's key rate is already low by historical standards, and analysts also worry that continuing to lower it could fan stock market and other financial bubbles. UCLA's Haddad said current stock valuations are high but not excessive. Powell said households are in good shape financially and that the Fed was monitoring the higher-leveraged business sector.
But the strongest case against cutting rates may be that the U.S. economy doesn't need more stimulus. Although bond yield indicators are flashing red, there are few signs in the real economy that the U.S. is in trouble. Growth has slowed from last year but remains at a healthy pace, thanks mostly to solid job and wage gains that have supported strong consumer spending, which accounts for about 70% of U.S. economic activity.
Escalating tariffs and the trade conflict with China, however, have heightened uncertainty and hampered business spending, as have concerns about slowing growth in Europe and the precarious situation involving Britain's exit from the European Union.
A new Business Roundtable survey released Wednesday showed that, compared with three months ago, chief executives of the nation's largest companies are planning less near-term hiring and capital investment in the face of lower sales expectations largely because of trade uncertainties.
Jamie Dimon, chief executive of JPMorgan Chase & Co. and chairman of the Business Roundtable, a group of CEOs of major companies, said he doesn't see an imminent recession because of the strength of the American consumer. But, he said, trade uncertainties have hurt business confidence and in turn led to declining business spending, a key driver of jobs, growth and productivity.
"I don't think cutting the [Fed] rates will offset trade," Dimon said.
The Fed statement Wednesday acknowledged as much, noting that U.S. business investment and exports have weakened even as household spending has been rising at a strong pace.
Still, Fed officials on Wednesday slightly upgraded their economic growth projections for this year. They predicted, on average, that real gross domestic product, or total economic output, would expand at a 2.2% rate this year, up from 2.1% that it forecast in June.
The Fed's new projections indicate that the unemployment rate will remain at a near-half-century low of 3.7% this year and next, and that inflation will stay at about 1.5% this year and rise to 1.9% in 2020.
After Wednesday, financial markets had been expecting the Fed to make one more quarter-point cut this year, at either its next meeting in late October or its final session in mid-December.
But the Fed's new projections show that seven officials expect another quarter-point rate cut in the fourth quarter, while 10 others see it staying at 1.75% to 2% or rising a notch. (Rate policies are set by 10 committee members, but there are 17 officials overall who are involved in the monetary policymaking process.)
"Unless there are more tangible signs that the trade conflict is harming the U.S. economy, it will be difficult to forge a consensus for another rate cut in 2019," said Carl Tannenbaum, chief economist for Northern Trust in Chicago.
In recent days Trump has pressed the Fed to cut rates to zero or even into negative territory. On Monday, Trump tweeted: "The United States, because of the Federal Reserve, is paying a MUCH higher Interest Rate than other competing countries. They can't believe how lucky they are that Jay Powell & the Fed don't have a clue."
U.S. interest rates and the dollar are relatively stronger in large part because the American economy is performing better than other large advanced economies. And they are likely to remain strong unless there's a breakthrough on U.S.-China trade and the global economic situation, said Matthew Peron, chief investment officer at City National Rochdale, an investment management firm.
---
Sign up for the California Politics newsletter to get exclusive analysis from our reporters.
You may occasionally receive promotional content from the Los Angeles Times.