Fed officials cut interest rate for third time this year, downplay chances for more reductions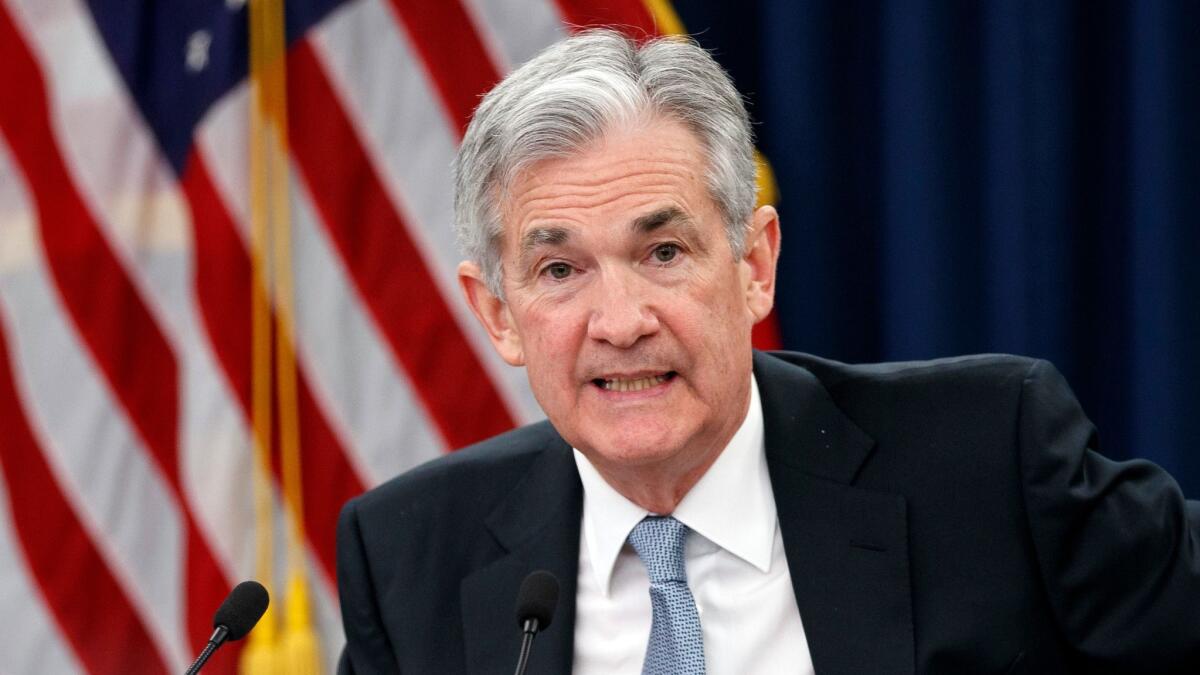 WASHINGTON —
The Federal Reserve made another interest rate cut on Wednesday, but Fed Chairman Jerome H. Powell poured cold water on the idea that more rate cuts are coming down the pike.
The Fed, as expected, lowered its benchmark rate by a quarter of a point for the third straight time, to a range of 1.5% to 1.75%.
Fed officials have described the rate cut as essentially an insurance against the risks to the American economy from the U.S.-China trade war and weakening global growth, which are threatening to undercut what since the summer has been the longest economic expansion in U.S. history.
Earlier Wednesday, the Commerce Department said U.S. economic growth slowed further in the third quarter, with business investments and net exports contracting for the second straight quarter, even as the housing market gained momentum and consumer spending grew at a slower but still-healthy pace.
Trade friction between the globe's two largest economies has disrupted business operations and spending, as have other risks and uncertainties such as Britain's messy exit from the European Union.
Powell made clear, however, that the U.S. central bank, after making three successive rate cuts since July, was hitting the pause button. He suggested that the Fed had done enough in light of continued moderate growth in the U.S. economy as well as an improvement in the outlook, particularly with the tentative "Phase 1" trade agreement announced by Trump earlier this month.
"We believe that monetary policy is in a good place," Powell said at a press conference Wednesday upon conclusion of the Fed's two-day meeting and release of its official statement.
The statement was more vague about the Fed's likely future path of interest rates, but Powell said that it would take a significant development in the economy to cause "a material reassessment of our outlook" for another Fed rate cut. That could be a sizable drop in job growth or consumer spending, which have been the pillars of the economy, as well as a worsening of trade tensions.
Investors were widely expecting Wednesday's quarter-point cut, and also appeared to be looking for the Fed to keep the door open on future rate reductions. Futures markets were betting that there was a 25% chance of another quarter-point rate cut at the Fed's last meeting of the year on Dec. 10-11.
Stock markets nonetheless rose after Powell spoke. Even though Powell tamped down hopes for another rate cut, investors apparently took heart in his remarks that the Fed could be sitting on the new very-low rate for a long time.
"We would need to see a really significant move up in inflation that's persistent before we would consider raising rates to address inflation concerns," Powell said. Inflation has been running below the Fed's 2% target for years, and many analysts don't see it rising fast anytime soon.
With Wednesday's cut, the Fed's key interest rate stands at less than the rate of inflation and, Powell said, "will continue to provide significant support for the economy."
Analysts, however, aren't so sure. The latest rate cut, like the two earlier ones, was telegraphed weeks earlier and has already been priced into stock markets. And mortgage rates have fallen by more than a full percentage point from last November, more than the total of the Fed's rate cuts, to an average of 3.75% for a 30-year fixed loan as of last week.
"We're not going to get more good medicine for this economy," said Christopher Rupkey, chief economist at MUFG Union Bank in New York.
Lawrence Yun, chief economist at the National Assn. of Realtors, said the Fed's actions have without doubt helped boost a lackluster housing market. But he noted that there are many constraints for faster growth in housing, including unaffordably high prices and difficulties getting building permits.
In the third quarter, housing made an outsized contribution to the U.S. economy, which grew at an annual rate of 1.9%, the Commerce Department said. That was down from 2% in the second quarter and 3.1% in the first three months of this year.
Although that's still moderate growth, and fears of imminent recession have eased in recent weeks, the Commerce report showed the damage already inflicted by the trade war. U.S. business investments and net exports both fell for the second straight quarter, joining U.S. manufacturing in a recession.
Powell said, however, that he didn't see evidence the weakness in manufacturing or business investments was spilling into consumer spending.
"What we continue to see is good job creation," he said. "Unemployment has declined again," he said, noting that it is now at a 50-year low.
"So it's very positive," Powell added. "The consumers are doing well and are focused on, you know, the good job market and rising incomes. And that's their principal focus. So that is the thing that's pushing the economy forward, and it doesn't seem to have been affected so far by weakness in the other areas."
Powell has been under heavy pressure from President Trump to make big rate cuts, and his signal Wednesday that the Fed would be pausing for now is likely to draw more ire from the White House. As in the past, Powell declined Wednesday to comment when asked about Trump's remarks about the economy.