Sick-out at Whole Foods seeks better coronavirus protections and pay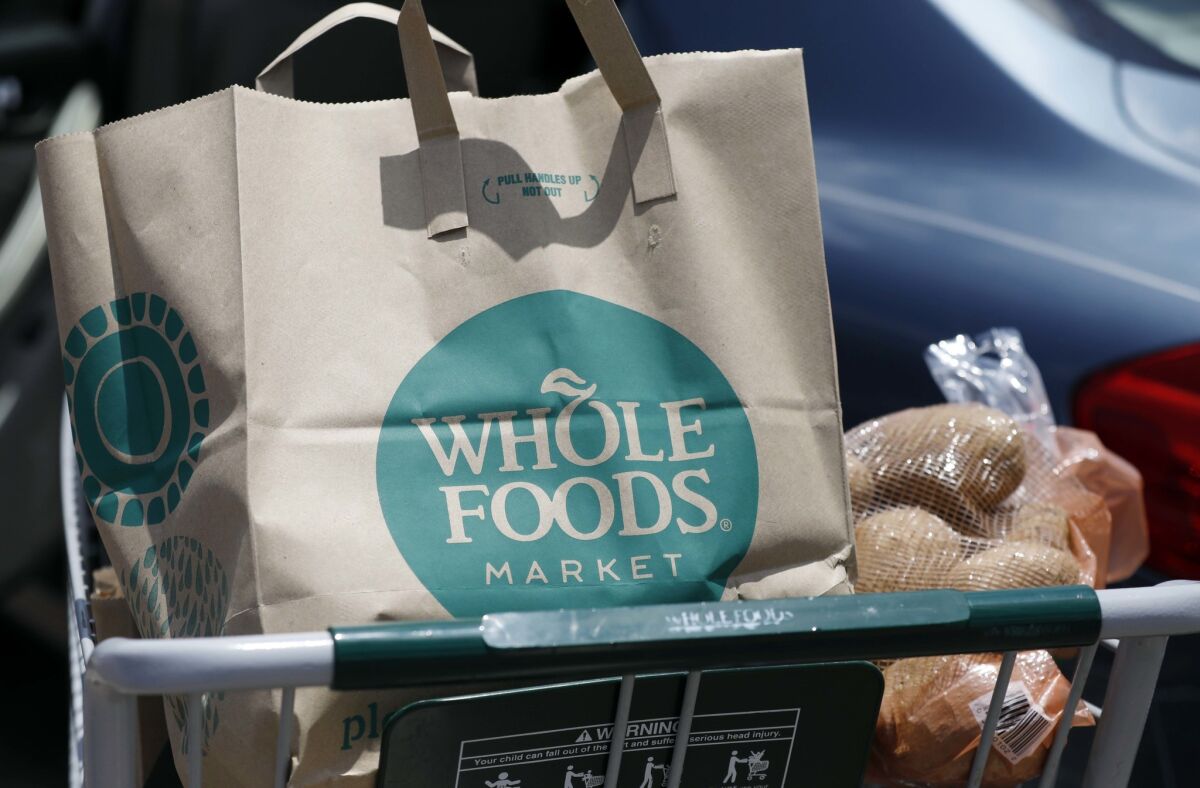 A group of Whole Foods employees across the country called in sick Tuesday in an effort to press the Amazon.com Inc.-owned grocery chain to provide more safety protections and higher pay for those in jobs with a higher potential exposure to the coronavirus.
Leaders of the protest are pushing for paid leave for all workers who self-quarantine, hazard pay that would double store workers' current hourly wage over the course of the crisis, more sanitation supplies and social distancing policies, and free coronavirus testing for workers. If a worker tests positive, they want the store where the employee works to be closed immediately and remain closed while all other employees at that location are tested.
This month, after an employee at a Whole Foods in Huntington Beach tested positive for the virus, the company said it did "additional cleaning and disinfection." One of the sick-out organizers, who works at a store in Orange County, said that wasn't enough.
Employees "are scared to come in," said the worker, who declined to be named for fear of retaliation. "We didn't really ask to be at the front lines of this pandemic."
Successfully negotiating some of these demands will get people to feel it's safe enough to go back to work, the employee said.
It's unclear how widespread participation in the Whole Foods sick-out has been. An employee at the Whole Foods on 3rd Street and Fairfax Avenue in Los Angeles who participated in the sick-out and also declined to be named said three co-workers told him they planned on calling in sick. He says he is not sure if they followed through.
The employee gives Whole Foods credit for relaxing its attendance policy, but said the company is still putting its employees in an impossible situation. "You're asking them to choose between their health and their loved ones and making money," he said. "They're out on the street otherwise and I don't think that's right."
The Fairfax location has been slow to implement safety measures, he said. Too many customers were allowed to enter the store at one time, and tape placed on the floor to help customers maintain proper spacing in the checkout line blends into the floor. Crowd control has improved slightly in the last few days, however, he said.
."
A Whole Foods Market spokesperson said in a statement that the company has not seen an operational impact from the sick-out and that since the coronavirus outbreak began, it has rolled out safety measures including enhanced deep cleaning, crowd control and — this week — daily temperature screenings for Whole Foods employees and for Amazon workers who are in the store to fill Prime Now orders.
The spokesperson said the company already has temporarily boosted base pay by $2 per hour, increased overtime pay, and offers an additional two weeks of paid sick time for those who are in quarantine or have tested positive for the virus.
"It is disappointing that a small but vocal group, many of whom are not employed by Whole Foods Market, have been given a platform to inaccurately portray the collective voice of our 95,000+ Team Members who are heroically showing up every day to provide our communities with an essential service," the spokesperson said.
As retailers deemed nonessential are forced to shut to help slow the spread of the virus, supermarkets, grocery stores and pharmacies are seeing huge demand and scrambling to keep up — which might give workers at those stores an unusual amount of leverage.
On Monday, some workers at grocery delivery start-up Instacart held a strike, calling for higher pay and better access to disinfectant and paid leave. Also on Monday, a group of Amazon warehouse workers on Staten Island in New York walked off the job, demanding greater protections.