Hiring slows and economic worries mount, as hope fades for more federal pandemic aid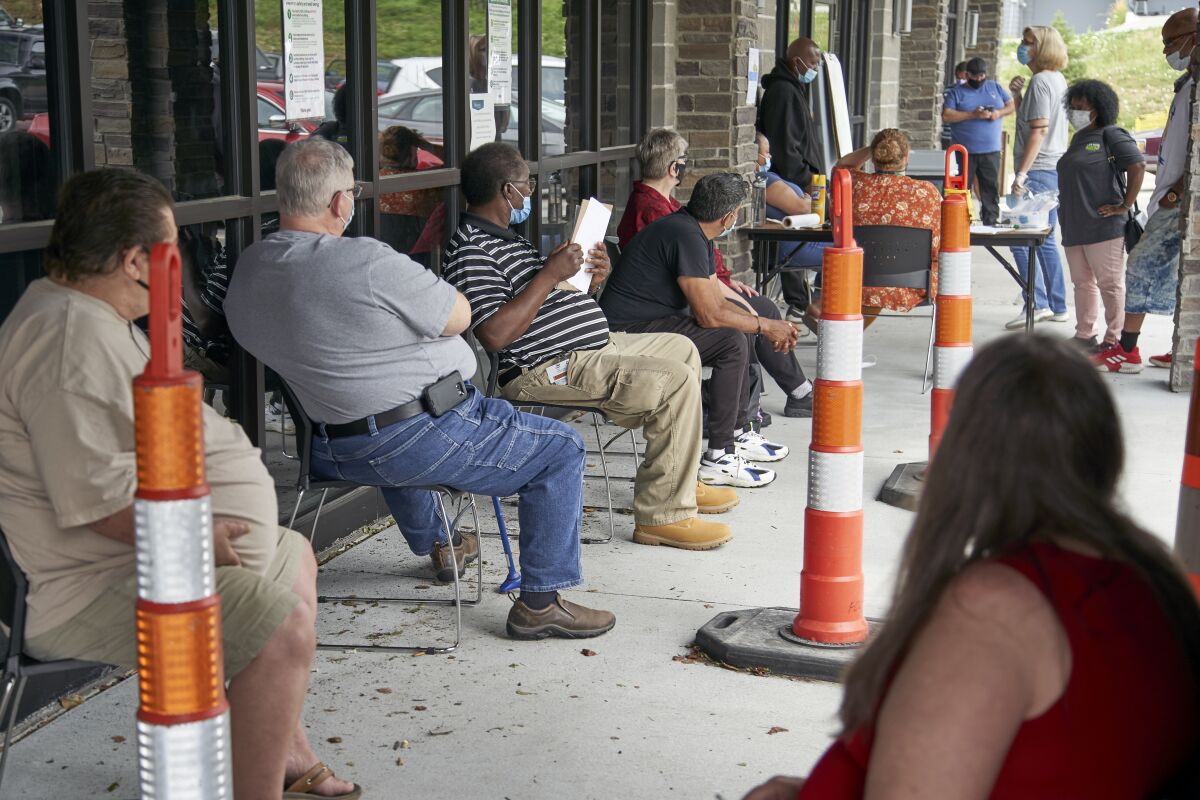 WASHINGTON —
The last monthly jobs report before election day showed the third straight month of a weakening recovery in employment as the nation added just 661,000 positions in September, down sharply from the 1.5 million gained in August.
And though the unemployment rate fell to 7.9% from 8.4% in August, that wasn't good news given the reason: About 700,000 workers dropped out of the labor force, suggesting many are striking out in the job market.
The federal government's report Friday came hours after President Trump confirmed that he and his wife had tested positive for the coronavirus, giving a double jolt to his reelection campaign promising a speedy "V-shaped" recovery and an end to the pandemic.
The employment report, which covered both new jobs and those filled by calling back laid-off workers, seemed to confirm many analysts' pessimism over the nation's economic outlook, even as some other measures pointed toward a brighter future. (California's jobs data for September will be released Oct. 16.)
Retail sales, housing activity and business capital spending have been stronger than expected recently, thanks in part to federal pandemic-aid programs that are now largely expired, as well as robust monetary support from the Federal Reserve. The latest measures of consumer confidence showed gains, an especially encouraging sign when consumer spending accounts for some 70% of total economic activity.
The contrast between such positive indicators and the darker signs in both the jobs report and the views of most mainstream analysts largely reflects the unique quality of the recession triggered by the COVID-19 pandemic. Unlike in past downturns, when the economic damage usually has been spread more broadly, today there are essentially two economies: Millions of Americans, especially lower-wage workers, have been rocked by layoffs and lost incomes, while millions of others have remained largely untouched, mostly in higher-income, white-collar jobs that can be done remotely.
Many industries have taken a severe hit, but the state's housing market should enjoy a quick recovery, a UCLA forecast predicts.
What makes the dramatic fall-off in job gains last month worrisome is that it suggests the economic destruction of the pandemic has begun to spread upward into the previously stronger segments of the workforce. That is happening amid indications Thursday that negotiations for up to $2 trillion in further federal relief have all but collapsed between Congress and the White House.
"It is clear that the economic rebound is entering a new, weaker phase," said Michael Pearce, senior U.S. economist at the research firm Capital Economics.
The darkening economic outlook was unwelcome news at the White House and Trump reelection headquarters, despite administration officials' efforts to put a positive spin on the data.
"Heading into today's number, the unemployment rate was already looking likely to show the worst economy of any president running for reelection in modern economic history," said Chris Rupkey, chief financial economist for MUFG Bank in New York.
"This is the highest unemployment and worst economy for any president facing reelection in history," he said, noting that when President Carter lost his bid for reelection, the unemployment rate before the election was 7.5% in September 1980. When President George H.W. Bush unsuccessfully sought a second term in 1992, the jobless rate was 7.6% in September.
Other evidence has hopes for a quick rebound fading, including recent announcements of large layoffs by major corporations as varied as Raytheon, Allstate and Marathon Petroleum. Burbank-based Walt Disney Co. said this week that it's cutting 28,000 jobs, most of them at its theme parks and resorts in Florida and California.
"The easy part of the labor market recovery is largely behind us now," said Brian Coulton, chief economist at Fitch Ratings. "The sobering statistic here is that 36% of unemployed are now classed as permanent job losers, up from 14% in May."
In California, so-called early-warning layoff notices that employers filed with the state in September were on pace to exceed levels in the last two months. Through Sept. 23, officials received 299 notifications affecting more than 28,000 workers. A little more than half were for permanent job losses, a notably higher percentage than in prior months.
"As we enter October, the California economy is stalled, with no significant uptick in hiring," said Michael Bernick, former director of the state's Employment Development Department. "As the economic lockdowns slowly lift, employers are bringing back some of the workers laid off earlier in the pandemic. But they are not hiring additional workers."
Separate data from Opportunity Insights, a nonpartisan group at Harvard and other institutions tracking the recovery, show that as of Sept. 20, the number of small businesses in California was down 29.4% from January. For the nation, that figure was down 24.2%.
And now, a rise in coronavirus cases in much of the country raises the specter of new business shutdowns and a pullback from the gains made in consumer traveling, shopping and dining out.
Sophia Koropeckyj, labor economist at Moody's Analytics, wrote to clients that the recovery of 661,000 jobs can't be dismissed. The gains were spread in both manufacturing and construction as well as services, she said, led by the hard-hit restaurant and hospitality sectors continuing to claw back gains. But the economy has regained only about half of the 22 million jobs lost to the pandemic.
Last month, she noted, the pace of hiring was down especially at retail stores. Job growth tapered off at professional and business services, and there was a sizable drop in local government jobs as many schools have turned to remote learning.
"There is a good chance that economic activity will stall in the fourth quarter," Koropeckyj said, "as long as the pandemic persists and Congress is unable to agree on the sorely needed fourth fiscal stimulus package."
Republicans and Democrats rushed to approve roughly $3 trillion in emergency aid this year when the pandemic first struck, but most of those aid programs for individuals and businesses have ended. In May, when the Democratic-controlled House passed another $3-trillion stimulus measure, the Republicans opposed spending that much, and the two parties have not been able to compromise since.
By the end of July, the existence of the two economies — an improved one for higher-income workers, and harder times for everyone else — was becoming apparent. That probably lessened Washington's incentive to provide more aid, given that lower-income Americans are less likely to vote.
The employment rate of high-income workers (those making more than $60,000) was down just 1.6% from January, according to Opportunity Insights. In contrast, employment for low-income workers who earn less than $27,000 was off 16%. Overall, employment was down about 7%, a figure consistent with the latest jobs report from the Bureau of Labor Statistics.
The report showed that of the 10.7 million payroll jobs that have not come back, more than half were in lower-wage sectors such as restaurants and hotels, retail sales, nursing care and social assistance services. The jobless rate for workers 25 and older with a college degree fell to 4.8% in September — about half the unemployment rate of workers with only a high school education.
The gap between white and Black unemployment is even bigger. At the peak of the downturn in employment, in April, the two groups' jobless rates were unusually close, 14.2% for white people and 16.7% for Black people. That partly reflected disproportionate share of Black workers and other people of color in jobs considered essential, many of which are low-paying. Since then, the gap between white and Black workers' employment levels has widened again. September unemployment was 7% for white people and 12.1% for Black people. (The Latino jobless rate was 10.3% last month, and it was 8.9% for Asian Americans.)
Voter turnout is highly correlated with income. In 2016, more than two-thirds of Americans with at least some college education voted, whereas just under half of those with only high school education did, according to an analysis of Census Bureau data by Michael P. McDonald, a political science professor at the University of Florida. By race, turnout rates were highest for white voters at 64.7% versus 59.9% for Black voters and 44.9% for Latinos.
"We know that people at the bottom rungs of society are disproportionately bearing the burden of the crisis," McDonald said. "From a cold, political calculation, there might not be as much political imperative to provide additional aid."
This week, the Democratic majority in the House passed a slimmed-down aid package, but the GOP-controlled Senate remained opposed. McDonald and other analysts said the stalemate could be risky, especially for Republicans.
"We are seeing a big tilt of college-educated voters toward the Democrats this cycle, and of course they're the ones who are doing the best in this particular economic moment," said Patrick Egan, a political scientist at New York University. "Given that the Republicans have been relying more and more on whites without a college education for their voting base, this could come around and shoot them in the foot."
---
Life is stressful. Our weekly mental wellness newsletter can help.
You may occasionally receive promotional content from the Los Angeles Times.