Powell: Fed has only narrow role to play on climate change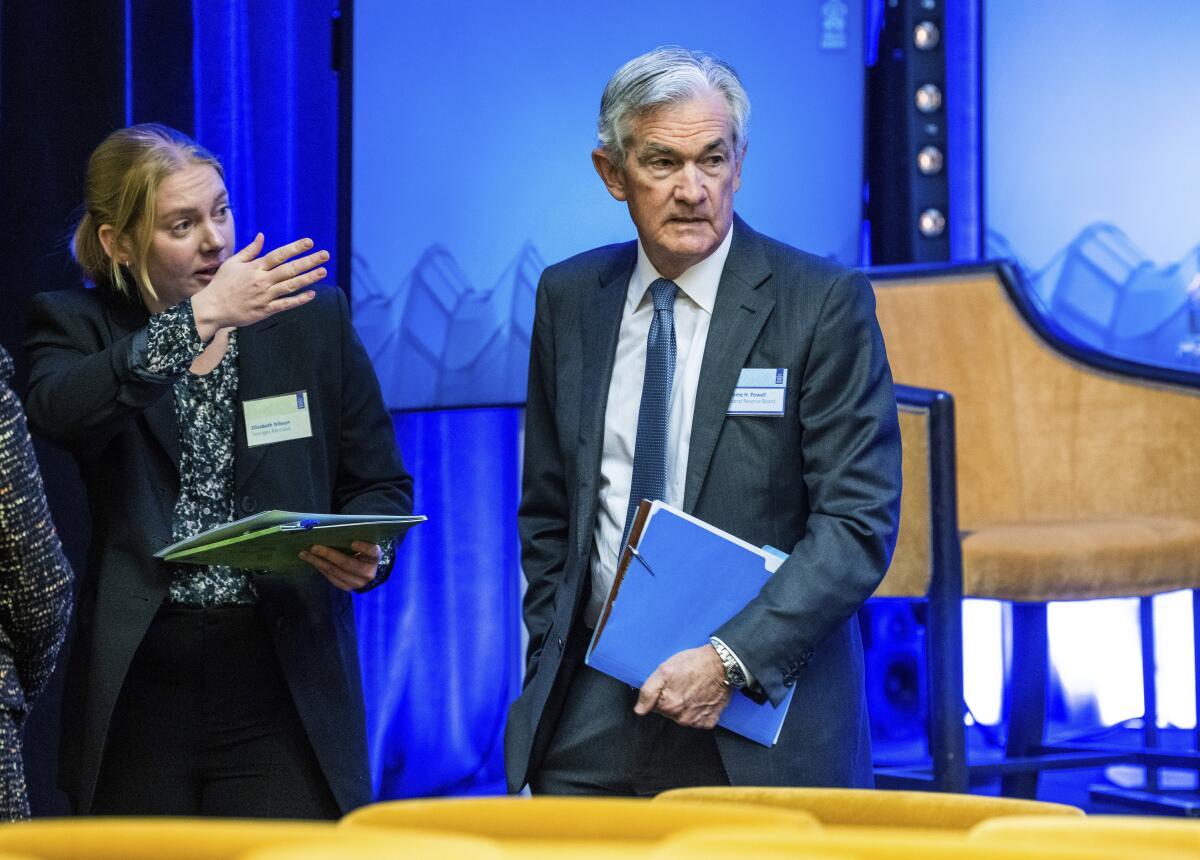 The Federal Reserve has only a limited role to play in combating climate change, Chair Jerome Powell said Tuesday, a stance that puts him at odds with environmental activists who have pushed central banks worldwide to take steps to restrict lending to energy companies.
Maintaining the Fed's independence, Powell said, includes steering clear of issues that are more properly overseen by elected officials.
"Without explicit congressional legislation, it would be inappropriate for us to use our monetary policy or supervisory tools to promote a greener economy or to achieve other climate-based goals," Powell said during a panel discussion in Stockholm on the subject of central bank independence.
"We are not, and will not be, a 'climate policymaker.' "
In his remarks, Powell suggested that the Fed's independence from social and political influences was particularly important when it must carry out unpopular policies, such as when it raises interest rates, as it's doing now to fight high inflation. Last year, the Fed raised its benchmark rate seven times, a series of hikes that have led to higher rates for mortgages and auto loans and made other business and consumer borrowing more expensive.
Federal Reserve officials affirmed their intention to lower inflation back toward their 2% target at the risk of rising unemployment and slower growth.
"Restoring price stability when inflation is high can require measures that are not popular in the short term as we raise interest rates to slow the economy," the Fed chair said. "The absence of direct political control over our decisions allows us to take these necessary measures without considering short-term political factors."
Climate activists have pushed central banks, including the Fed, to use their supervisory powers over commercial banks to push for greater consideration of environmental risks in lending. They note that natural disasters, made more common by climate change, could impose significant financial losses on banks, which would require more capital held in reserve. Activist groups also argue that lending to oil and gas companies should be seen as risky.
Powell did acknowledge the Fed has "narrow, but important responsibilities" to use its oversight of banks to ensure that they manage the risks to their finances created by climate change. And the Fed has taken modest steps to consider climate change, including joining the Network for Greening the Financial System, an international group of central banks and regulators.
That move and other speeches about climate change by Fed officials had come under sharp criticism from congressional Republicans.
Powell's comments reflected the overall focus of the symposium: how to ensure that central banks make decisions on interest rate policies — their key responsibility — free of political considerations.
"We should 'stick to our knitting' and not wander off to pursue perceived social benefits that are not tightly linked to our statutory goals and authorities,'" he said.
At the same time, Powell's stance on climate change is more cautious than those of many of his counterparts overseas. The European Central Bank and Bank of England, for example, have been more outspoken about climate change risks.
Unlike the Fed, the ECB can cite the fight against climate change as part of its official mandate to support European Union economic policies — so long as it doesn't intrude on its primary task of controlling inflation. One top ECB official, Isabel Schnabel, said at the symposium that the Frankfurt, Germany-based ECB would not moderate its series of interest rate hikes, which are intended to curb record inflation, in order to support investment in renewable energy.
"There is concern that higher interest rates may discourage efforts to decarbonize our economies," Schnabel said. "So does this imply that we should raise our interest rates less forcefully? My answer is no. The green transition can only thrive with price stability."
Schnabel, who serves on the six-member executive board that runs the bank, suggested that the main impediment to a green-energy transition was not rising borrowing costs. Rather, she said, the primary obstacle is a lack of progress by governments in implementing their commitments to reduce carbon dioxide emissions. These commitments include expanding support schemes, removing bureaucratic hurdles and introducing comprehensive carbon pricing.