Uber CEO's right-hand man, Emil Michael, is out. It's unclear if he was fired or quit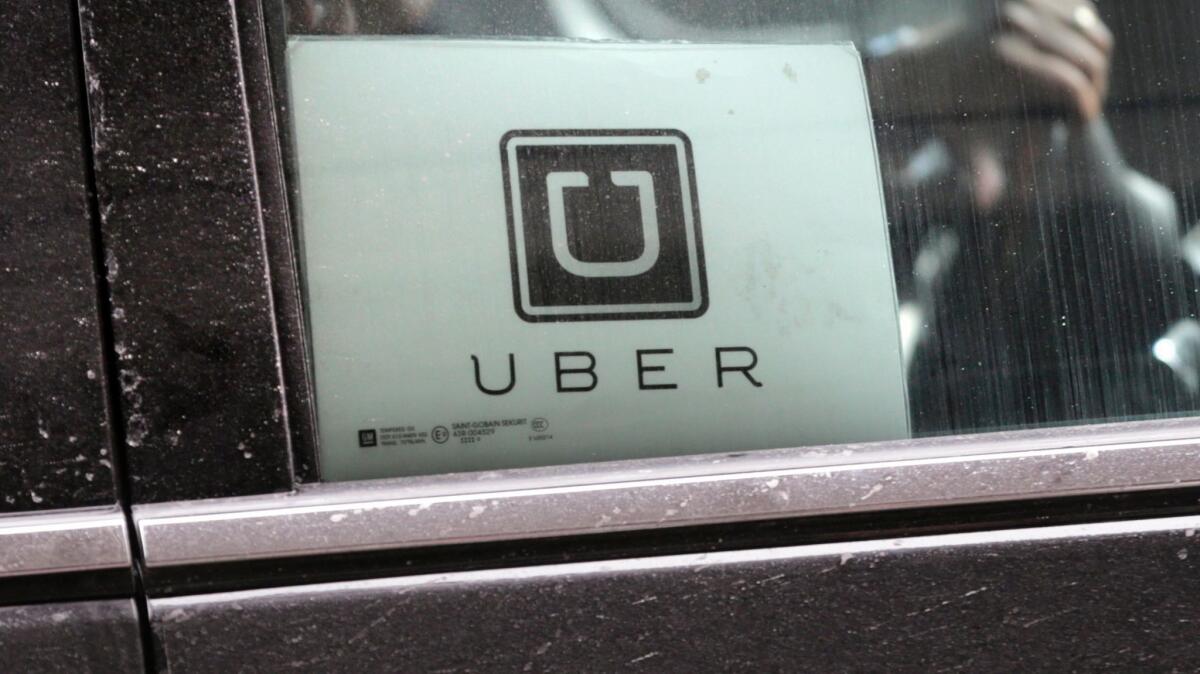 Emil Michael, Uber's senior vice president of business and Chief Executive Travis Kalanick's right-hand man, has left the embattled ride-hailing company, according to an email he sent Monday to employees.
It is unclear whether Michael was fired or resigned. An Uber spokeswoman confirmed that he is no longer with the company but declined to comment further.
In the email, initially obtained by the New York Times and independently verified by a person familiar with the matter, Michael said that Sunday was his last day, and that David Richter, Uber's current vice president of strategic initiatives, would replace him.
His email did not give a reason for his departure.
Michael's departure was foreshadowed on Sunday when Uber's board of directors convened in Los Angeles to vote on a series of recommendations about Uber's corporate culture. The suggestions — which were drafted by former U.S. Atty. Gen. Eric. H. Holder Jr. as part of a company investigation into complaints of widespread harassment — reportedly included forcing out Michael and ordering Kalanick to take a leave of absence.
A spokesman for the board of directors confirmed that the board met with Holder and Tammy Albarrán, both partners with Covington & Burling, the law firm hired to conduct the investigation.
Board members voted unanimously to adopt all of the firm's recommendations, which will be released to employees Tuesday, the spokesman said.
He would not comment on any further actions taken by the board, including whether it discussed the future of Kalanick.
Michael has been at the center of a number of Uber's scandals, such as in 2014 when he told BuzzFeed that the company should spend millions of dollars to investigate journalists critical of the firm. He reportedly played a role in an incident in which Uber executives — including Eric Alexander, who was recently fired — obtained the medical records of a passenger who was raped by a driver in India.
Throughout the crises, Michael had Kalanick's unwavering support. At one point both executives were seen as untouchable because many had credited their brash and hyper-competitive leadership style with Uber's early success.
Uber's recent string of scandals left both executives vulnerable, though.
According to multiple news reports, Holder's advice included ordering Kalanick to step down temporarily and forcing out Michael. The board consists of seven voting members, including Kalanick.
But the decision on whether to step aside could ultimately fall to Kalanick because of his outsized voting power. According to various reports, Uber's governance and share structure follows a "founder-friendly" model in which some board seats carry more voting power than others. Kalanick and two of his board allies, co-founder Garrett Camp and longtime Uber employee Ryan Graves reportedly hold super-voting seats.
This structure is not unusual in the tech world, where the success of founder-led companies such as Google and Facebook has given investors confidence in founders, and the hot startup market has led investors to offer founders friendly terms in exchange for allowing them to fund the company.
Snap, Inc. implemented such a structure when it went public in March, consolidating power in its co-founders Evan Spiegel and Bobby Murphy, and giving them ultimate control of Snap — even if they no longer work at the company.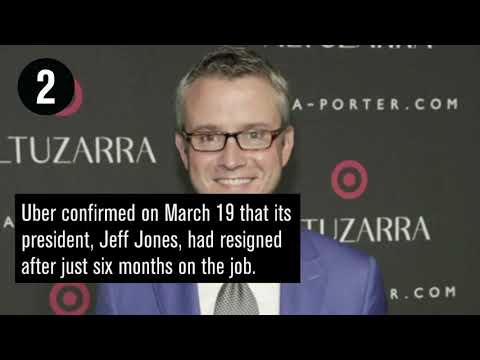 The New York Times reported that Uber had been using a program to thwart authorities trying to curtail or shut down the service. (April 24, 2017) (Sign up for our free video newsletter here http://bit.ly/2n6VKPR)
If Kalanick decided to go on leave, though, it is unclear who would fill in for him, especially now that Michael is out of the picture. Uber is without a chief operating officer, a chief financial officer, a chief marketing officer or a head of engineering.
Uber also faced high turnover on its top ranks earlier this year, including the departure of Rachel Whetstone, Uber's head of communications, in April, and the resignation of company president Jeff Jones in March after less than a year on the job. He said his "beliefs and approach to leadership" were "inconsistent" with those of the company.
Under Kalanick, Uber has shaken up the taxi industry in hundreds of cities and become the world's most valuable start-up. Uber's valuation has climbed to nearly $70 billion.
But Kalanick has acknowledged his management style needs improvement. The 40-year-old CEO said earlier this year that he needed to "fundamentally change and grow up."
In February, former Uber engineer Susan Fowler wrote on a blog that she had been propositioned by her boss in a series of messages on her first day of work and that superiors ignored her complaints. Uber set up a hotline for complaints after that and hired the law firm Perkins Coie to investigate.
That firm checked into 215 complaints, with 57 still under investigation.
Uber has been plagued by more than sexual harassment complaints in recent months. It has been threatened by boycotts, sued and subject to a federal investigation that it used a fake version of its app to thwart authorities looking into whether it was breaking local laws.
Stepping down as CEO, even temporarily, would be a major setback for Kalanick, who founded the company in 2009 and has been running it ever since — despite mounting criticism over the hard-charging office environment he helped create.
Uber announced last week that it fired 20 employees for harassment problems after a separate investigation by a different law firm.
Kalanick lost his temper earlier this year in an argument with an Uber driver who was complaining about pay, and the CEO's profanity-laced comments were caught on video.
In a March conference call with reporters after that incident, board member Arianna Huffington expressed confidence that Kalanick would evolve into a better leader. But Huffington, a founder of Huffington Post, suggested time might be running out.
He's a "scrappy entrepreneur," she said during the call, but one who needed to bring "changes in himself and in the way he leads."
Sunday's board meeting comes shortly after personal tragedy in Kalanick's life. His mother was killed and father was injured in late May after a boat they were riding in hit a rock.
In addition to firing 20 employees, Uber said last week that it was hiring an Apple marketing executive, Bozoma Saint John, to help improve its tarnished brand. Saint John most recently was head of global consumer marketing for Apple Music and iTunes.
It also announced Monday that it brought on Wan Ling Martello to join its board as an independent director. Martello is a senior executive at Nestle and sits on the audit committee of the board of Alibaba.
---
Below is a copy of the email Emil Michael sent on Monday to Uber's employees:
Team –
Yesterday was my last day with Uber. Starting today, David Richter, our current VP of Strategic Initiatives, will be the new SVP of Business.
David is an extremely talented leader and I have high confidence in his ability to help drive the company forward. I signed on with the company almost four years ago and it has truly been the experience of a lifetime helping Uber become the fastest growing company of all-time -- spanning 75 countries with over 14,000 employees.
I am proud of our business team's part in contributing to the company's overall success. We have fueled our growth by raising more money than any other tech company in history; we completed one of the most valuable mergers in American/Chinese tech history with the Didi deal; and we have secured ground-breaking partnerships with automobile companies all over the world to support our autonomous vehicle efforts.
But I am most proud of the quality of the team we have built. Beginning with my first day at Uber, I have been committed to building a diverse Business Team that would be widely recognized as the best in the technology world: one that is welcoming to people of all genders, sexual orientations, national origins and educational backgrounds. I am proud that our group has made so much progress toward these goals and is a leader in the company in many of these categories. As an Egyptian immigrant who was taken under the wing of a great business leader like Bill Campbell, I have an abiding belief that we all should pay it forward by ensuring that our workplace represents all types of people.
Uber has a long way to go to achieve all that it can and I am looking forward to seeing what you accomplish in the years ahead.
-Emil Michael
The Associated Press was used in compiling this report.
ALSO
Kids' clothing chain Gymboree files for Chapter 11 bankruptcy protection
Delta, Bank of America pull sponsorships of Trump-like 'Julius Caesar' play over killing scene
Grand Rapids boasts the large manufacturing sector Trump wants, but is it a model for the nation?
---
UPDATES:
2:40 p.m.: This article was updated to include more information about Uber's board structure.
11:05 a.m.: This article was updated to include context about other executive vacancies at Uber.
10:15 a.m.: This article was updated to include news of Emil Michael's departure from Uber.
This article was originally published at 7:10 a.m.