L.A. Tech: CW airs first TV show about competitive video game players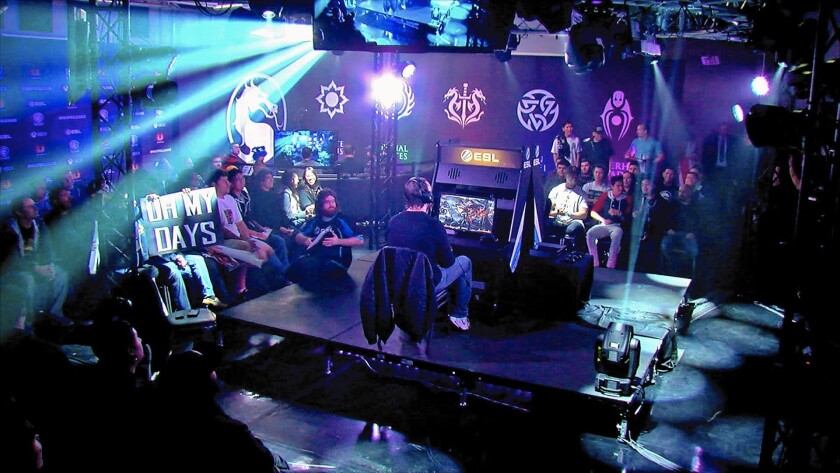 Television network CW aired the first broadcast show about competitive video game players Monday night.
Reality series "Chasing the Cup" follows three men from the U.S. and two brothers from Canada as they vie to be the world champion in "Mortal Kombat X," a one-on-one fighting game set in a fantasy world.
Tens of thousands of people have streamed the first five episodes — about 15 minutes each — on the network's online service CW Seed during the last three weeks. But CW decided to televise an hourlong finale as a test of whether it can lure online viewers to TV.
More broadly, the airing is a small, but important experiment for Warner Bros. Entertainment. It co-owns CW, has invested in the West Hollywood online video studio Machinima that produced the show and publishes "Mortal Kombat" through its gaming division. The show could expand the audience for each property.
CW's research shows that viewers of its hit sci-fi shows including "The Flash," "Arrow" and "Supernatural" are more likely than the average person to enjoy video-game competitions. If "Chasing the Cup" proves that, CW could have a leg up on networks including ESPN and TBS that have begun licensing e-sports shows or games.
"We figured we could marry an existing audience with e-sports to become a player in e-sports programming," said Rick Haskins, CW's executive vice president of marketing and digital programs.
E-sports events excite media companies because live sports is one of the last types of programming that consistently gets strong ratings.
ESPN, CBS and other networks have the rights to broadcast football, baseball and other top sports for years to come. E-sports, though, is wide open and unproven. Enter CW, which doesn't do much in sports.
"As video games and e-sports become more mainstream, broadcast networks are looking for content to attract this highly valuable audience," Machinima's chief content officer, Daniel Tibbets, said in a statement. "'Machinima's 'Chasing the Cup' is an incredible series ... and we look forward to working with the CW on [it] for a long time."
"Chasing the Cup" goes into players' lives, including their families, training and matches, as they pursue part of a $100,000 prize pool. The finale will spend considerable time explaining the game, which about 9 million people play. Haskins expects the broadcast to lift viewership of earlier episodes and for many people to watch the finale online later in the week.
Investor talk. Jeremy Liew, a venture capitalist at Lightspeed Venture Partners and an early investor in Snapchat Inc. and Honest Co., shared advice with a small group of entrepreneurs at a Techfire-organized event last week in Santa Monica. He noted that developing a top app means being a part of popular culture. How to do that? One surefire way: attract women and girls. Whereas men play, women talk, Liew said, and getting conversations going about an app helps it gain popularity. That's why he pays attention to the apps that teen girls have on their smartphone home screens.
On virtual-reality technology, Liew is a short-term bear because he says many companies being funded today will be crushed by deeper-pocketed giants in Hollywood, gaming and tech. But once more people have VR headsets, new behaviors and needs will emerge that start-ups can address faster than bigger companies can and thus have a better chance of striking it rich.
Liew also discussed investors' typical bias toward supporting entrepreneurs who have already had a success. In a weakened financing environment like now, where investors are more critical about who they back, Liew has an additional bias for "rock star fundraisers," he said. In other words, investors not confident about a company's prospects might still fund it if they're sure that the entrepreneur is a good salesperson who can get other investors on board later.
In case you missed it. Old media and new media got together last week when Viacom Inc. announced that it would help social-media darling Snapchat sell advertising. The deal is touted as a win-win as Viacom struggles to attract younger audiences and Snapchat still hasn't figured out how to rake in the ad dollars.
Uber agreed to pay $28.5 million to roughly 25 million customers to settle two class-action lawsuits related to the way that the company represented its background checks and the fees it charged passengers.
Twitter's fourth-quarter earnings report did not go well after the microblogging platform reported no growth in users the final three months of 2015.
Venice start-up Epoxy is helping budding YouTube stars maximize their digital influence. The company's tools bolster the art and science of Internet fame, giving so-called content creators, in the parlance of the digital video world, a badly needed edge at a time when competition is fierce.
The on-demand economy, having already upended the way that people hail a ride or book a place to stay, is increasingly taking aim at what we put on our dining tables and expanding the menu in the process. Food delivery services such as Munchery, UberEats and DoorDash are changing the dinner game for many Angelenos.
Elsewhere on the Web. Former DreamWorks, Activision and MTV Films producers have launched a new virtual-reality studio in L.A. called the Rogue Initiative. The company is headed by Pete Blumel, who worked on "Call of Duty: Modern Warfare" at Activision, USA Today reports. "Our vision at the Rogue Initiative is to create a studio where the most successful storytellers and filmmakers from Hollywood collaborate side by side to create and develop new worlds and interactive experiences with the best and brightest from the video game and tech industries," Blumel said.
The New York Times takes a closer look at Snapchat's foray into the news business with the hiring of former television journalists.
Ever wonder if the bar you're planning to visit is dead or so packed it's not worth going? Now there's an app for that in L.A.. Here's the LAist on Roo.
Remember Myspace? The early social media network was back in the news last week after its parent company, Viant, was purchased by Time Inc., reports TechCrunch.
Twitter: @peard33
Twitter: @dhpierson
---