Viacom and Snapchat strike bigger ad and content deal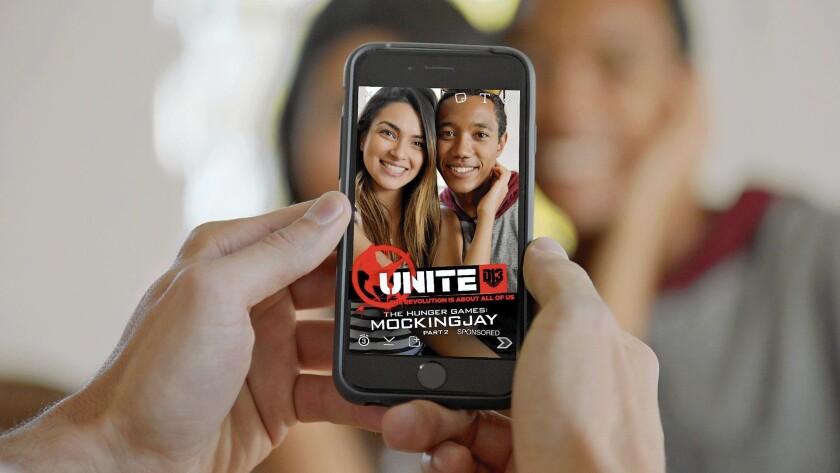 Viacom and Snapchat became instant friends last summer when they paired up on MTV's Video Music Awards: 5 million people tuned into MTV to watch the show on cable television; 12 million watched highlights on the social media app.
The numbers sent a clear message: If TV shows want to stay relevant, they have to go to where the viewers are — their phones.
In a partnership announced Tuesday, old-school media giant Viacom Inc. will lend its advertising relationships and large portfolio of TV shows to the hot start-up Snapchat Inc. as the two try to shake off questions about their financial futures.
Privately held Snapchat is valued at $16 billion — more than Viacom's $13-billion market capitalization — but the Venice company has yet to figure out how to turn a profit.
Viacom, meanwhile, announced lackluster fiscal first-quarter earnings Tuesday and faces increasing challenges as viewers younger than 35, shun cable TV and instead head to online video options such as Netflix, YouTube and Facebook.
Viacom's stock plummeted 21.5% to $32.86 on Tuesday, and in its conference call with investors, many analysts pointed to the multiyear Snapchat deal as one of the few bright spots.
Viacom Chairman and Chief Executive Philippe Dauman described the partnership as "a major step forward, made possible by our shared focus on young audiences."
"We believe we are a great fit," Dauman said. "I don't want to toot our own horn, but I think they saw in us one of the most-forward-looking ad sales organization out there."
Teaming up enables the TV advertisers Snapchat craves to buy spots on the popular photo- and video-sharing app at the same time they purchase commercials on Viacom channels such as VH1, BET and Nickelodeon.
Viacom has faced declining ad sales because ratings are weak at the company's MTV and Comedy Central channels. But now it will be able to offer a trendy new product to keep advertisers who are eager to reach young customers less inclined to watch TV the traditional way.
"There should be real interest among many of Viacom's advertisers in pairing Snapchat [ads] with Viacom's," said Brian Wieser, senior research analyst at Pivotal Research Group.
A report from consulting firm PwC forecasting 2016 media trends noted that people spend 71% of their time on mobile devices using apps, which are increasingly influencing how users consume entertainment.
"The fight for users among entertainment and media companies, which cannot afford to ignore this channel, will be brutal," the report said.
Media companies need to "fish where the fish are" and partner with the largest apps, including Snapchat and Facebook, according to the report, which was released last month.
The Snapchat-Viacom deal offers more options for both companies as they fight for their share of the nearly $200 billion spent on TV ads worldwide annually.
"A bundled ad package that includes Snapchat doesn't make sense" for TV advertisers that just want "eyeballs," said one ad buyer, who wasn't authorized to speak publicly about dealings with Viacom. "But if you want tell a big brand story on a broadcast medium, but then extend the story off that medium ... that's where this becomes interesting."
The buyer cited big events such as the Super Bowl, on which advertisers can amplify the effect of TV marketing with ads on social media.
Snapchat's advertising efforts have been stymied by a small sales team and a constantly evolving ad philosophy. For example, the company has limited targeted advertising that pinpoints who sees which ads, hindering deals with many brands.
Snapchat executives have repeatedly talked up their desire to pull in TV ad dollars, seeing themselves as the video epicenter of smartphones.
Its chief strategy officer, Imran Khan, echoed that Tuesday in a statement: "We can now offer television advertisers a way to tell their stories across television and mobile in a frictionless way."
Viacom's team of 350 salespeople persuaded Verizon Wireless, CoverGirl and others to advertise on Snapchat during MTV's Video Music Awards show last year. That paid off for advertisers as about 12 million people watched the Snapchat video.
In addition to more advertising, Snapchat will now have access to more content as it tries to grow one of its new features, Snapchat Discover, which promotes short videos and articles from about 20 media companies. MTV and Comedy Central will be featured on Snapchat globally, not just in certain countries. And Viacom will share more from its live programming events. Viacom also agreed to increase its spending on original video content created for Snapchat, expanding on the partnership the two companies forged last year.
Whether this translates to big revenue upticks for the two companies remains to be seen, experts said.
"It's still an open question how substantially Snapchat will be supported by advertisers given all the options out there, but more content certainly helps and the demand for video is huge," said Jared Lake, director of digital strategy at ad-buying agency Ocean Media.
Many Snapchat supporters, including Viacom's head of sales and marketing, Jeff Lucas, believe Snapchat is for smartphones what Time Warner Cable or DirecTV is for television.
Beside the media channels on Discover, Snapchat users can watch videos of what their friends or celebrities have been up to all day. Or they can see how people worldwide are celebrating events such as Valentine's Day or Mardi Gras.
If all of that adds up to the future of TV, Viacom is among the many media companies refusing to be left behind. Competitors including Walt Disney Co., NBCUniversal, 21st Century Fox and Warner Bros. are investing millions of dollars and partnering with start-ups to try to gain new insights in viewership patterns of people younger than 35.
Disney has invested in Vice Media and bought Maker Studios. NBCUniversal last year invested in Vox Media and the popular news site Buzzfeed. Fox last month announced its intention to acquire a minority stake in a virtual reality and smart-glasses manufacturer.
But a relationship with Snapchat is particularly coveted because 100 million people open the app each day. And Viacom for now has more latitude to sell ads on Snapchat than other partners, a group that includes Univision and Turner Broadcasting.
"Snapchat is something we value highly," Lucas said in an interview. "We're a leader in programming to the same demographics they appeal to."
Snapchat: peard33
---
Your guide to our clean energy future
Get our Boiling Point newsletter for the latest on the power sector, water wars and more — and what they mean for California.
You may occasionally receive promotional content from the Los Angeles Times.