T-Mobile rolls out new Wi-Fi calling and personal cell spots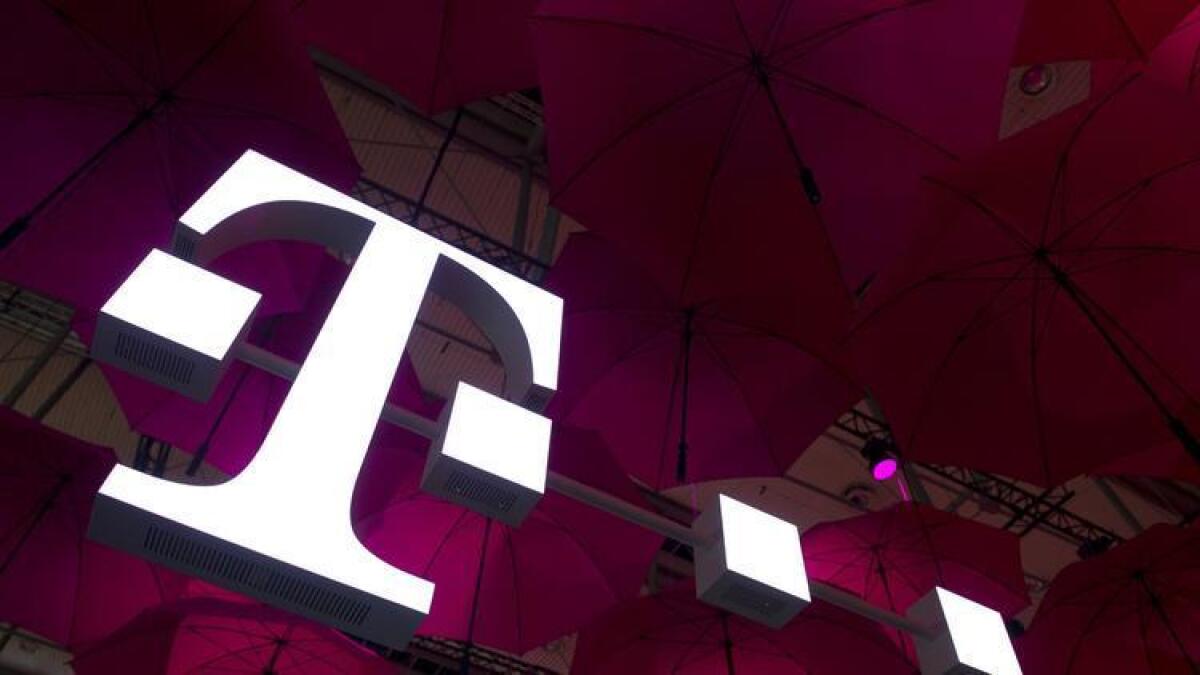 Reporting from SAN FRANCISCO —
T-Mobile held a media event Wednesday ostensibly to announce a slew of new Wi-Fi initiatives. But Chief Executive John Legere couldn't resist getting in a few jabs at rivals Verizon, AT&T and Sprint.
The outspoken Legere opened the event, held in a bar below one of its San Francisco stores, by mocking the three biggest wireless carriers.
"I want to thank the three stooges for helping us deliver the biggest month ever," Legere, wearing his usual hot pink T-Mobile T-shirt, told the crowd of reporters and T-Mobile employees. In August, the Bellevue, Wash., carrier had 2.75 million gross additions -- the most new customers it has ever added in a single month.
But he said T-Mobile is just getting started and would continue to "drag the industry kicking and screaming into the future."
As part of that plan, T-Mobile unveiled the latest moves to disrupt the wireless industry.
With Wi-Fi Unleashed, the company is giving all of its customers the ability to call and text over any Wi-Fi connection. All new smartphones in T-Mobile stores will be capable of Wi-Fi calling and texting out of the box, and customers with older phones can upgrade during a limited-time enrollment window.
Calling the move a game changer, Legere said it was "like adding millions of towers to our network in a single day."
Wi-Fi calling enables customers to make calls and send texts in areas where cellular networks don't reach, but where a public or private Wi-Fi connection exists.
T-Mobile said there's no app to install or separate IDs to remember -- customers can just use their phones.
As part of the program, T-Mobile has rolled out next-generation Wi-Fi calling and texting technology to its network, which is designed to deliver high-quality HD voice, fast call setup times and fewer dropped calls.
And T-Mobile customers will be able to make free Wi-Fi calls to the U.S. from anywhere outside the country by using their existing T-Mobile phone number.
At Wednesday's event, the wireless carrier also debuted its T-Mobile Personal CellSpot, a plug-in device that is essentially a special Internet router for the home that boosts coverage in areas of the house that your typical router doesn't reach. The company said the Personal CellSpot would provide "full-bars personal coverage wherever you choose."
Starting Sept. 17, T-Mobile Simple Choice customers with a broadband connection and a Wi-Fi-calling-ready smartphone can get a Personal CellSpot free (a $25 refundable deposit is required).
T-Mobile said the device can replace a user's Wi-Fi router or operate alongside it.
And finally, T-Mobile said it was partnering with in-flight connectivity service Gogo to enable T-Mobile customers to send and receive unlimited text and picture messages and visual voicemail on any Gogo-equipped flight on U.S.-based airlines.
Follow Andrea Chang on Twitter.