Activision Blizzard goes mobile with $5.9-billion deal for 'Candy Crush' maker
The eye-popping $5.9 billion offered for mobile video game phenomenon King Digital Entertainment — of "Candy Crush" fame — reflects an industry poised for stratospheric growth, on a trajectory that could reach $45 billion in sales annually by 2018.
The buyer, Activision Blizzard Inc., is making a massive bet on a sector expected to grow by 15% a year as video games migrate at light speed from consoles to mobile devices, according to investment bank Digi-Capital.
The buy-in price makes the acquisition the third-largest ever in the video game industry and the largest in mobile gaming. By comparison, last year Microsoft Corp. paid $2.5 billion for Mojang, the developer of the wildly popular building game "Minecraft," and Amazon.com paid $970 million for game streaming site Twitch.
The all-cash deal, announced late Monday, has far-reaching implications for Activision Blizzard, maker of the once-hot, now-cooling megahits "Call of Duty" and "World of Warcraft."
The Santa Monica-based company is aggressively moving beyond its aging core business, console games, into growth areas such as e-sports, where fans fill arenas to watch the best video gamers locked in combat. And now it's betting on mobile games: Just about every smartphone owner has a few of them loaded, and an expanding base of hardcore mobile gamers, with money and time to spare, could mean big profit.
But while mobile game demand is growing, making money in mobile games is tough. The market in online games is populated by thousands of tiny companies, a few of which produce one big hit, followed by a series of money-losing duds. Zynga of "Farmville" fame and "Angry Birds" maker Rovio Entertainment know this all too well; both companies have moved to cut expenses this year to squeeze out profits as they struggle to find new stars.
Some analysts worried that the "Candy Crush" games marked King's earnings peak. But they expected King to see whether four new games slated to debut over the next year could restore revenue growth and maintain profit margins before reshuffling.
For its billions, Activision Blizzard picks up the No. 4 mobile game company by app revenue, as measured by tracking firm AppAnnie. King's two hits, "Candy Crush Saga" and "Candy Crush Soda Saga," were among the six most-downloaded game apps across the world in September, the firm said. The puzzle games challenge users to match virtual candies on a jumbled grid to score points. The games are free, but the company profits when players purchase special features to help them through the experience.
Market analyst Ben Thompson, on his subscription blog Stratechery, said the $5.9-billion price seems steep, but with the future of console games fading, "buying into the future is smart for companies on the wrong side of said trend." On the positive side, he said, Activision Blizzard brings proven game-creation ability to King, while King offers an understanding of mobile game revenue generation.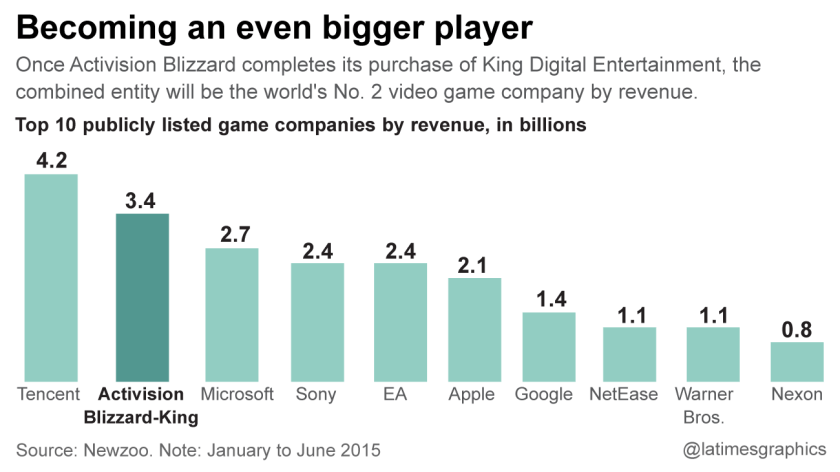 Founded in 2003 as a gaming website, King counts among its chief rivals Asian technology companies Tencent and Mixi as well as Finland-based "Clash of Clans" developer Supercell.
Acquiring King's more than 474 million players gives Activision Blizzard a "bigger [user base] than anything besides YouTube and Facebook and one of the very few entertainment networks of that scale," Activision Blizzard Chief Executive Bobby Kotick said in an interview.
The deal also expands Activision Blizzard's male- and hardcore-gamer-dominated audience — King's games are popular mostly with women.
"We now have male and female gamers, spanning 196 countries, casual and hardcore," Kotick said. "We love the idea of adding millions of females to our audience."
Activision Blizzard has been a force in console and computer games for decades but hadn't moved as quickly into smartphone and tablet games as have some of its rivals.
While divisions at game companies such as Electronic Arts and Warner Bros. Interactive Entertainment have been aggressively launching mobile games, Activision Blizzard has taken it slow. But it wasn't the only one. Nintendo, the console and game maker, still hasn't released a mobile game, and last week said that the debut of its first one would be delayed until March.
Discussions about a possible deal began in April, though King executives were reluctant to lose independence and had no reason to sell, Kotick said.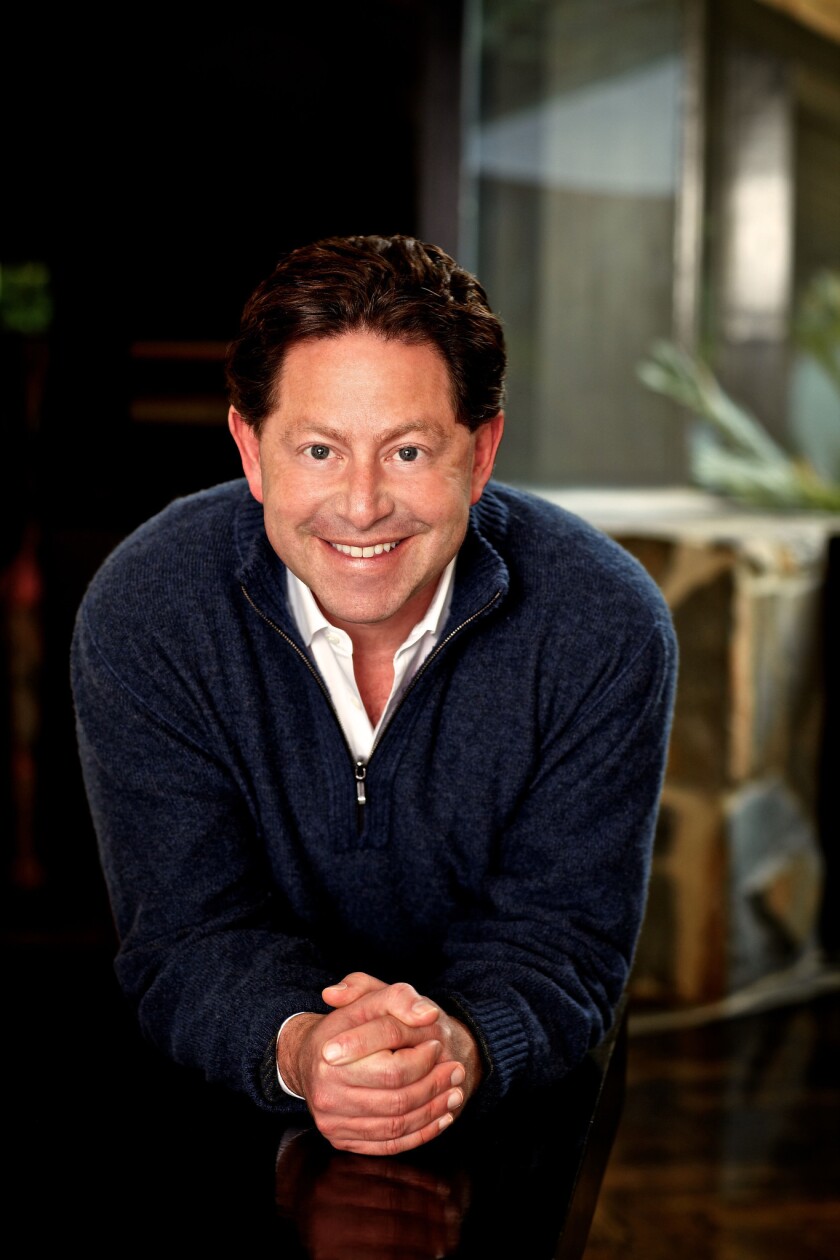 "But when they saw what the combined network would do, to be able to reach audiences around the world, I think they found there would be more opportunity to express themselves creatively and commercially," he said.
But analysts have wondered whether King could generate enough sales off new games fast enough to make up for falling revenue from existing titles, whose popularity has begun to wane. Big hits in mobile gaming are lucrative but rare, and large shareholders could have been antsy to pocket gains while they could.
"King was unlikely to replicate the massive success of 'Candy Crush Saga' at its peak, so the merger provides the best-case scenario for investors," Patrick Walker, vice president of insights at video game industry consultancy EEDAR, said in an email.
Activision Blizzard will pay $18 cash per share of King. That's well under the $22.50 that King went out at in its public offering in March 2014. Shares of King, based in Dublin, Ireland, were trading at $15.54 on Monday before the announcement, valuing the company at $4.8 billion.
"Activision Blizzard's cash offer is attractive given the balance of future opportunities, risks and competitive forces confronting King's business," Gerhard Florin, chairman of King's board of directors, said in a prepared statement.
Shares of King closed Tuesday up nearly 15% at $17.84. Activision Blizzard shares rose 3.6% to $17.84.
King, with 1,600 employees, will become a stand-alone operating division, alongside Activision Publishing, Blizzard Entertainment and a newly announced but yet-to-be-named e-sports division. King co-founder Riccardo Zacconi will remain its CEO.
In the year that ended Sept. 30, Activision Blizzard produced $1.1 billion in net income on $4.9 billion in revenue, while King pulled in $600 million in profit off $2.1 billion in sales.
The deal, which is subject to approval by King's shareholders and regulators, is expected to close by spring.
paresh.dave@latimes.com
Twitter: @peard33
---
Your guide to our new economic reality.
Get our free business newsletter for insights and tips for getting by.
You may occasionally receive promotional content from the Los Angeles Times.