Where does a tip to an Amazon driver go? In some cases, toward the driver's base pay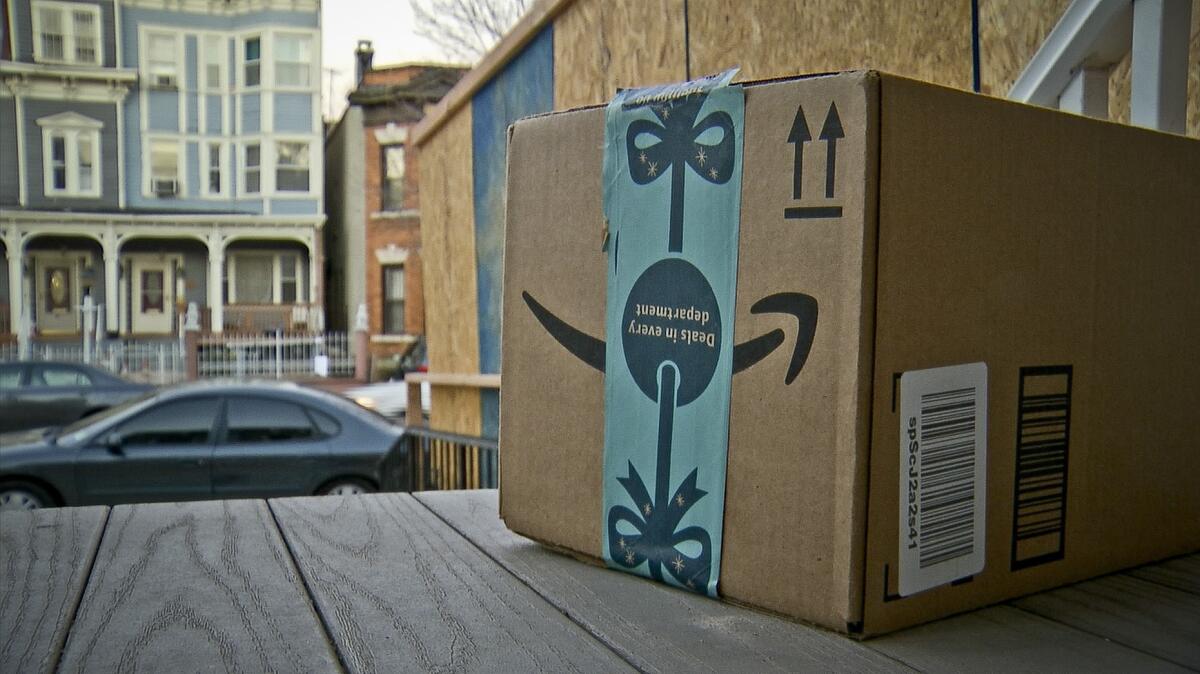 Amazon at times dips into the tips earned by contracted delivery drivers to cover their promised pay, a Times review of emails and receipts reveals.
Amazon guarantees third-party drivers for its Flex program a minimum of $18 to $25 per hour, but the entirety of that payment doesn't always come from the company. If Amazon's contribution doesn't reach the guaranteed wage, the e-commerce giant makes up the difference with tips from customers, according to documentation shared by five drivers.
In emails to drivers, Amazon acknowledges it can use "any supplemental earnings" to meet the promised minimum should the company's own contribution fall short.
"We add any supplemental earnings required to meet our commitment that delivery partners earn $18-$25 per hour," the company wrote in multiple emails reviewed by The Times.
Only drivers who deliver for Amazon's grocery service or its Prime Now offering — which brings household goods to customers in two hours or less — can receive tips through the company's app.
Amazon insists that drivers receive the entirety of their tips but declined to answer questions from The Times about whether it uses those tips to help cover the drivers' base pay.
"Our pay commitment to delivery partners has not changed since we launched the Amazon Flex program — delivery partners still earn $18-25 per hour, including 100% of tips — and on average drivers earn over $20/hour," Amazon spokeswoman Amanda Ip wrote in a statement.
Drivers question why they aren't getting 100% of tips on top of their guaranteed pay.
"They just hide behind the fact that they guarantee $18" an hour, said driver Jeff Lee. "Sounds great, but that $18 [an hour] guarantee could be all from customer tips while Amazon chips in zero."
As Amazon has grown into one of the world's biggest companies, it has relied heavily on contractors to help keep up with the pace of deliveries. These workers do not qualify for benefits offered to staff employees. Tipping is one way Amazon and other tech firms such as Uber and Lyft have moved to appease their contractor workforce.
But using tips to cover promised wages has proved controversial for delivery start-ups Instacart and DoorDash.
On Tuesday, those companies came under fire after BuzzFeed News reported they used tips to fulfill some pay promises.
Drivers have long suspected that Amazon uses their tips to hit promised wage targets, according to five former and current drivers who spoke on condition of anonymity for fear of reprisal.
It has been hard for drivers to prove — the company does not provide them a breakdown of their compensation beyond showing the total paid out, citing privacy concerns.
But two drivers tested their suspicions when assigned to deliver packages to their own homes.
It was slow that day and I had no orders to deliver, so I decided to place a one-hour order as a customer to see what the hell was going on with our tips.
— Amazon delivery driver Jeff Lee
Another contract driver in Virginia who ordered paper towels for his family and was assigned to deliver the package tipped himself $15.90 — an amount he said would easily stand out. Two days later he checked his account. For the entire two-hour shift he worked, he was credited with receiving no tips.
He wrote to Amazon to complain. Without offering any explanation, the company adjusted his pay for that shift to $50.11, which included additional tips, according to receipts The Times reviewed. He no longer drives for Amazon but asked not to be named because he operates a business that caters to Amazon Flex drivers and fears that speaking on the record could jeopardize that venture.
Lee, who still delivers for Amazon, said he tipped himself $12 and change for a package he brought to his own residence.
"It was slow that day and I had no orders to deliver, so I decided to place a one-hour order as a customer to see what the hell was going on with our tips as I knew I would be the next driver to deliver this one-hour [order] to my house," Lee said.
His base pay for the 1½-hour shift was supposed to be $27. Including tips, he received a bit more than $30 — suggesting Amazon contributed only $18.
"The problem most drivers have with Amazon is there is zero transparency about our pay," Lee said.
The practice is legal in some states. The California Labor Code's Provision 351, which targets the practice, does not apply to contractors because they are seen as independent business owners. In Seattle, a group of drivers has contested that classification in a pending class-action lawsuit, claiming they are actually treated as employees.
Amazon would not say whether it dips into drivers' tips in California.
A source familiar with the company's practices who was not authorized to comment on the record said Amazon contributes an average of $19 per hour to contracted drivers' wages.
Amazon determines how much it will pay each driver based on the length of the shift and any increases in customer demand, according to emails reviewed by The Times.
Drivers who make deliveries for Amazon's Prime Now service noticed a drop in their tips in early 2018, prompting them to send questions to customer support. They were informed that Amazon had changed the pay structure to something called "variable base pay," according to emails shared by four drivers.
Customer support representatives wrote in emails that the base pay drivers receive for each shift could vary from $18 to $25 per hour and that includes 100% of their tips. The emails did not explain why pay was suddenly much lower than it had been in the past.
Instacart and DoorDash faced backlash Tuesday for using what many critics are calling a deceptive practice.
In response to the public scrutiny, Instacart Chief Executive Apoorva Mehta announced internally Wednesday that the company would end the practice, BuzzFeed News first reported.
Twitter: @jmbooyah