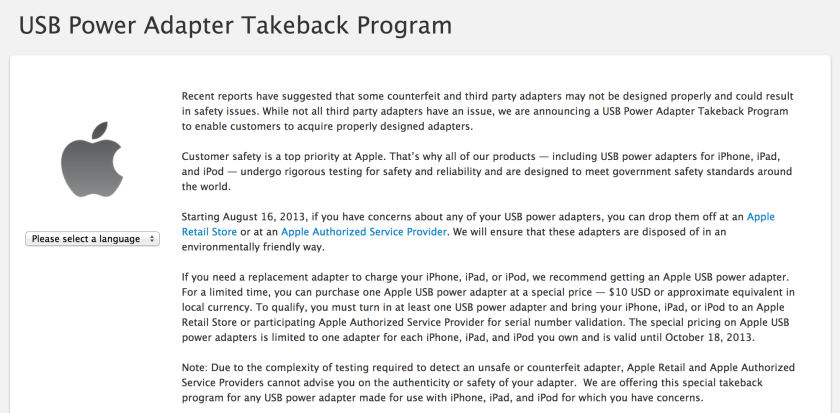 After reports that a young woman in China died after using her iPhone while it was plugged in and charging through a third-party USB adapter, Apple has announced a USB adapter trade-in program.
The Cupertino, Calif., tech giant will accept third-party USB adapters and in return sell customers official Apple USB adapters for $10, about half off the typical price. USB adapters are used to connect iPhone, iPad and iPod USB cables into wall outlets.
Apple said it is rolling out the "USB Power Adapter Takeback Program" due to reports that suggest that some third-party adapters could be unsafe.
PHOTOS: Six things rich tech execs splurge on
"While not all third party adapters have an issue, we are announcing a USB Power Adapter Takeback Program to enable customers to acquire properly designed adapters," Apple said. "Customer safety is a top priority at Apple."
The program kicks off in the U.S. on Aug. 16. Users can head to any Apple Store or an Apple Authorized Service Provider to drop off their third-party USB adapter, which will be "disposed of in an environmentally friendly way."
Users also need to bring their iPhone, iPad or iPod device for serial number validation. Customers are limited to one $10 USB adapter for each iPhone, iPad and iPod they have. The program ends on Oct. 18.
ALSO:
Google's Sergey Brin helped finance lab-grown burger
Global tablet shipments slow; lack of new iPad blamed
Nearly one in five U.S. adults online use Twitter, survey finds
---