Bird buys Scoot — and a back door into San Francisco's rental scooter market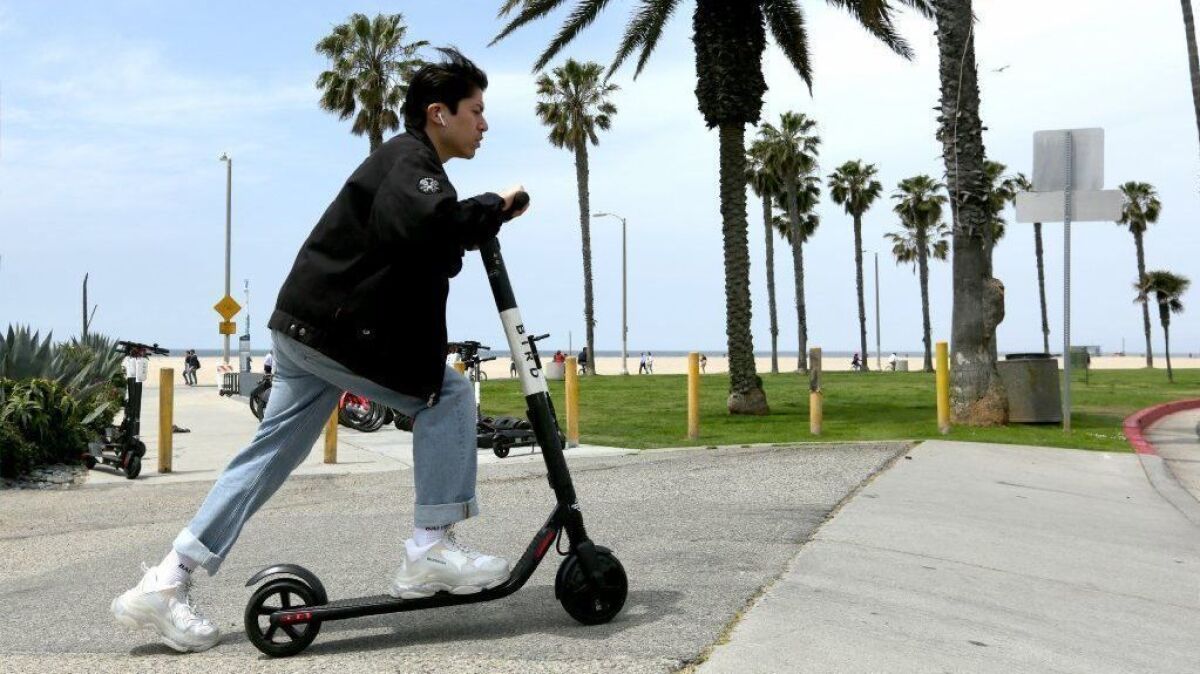 Perpetual gridlock in Los Angeles and San Francisco has inspired a booming industry of on-demand electric rental scooters, now a familiar sight whizzing along sidewalks and bike lanes in cities around the world.
But there's a limit to how much congestion the e-scooter market can bear.
In a deal that could mark the first major step toward a broader consolidation, Santa Monica's Bird Rides Inc. on Wednesday acquired the San Francisco electric scooter company Scoot for an undisclosed sum.
For Bird, the purchase represents a chance to relaunch its service in the seat of the tech industry. Scoot was one of only two companies given permits to operate in San Francisco by the city's Municipal Transportation Agency last August, in what amounted to a regulatory snub for Bird and Lime, the two largest scooter companies in operation.
Now Bird has found a way to buy its way back in — though it remains to be seen whether any scooter company can figure out a path to profitability, given the difficulties of operating a fleet of expensive, breakable vehicles.
Terms of the deal were not disclosed. Founded in 2011, Scoot was last valued at $71 million and had raised a total of $47 million in funding. Bird has raised more than $400 million and was last valued at $2 billion. A report in the Wall Street Journal put the price for Scoot at $25 million in cash and stock.
Part of Scoot's value to Bird comes in the form of both its long and amicable relationship with San Francisco regulators and its ability to operate in the city, several sources familiar with the industry told The Times.
Mark Suster, a partner at Upfront Ventures and an early investor in Bird, said Scoot's early foray into micro-mobility with the launch of its fleet of mopeds played an important role in the decision to acquire the company.
"The Scoot management team was one of the most innovative early leaders in our industry. They were doing it before Bird even existed, and that was critical to the deal," Suster said. "Through that they learned how to do city operations and learned how to work with cities to be good citywide citizens."
In awarding permits to Scoot and its local competitor, Skip, over Lime, Bird and other applicants, the San Francisco Municipal Transportation Agency cited the winners' commitments to safety and Scoot's established record of operating a fleet of vehicles in San Francisco legally.
Playing by the rules has made the Scoot brand one "that people like," according to Suster — giving it extra value to Bird, which has faced its share of regulatory battles across the country. He predicted other smaller scooter start-ups will be absorbed or otherwise disappear as the economics of the market tilt in favor of the big fleet operators. "It's becoming clear that if you don't have scale, it's going to be hard to compete with the players who do," Suster said.
Nick Evans, the founder and chief executive of direct-to-consumer scooter start-up Unicorn, said the dockless scooter business model is both easy to scale up rapidly and fraught with risks. Unknowns include what forms regulations may take and whether future models of scooters will be cheaper to service and replace than their predecessors.
"It's a really, really great business for raising money because you just start getting customers," Evans said. "You just assume the cost will be fixed later, but the verdict is still out on that."
In San Francisco, after Bird, Lime and Spin launched their scooters without permission in March 2018, there were close to 1,900 complaints regarding the scooters, leading to the city impounding 500 of them. The city forced the companies to remove their scooters immediately while crafting legal guidelines for scooter-sharing companies to operate.
Although both Bird and Lime were able to obtain permits in Santa Monica, where they employed the same strategy of launching without official permission, neither company had any such luck in San Francisco.
Scoot, which operates in San Francisco, Barcelona and Santiago, Chile, will continue operating under the same name. Its San Francisco permit will remain in force after the change of ownership, Scoot spokesman Steve Rodriguez said.
Scoot hasn't raised venture funding since 2016, before the wave of lightweight stand-up kick scooters available for short-term rental via smartphone app washed up in U.S. cities. The lack of fresh capital has given rise to speculation that Scoot had little choice but to acquiesce in the face of its younger but far better-funded rivals.
But Rodriguez insisted the deal with Bird was not an "acqui-hire," an industry term for small-money acquisitions of companies whose founders were anxious for a comfortable exit.
"We are not disclosing terms of the deal, but this is not an acqui-hire," Rodriguez said. "Bird values Scoot's expertise with multiple types of shared, electric vehicles and their mission of providing micro-mobility solutions to all."
"We are thrilled to welcome Scoot to the Bird ecosystem and look forward to working with the Scoot team as we further scale our complementary missions — to replace car trips with micro-mobility options for all," Travis VanderZanden, founder and CEO of Bird, said in a statement. "Together we will make a bigger impact on our riders' daily lives and the cities we serve."
---