Brogan BamBrogan lost control of his first hyperloop start-up. Arrivo is his second chance
If anyone could transform hyperloops from a science experiment into a viable form of transportation, it would be Brogan BamBrogan.
That was the thinking among investors and engineers when BamBrogan co-founded Hyperloop Technologies Inc. in his Los Angeles garage in 2014. BamBrogan was an experienced rocket designer at SpaceX, whose founder, Elon Musk, popularized the idea of zipping people across the planet in low-friction tubes. Not only did BamBrogan have Musk's ear, he had the flair, unceasing ambition and wild ideas needed to build a business on such a far-fetched concept.
Hyperloop Technologies Chief Executive Rob Lloyd said upon joining BamBrogan's company that he did so because of "Brogan's brilliance" and his credentials from the "university of Elon Musk."
But last summer, BamBrogan felt pressured to resign. In a lawsuit alleging he caused unnecessary trouble at Hyperloop Technologies, attorneys attacked his character and competence. They described him as a "slightly below average engineer," and people close to the firm said bringing him on was a mistake. He left the company, which still features his garage — absent shots of him — in its promotional video.
Dueling lawsuits now settled, BamBrogan and others are again gambling that he'll be the one to make hyperloops happen.
BamBrogan, three men who left Hyperloop Technologies alongside him, and three other men with whom he has worked have launched hyperloop firm Arrivo Corp.
"We're getting back in the game," BamBrogan, the CEO, said this week.
The seven co-founders and undisclosed investors are funding the downtown Los Angeles company, which expects to reach 80 employees by year's end. They want to operate a large cargo mover by 2020 that's based on the hyperloop concept of self-driving pods propelled hundreds of miles an hour through low-friction passageways.
Arrivo becomes the fourth major hyperloop business in North America. BamBrogan said it would stand apart with a focus on making hyperloops cheap to use and profitable to operate above all else. Others are prioritizing using clean energy or maximizing speed.
Several transportation ideas, including self-driving vehicles, flying cars and giant blimps, have grown popular since Musk suggested entrepreneurs look into hyperloops. But BamBrogan says hyperloops remain the option most worth pursuing to move stuff around more efficiently.
"Nothing has struck people's imaginations and creativity as much as hyperloop," BamBrogan said. "We're going to be all the things you want in transportation."
Aside from the technical hurdles, hyperloop businesses face great uncertainties. Safety regulations must yet be defined. Cargo shipments likely will move for years before humans take a ride. Land acquisition challenges could limit construction in many regions, raising questions about how to accomplish door-to-door journeys.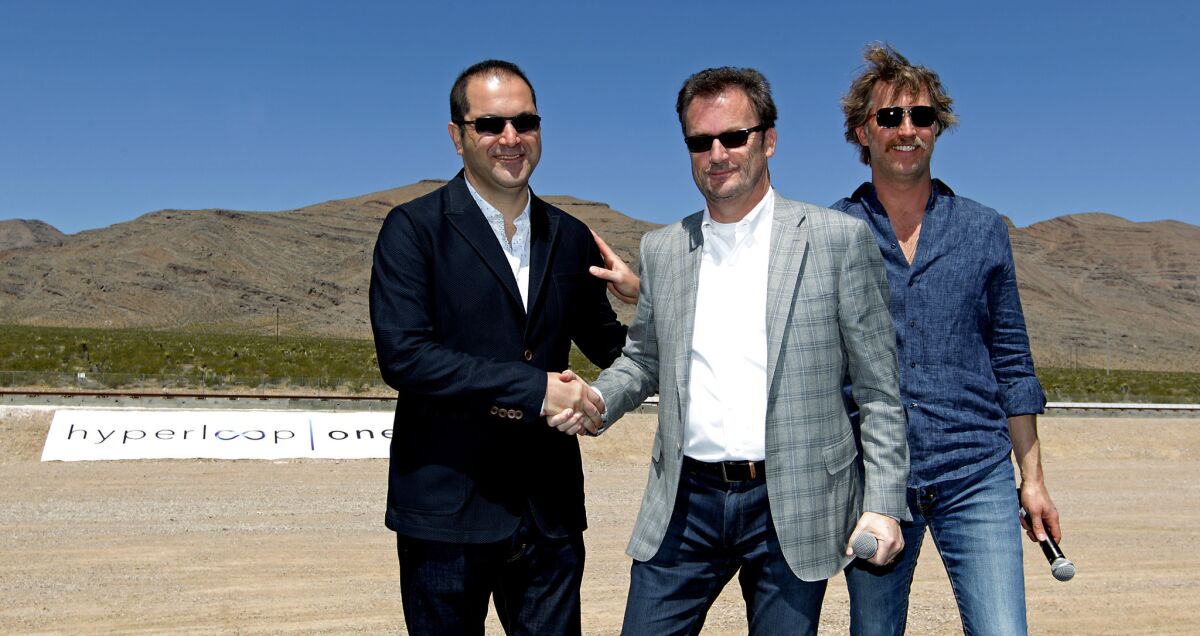 Arrivo will have an edge because of it can infuse a clean slate with its co-founders' lessons from Hyperloop Technologies. Some business partners viewed BamBrogan's departure as chief technology officer as a setback to Hyperloop Technologies, but his former employer likely retains a big advantage in funding and business relationships.
What there is no doubt over is that BamBrogan is again worthy of attention.
"We want to be an engineering-led company, and letting the tech drive the vision of the company is important," he said. "Based on what I've been through, I'm the right guy for the job."
BamBrogan grew up in the suburbs of Detroit with engineering in his blood — his father worked in the auto industry, and his grandfather taught at the General Motors Institute. BamBrogan landed a gig at Chrysler but soon was desperate to move west.
He wanted to play volleyball on the beach and work on a more complex project than say, making windshield wipers a little stronger. He got a copy of the Los Angeles Times Sunday edition to check out local job listings, ending up with a position working on lasers, microchips and other components at defense contractor TRW.
It wasn't until 2003 when BamBrogan became one of the first two dozen employees at Space Exploration Technologies Inc. that he felt at home.
His contributions included designing and assembling the second-stage engine for the company's Falcon 1 rocket, which would become the first of its kind from a private firm to orbit Earth. The effort involved coming up with novel ways to test custom igniters, chambers and other components — and finding ways to keep costs and weight down.
Along the way, he made a lasting impression. Early on, BamBrogan was the company's cultural attaché, pulling employees to trips to the Hollywood Bowl or the movies. He organized pingpong tournaments and the monthly K-Bro Poker Invitational, dubbed after his nickname.
His presence in the office was unmistakable, with an anachronistic mustache that inspired a fandom of its own when he appeared on rocket launch webcasts. His attire was equally regularly old-school and flashy, including leopard prints and lots of vests.
He would hurdle down stairs two at a time and race through the office even if he wasn't late to anything. And he'd encourage colleagues to do pullups on random equipment to keep blood flowing on long days.
The eccentric reputation grew after he left SpaceX and married actress Bambi Liu, merging names to go from Kevin Brogan to Brogan BamBrogan.
Hyperloop Technologies described BamBrogan's actions at its office as erratic and unprofessional. But six of BamBrogan's former colleagues at SpaceX who witnessed a similar BamBrogan called his ways impassioned and welcomed. They variously described him as a workhorse, a high-fiving morale booster and a creative and transparent employee.
"He was well-established, well-respected, and he had Elon's ear, which made him valuable," said a SpaceX employee who worked with BamBrogan but wasn't authorized to comment publicly. "He had an interesting combination of strong technical capability and strong aesthetic capability. It is not something most engineers have an eye for."
Hyperloop Technologies, which also goes by Hyperloop One, also took aim in its court filing at BamBrogan for failing at his final project at SpaceX. Musk had wanted to leverage car technology to make a super-affordable combustion chamber. Not only did BamBrogan come up short, two former SpaceX employees speaking on the condition of anonymity said a subsequent group failed to bring the idea to fruition too.
BamBrogan quit after that engineering miss. On his own, his plan had been to take advantage of advances in material sciences to construct cheaper, stiffer structures — everything from bike frames to building facades.
But just as he was ready to spend big on supplies, Silicon Valley investor Shervin Pishevar came calling with a proposal. A mutual friend from SpaceX had introduced the pair, and several former colleagues apparently had put in a good word for BamBrogan.
Pishevar wanted to lead a hyperloop company and needed a technologist alongside him. BamBrogan was so excited about the opportunity that he acknowledges not asking many questions or poring over contracts he was signing. He trusted everything would work itself out.
More than a year later, BamBrogan learned he held much less ownership and voting power than his co-founder, Pishevar, and other investors, according to legal filings. He felt the company was trending in the wrong direction as landing business deals became more important than figuring out the technology. Hyperloop Technologies and Pishevar declined to comment.
After fighting for changes in corporate governance, BamBrogan found a noose on his chair. He and colleagues Knut Sauer, David Pendergast and William Mulholland sued Hyperloop Technologies alleging nepotism, waste and poor governance. The company ousted them, called the claims nonsense and fought back with charges that the four men were insufficient in their duties and tried to inspire a coup within the company.
The two sides reached an undisclosed settlement months later.
BamBrogan's stamp remains on Hyperloop Technologies. He helped recruit the first 50 or so employees. He says his enthusiasm gave investors and business partners confidence that hyperloop was well within the realm of possibility. He designed the company's team structure and decided what work would be outsourced.
He acted as the glue between potential hyperloop suppliers and operators such as Siemens and the French national rail company. He was the face of the company at the World Government Summit and the Milken Institute Global Conference.
And of course, his Los Feliz house remains in memory as the starting ground, where his wife made sandwiches and his dog, Tobias, served as security.
BamBrogan's first hire, Josh Giegel, assumed his roles at Hyperloop One when he resigned. BamBrogan and Giegel had long been close friends — part of a group at SpaceX that met regularly over dinner to discuss crazy ideas like space elevators, solar sails and hyperloops.
Now, BamBrogan is surrounded by faces new and old, including the three others who sued Hyperloop Technologies. The remaining co-founders are Nima Bahrami, former vice president of the propulsion team at Hyperloop Technologies; Andrew Liu, former senior vice president of new ventures at construction giant Aecom; and Jadon Smith, who worked on fluid systems for many years at SpaceX.
BamBrogan took care this time around to look at contracts more closely. His personal motto about creating "rad" things with "rad" people "that change the world for the better" now includes an addendum: "and brings positive returns for those who help built it."
The name Arrivo, based on the Italian word for arrival, is meant to emphasize that travel is about the destination rather than the journey — a suggestion philosophers might scoff at but sounds right at home in a start-up's pitch to investors.
"I don't want to get to the Black Cat," BamBrogan said, referring to a Silver Lake bar. "I want to be at the Black Cat. We're developing arrival technology, not transportation technology."
Twitter: @peard33