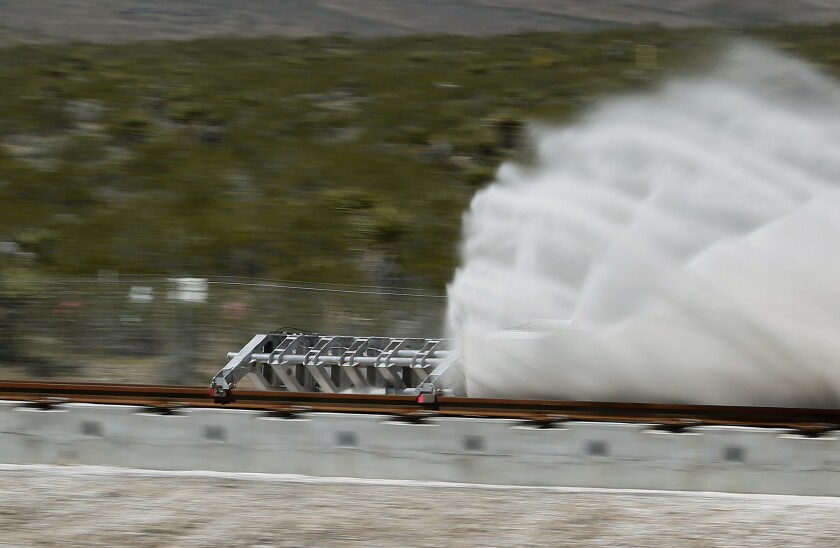 The teams that found tech companies come in many shapes, most commonly pairing an engineer with someone who's savvy in finance and marketing. Hyperloop Technologies Inc. emerged from a rare model: An engineer and a practicing venture capitalist.
The drama at the start-up — where four former employees say they were ousted for voicing concerns about financial improprieties — can be traced back to that odd foundation.
When Sherpa Capital managing director Shervin Pishevar launched the Los Angeles company two years ago, he did it with majority control. After all, it was his idea to pursue the far-out goal of shuttling people and goods at high speeds through tubes.
Pishevar kept 90% of Hyperloop One's common stock for himself and offered 6% to his technical co-founder recruit Brogan BamBrogan, according to a wrongful termination lawsuit that the former SpaceX rocket engine designer and the three others have lodged.
See the most-read stories in Business this hour »
BamBrogan wasn't concerned about his small stake because he assumed the rest would be spread among several other investors and employees. He didn't know Pishevar would be retaining such an outsized percentage for just the idea, fundraising efforts and a five-figure personal investment, according to a person familiar with the matter not authorized to speak publicly.
Adding to the unevenness between the two co-founders, BamBrogan's shares vested over time while Pishevar grabbed all of his at once, the person said.
Attorneys for Hyperloop One describe BamBrogan's claims as "pure nonsense" and plan to offer detailed rebuttals in a counterlawsuit as early as Tuesday. The company contends Pishevar's ownership is down to 10%, that BamBrogan later received a guarantee his stake wouldn't be diluted and that his successor as chief executive, Rob Lloyd, also received a 6% grant.
Experts in co-founder disputes say they've seen partners get squeezed out — their ownership percentage diluted — over time. But for someone at a company pursuing a complex project to appear near-powerless from the start is surprising.
These ventures need someone who lives, breathes and sleeps the company 24 hours a day.

— Shervin Pishevar, Sherpa Capital managing director
"When you start at 90-10, it's really the show of the 90," said Lee Weinberg, an attorney at corporate boutique Weinberg Gonser who invests in and advises start-ups.
Weinberg cautioned that engineer co-founders can get carried away with power too, spending lavishly on salaries, engaging in nepotism and refusing sound advice. That's why venture capitalists might include in financing terms ways to protect themselves from being ripped off. But the Hyperloop One situation, with the venture capitalist as a majority rather than minority shareholder, meant it was BamBrogan who should have taken more precaution.
Unchecked, Pishevar gained ever more control, attorneys for BamBrogan contend. In early 2015, Pishevar introduced a dual-class stock structure and converted a portion of his shares so that they would have 20 times more votes than each of BamBrogan's shares, according to the lawsuit. Pishevar didn't respond to a request to comment.
Super-voting rights typically are given to or designed to benefit the technical co-founders, not work against them, start-up experts said. And a dual-class structure is rarely seen at companies still in their infancy.
The power imbalance extended to other employees. Equity compensation packages contained at least two unusual provisions that could be considered anti-employee.
Lawsuit alleges nepotism, waste and assault at Hyperloop One — including a noose »
Hyperloop One can unilaterally buy back shares from employees at fair market value, which can be a price lower than what employees paid for them. The option hasn't been nor was ever intended to be used, the company says.
Shriram Bhashyam, founder of stock options trading marketplace EquityZen, said he's seen something similar just twice in the course of reviewing hundreds of compensation plan documents. For example, chat app Skype could take away shares from fired employees, which meant many of them missed a windfall when Microsoft paid $8.5 billion for the company, Bhashyam said.
Hyperloop One also can cancel all vested but unpurchased options without warning if the company is acquired, which Bhashyam called "quite unusual."
Hyperloop One officials told employees in recent weeks that it would strip some of the concerning terms, an action expected to be finalized soon, according to a person familiar with the matter. Bloomberg first reported on the development, which additionally should see Pishevar surrender some of his shareholder voting power.
The lawsuit, filed last week in Los Angeles County Superior Court, describes a lopsided culture where Pishevar and fellow investor Joe Lonsdale hired friends and family, threw parties and generally did as they wanted.
Pishevar, the executive chairman, rarely visited Hyperloop's Arts District headquarters besides for press events and parties, the lawsuit states. He has reason to be busy: His venture capital firm has invested in at least 11 new early stage companies since the Hyperloop One unveiling.
But a company's biggest stakeholder being at the wheel so little can jeopardize its chance of success, Weinberg said.
"These ventures need someone who lives, breathes and sleeps the company 24 hours a day," he said. "To the extent the leadership was just parachuting, it in doesn't bode well."
Elsewhere on the web
Snapchat wants to host exclusive Hollywood shows and movies on its Discover feature, but would likely require a financial guarantee from studios, according to Digiday.
The city of Los Angeles' liasion to the tech community, Peter Marx, has left to take a job at General Electric, according to Variety. His replacement is Jeanne Holm, former chief knowledge architect at NASA and JPL, according to techwire.
A Hindu man called for video game maker Blizzard Entertainment to drop an optional styling for one of its "Overwatch" characters that he says trivializes the goddess Kali, according to Kotaku.
Thomas Tull, chief executive of production studio Legendary Entertainment, is trying to raise money to create his own venture capital fund, according to the Hollywood Reporter.
Snapchat has picked up another patent that discusses automatically identifying objects in images and using that technology to serve more interesting ads, according to Tech Insider.
In case you missed it
See Jane Go, a ride-hailing company headed by Kimberly Toonen, a former Apple and Cox Communications employee, plans to offer an alternative to Uber, Lyft and taxis by catering specifically to women who don't feel comfortable getting into a car with a male stranger.
Excluding an outlying $1-billion financing of Snapchat Inc., Los Angeles start-ups pulled in 57% less cash from venture capitalists in the second quarter compared with a year earlier.
A judge refused to grant Hyperloop Technologies Inc. co-founder Brogan BamBrogan a temporary restraining order Thursday against a former co-worker who allegedly threatened him with a noose.
How the relationship between the leading investor and the founding chief executive of Hyperloop Technologies Inc. deteriorated is laid out in a wrongful termination lawsuit.
Apple's first crack at original programming will be a reality series called "Planet of the Apps," and now it's looking for its stars: developers who want exposure for the apps they're creating and a chance to win a pile of investor money.
Big Hollywood begins to place its chips on virtual reality — but is it a smart bet?
Twitter: @peard33
ALSO
Yahoo says it paid too much for Tumblr and posts weak second-quarter results
Twitter lands contract with NBA for original live programming
---