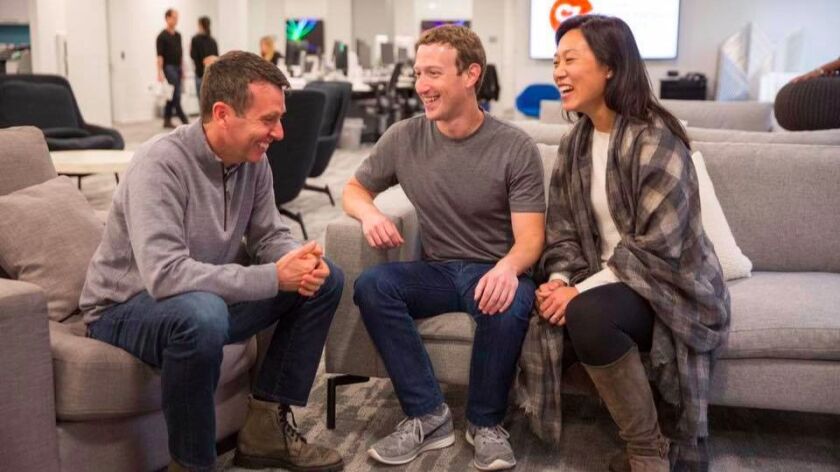 Reporting from San Francisco —
First he advised President Obama. Then he advised Uber. Now, political bigwig David Plouffe is headed for the Chan Zuckerberg Initiative, the philanthropic organization founded by pediatrician Priscilla Chan and her husband, Facebook Chief Executive Mark Zuckerberg.
Plouffe, until recently a senior advisor to San Francisco ride-hailing giant Uber, will remain a board member at the firm while leading the Chan Zuckerberg Initiative's policy and advocacy effort.

"Mark and Priscilla have built a great team, and I am honored to join them," Plouffe wrote on his Facebook page on Tuesday. "As the President of Chan Zuckerberg Initiative Policy and Advocacy, my job will be to find creative ways to lift the voices of those who want to build a better future — no matter where they live, their background or their ideology."
Zuckerberg also announced on his Facebook page that the Initiative has brought on Ken Mehlman, a former campaign manager for George W. Bush's presidential campaign, to chair its policy advisory board.
Chan and Zuckerberg launched their philanthropic limited liability company in 2015, shortly after the birth of their daughter, Max, with a focus on personalized learning, curing disease and connecting people. The couple pledged 99% of their Facebook shares — valued at more than $45 billion — to the cause over their lifetime, and last year pledged $3 billion to fight diseases.
The hiring of Plouffe shows an understanding that Silicon Valley alone cannot solve the country's biggest problems. It also falls in line with the tech world's growing realization that it must overcome some of its wariness of government and take a seat at the table to cause large-scale change.
As the initiative seeks to make advancements in education and medicine, there are obvious benefits to having political movers and shakers on its side. Plouffe in particular has built a reputation as someone who can soften a company's image and improve its relationship with lawmakers.
"We must participate in policy and advocacy to shape debates," Zuckerberg wrote in 2015 at the launch of the initiative. "Many institutions are unwilling to do this, but progress must be supported by movements to be sustainable."
Twitter: @traceylien
ALSO
Uber moves its self-driving cars to Arizona after California revokes registration
An Indian billionaire says his new tech company is growing faster than Facebook and Whatsapp
For entertainment start-up Mitu, Facebook might be sharable but Snapchat's relatable
---